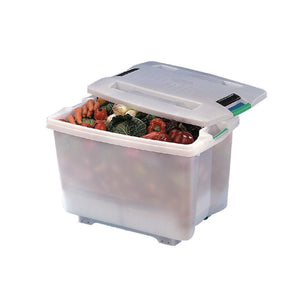 Araven Food Storage Container 50Ltr
Regular price $68.75 $62.40 Sale
Store a large amount of food, with this Araven food box storage container (50Ltr).

The decent 50Ltr size of this container allows you to store a very large amount of food inside, saving you time and money on buying multiple containers. The built-in ventilation improves air flow for cooling and maintaining constant temperatures of your stored food, helping to keep it fresh and therefore cutting down on your levels of waste. Supplied with 4 pairs of colour-coded identification clips in red, yellow, green and blue, you can assign a colour to a particular type of food and prevent cross-contamination. 

This is a top-quality piece of storage equipment from Araven.
Product features
Capacity 50 Ltr
Dimensions 600(H) x 395(W) x 410(D) mm
Colour clip identification.
Built in ventilation.
Liquid error (sections/product-template line 203): Could not find asset snippets/spreadr-reviews.liquid