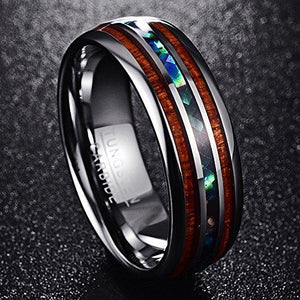 8 mm Silver Plated Tungsten Carbide Ring with Abalone Shell and Hawaiian Koa Wood Inlay
Regular price $74.99 $34.99 Sale
This silver plated tungsten carbide ring has the following features:
The band is made with the highest quality tungsten carbide
Center inlay is made of abalone shell
The outer part is genuine Koa wood inlay
Does not tarnish or fade
Scratch resistant
Hypoallergenic material
Lead-free and cobalt-free
Masculine design
Perfect as a man's wedding band
Very comfortable to wear
Available in sizes 5 to 16 (US)
Reasons Why This Koa Wood Ring is perfect as a Wedding Band
Wedding bands are traditionally made of gold. But in recent years, new materials are being used for wedding bands and wedding ring replacements. Tungsten carbide rings are especially popular because they look great and at the same time, are also very durable. As a matter of fact, tungsten is much more durable than gold, platinum or silver, so it makes perfect sense that it should be used as wedding bands as they would bode well for a longer lasting marriage. As a bonus, tungsten carbide is also much more affordable so it has become an easy choice for many practical people these days.
Tungsten carbide has a high level of hardness which means it is essentially scratch proof. It also means it won't get deformed or get bent out of shape. This metal also does not lose its sheen even with constant exposure to the different elements. Since it is also unchanged by water, you can keep it on while taking a shower or swimming in the pool, thus you won't risk losing it, which often happens when people take off their wedding rings that are not water resistant. Tungsten carbide is also hypoallergenic so anyone can wear them without having to worry about skin problems.
Meaning of the Koa Inlay
The koa wood inlay of this wedding band from Innovato Design also adds a great deal of value to the ring. Koa is one of the most treasured trees in the Pacific, particularly in Hawaii. It is a versatile wood that is used for surfboards, ukuleles and even furniture. In the local language of the islands, koa means courage and bravery. The tree itself is said to symbolize strength and integrity, which are two of the important foundations of a successful marriage. It is only natural, therefore, that koa wood inlays have become popular in recent years as components of wedding bands.
Meaning of the Abalone Inlay
The abalone inlay, on the other hand, has its own unique contribution to the symbolism of this silver-plated koa wood ring. Harvested from the mother of pearls of the much sought after abalone shell, these sea treasures represent the depth, calmness and serenity of the ocean, which are also important elements to maintain in a marriage.
Abalone is also quite difficult to harvest, hence its rather high price. The harvesters work really hard to collect even a small amount of these shells from the sea. An abalone wedding ring is a reminder that a married couple have to constantly work hard to keep their marriage a success.
Taking Care of Your Tungsten Carbide Ring
Since tungsten naturally does not tarnish or discolor over time, and is basically scratch proof as well, very little maintenance is required in order to keep it looking good through the years. Of course, it may collect a layer of grime over time that may reduce the beauty of the koa wood inlay or the abalone inlay so occasionally, you will have to wash it.
Just take a few drops of liquid hand soap and mix it into a bowl of warm water. Check that the soap you use is free of harsh detergent chemicals. Place your ring inside the solution and wait for about 10 minutes. Gently wipe all surfaces of the ring with a soft piece of cloth then rinse the ring in clean warm water. Wipe it dry with another piece of cotton cloth.
When you are not wearing the ring, it is best to keep them in small cloth bags or pouches, or in their original container. All rings by Innovato Design come in a felt-lined ring box that you can use as a permanent storage container for your tungsten ring.
Special Care for Abalone Inlay
The abalone inlay of this unique wedding band comes from the abalone shell, which in turn comes from the ocean. In its natural state, it does not really get much sunlight, if any. The mother of pearl bits that go into abalone jewelry has already gone through a treatment process so they will be able to withstand sunlight.
However, prolonged exposure to direct sunlight can still dull the otherwise attractive colors of the shell. You can prevent the beauty of the abalone from diminishing by keeping it away from direct sunlight. When not in use, make sure you keep it in a closed box and away from excessive heat and direct light.
Special Care for Koa Wood Inlay
Like the abalone inlay, the koa wood on this beautiful ring by Innovato Design has already been processed in order to resist the natural wear that occurs in wood over time. Also, the inlay is covered by a sheer protective coat that is meant to preserve the color and natural beauty of the wood. So more or less, the wood inlay is already quite well-protected. Still, it would still be good to keep it away from abrasive chemicals like house cleaners that may find their way through the protective film and eventually ruin the wood.
Packing Details
This silver plated tungsten carbide ring by Innovato Design comes with its own ring box, which is great for safekeeping the ring when not in use, as well as for giving the ring as a gift. You don't need to wrap the ring, all you need is to add a ribbon to the box if you wish.
If for any reason you wish to replace the size of the ring you ordered, you can request for a replacement within 30 days. The ring also comes with a money-back and lifetime guarantee.
Liquid error (sections/product-template line 203): Could not find asset snippets/spreadr-reviews.liquid