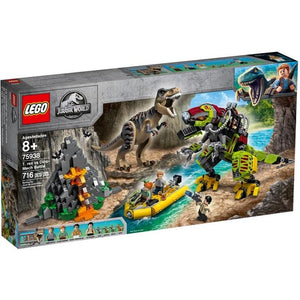 T Rex vs Dino Mech Battle - 75938
Regular price $139.99 $139.99 Sale
Action-packed dinosaur adventures are guaranteed as youngsters play out a LEGO® Jurassic World 75938 T. rex vs Dino-Mech Battle and seek hidden treasure in the Isla Nublar volcano. The buildable T. rex toy dinosaur figure and bad guy Danny Nedermeyer's Dino-Mech are both posable and have snapping jaws, while the buildable volcanic rock has an opening function to reveal a hidden treasure chest. This Jurassic World building toy also includes 4 minifigures, 4 baby velociraptor toy figures and a boat with 2 stud shooters and a tranquilizer gun to inspire kids to role-play Jurassic World scenes and create their own stories.

This LEGO® Jurassic World dinosaur toy playset includes 4 new-for-June-2019 minifigures: Owen Grady, Claire Dearing, Vic Hoskins and Danny Nedermeyer, plus 4 baby velociraptor toy figures—Blue, Delta, Echo and Charlie—and 2 bat figures.
Molded, buildable LEGO® Jurassic World T. rex toy dinosaur figure features new-for-June-2019 colors, snapping jaws and a posable head, arms and legs.
Dino-Mech features an opening minifigure cockpit with detailed dashboard, snapping jaws, posable head, arms, claws, legs and a tail.
LEGO® brick-built volcanic rock features lava elements, an opening function and a treasure chest with assorted treasure elements inside: 11 gold-colored coins, 4 gold-colored bars, 1 gold-colored cup and 4 gem elements.
Toy boat features 2 stud shooters, a tranquilizer gun and ammo storage container with 4 ammo elements. (Please note: boat does not float in water.)
This dinosaur toy playset for kids includes Vic Hoskins' tranquilizer gun.
Accessory elements include Owen Grady's walkie-talkie and Danny Nedermeyer's soda can element.
Kids can reimagine thrilling scenes from the LEGO® Jurassic World animated series with this collectible toy.
This LEGO® Jurassic World toy construction set makes a great dinosaur gift for kids.
Jurassic World T. rex dinosaur toy figure measures over 4" (11cm) high, 11" (28cm) long and 2" (6cm) wide.
Dino-Mech measures over 5" (14cm) high, 12" (33cm) long and 5" (13cm) wide.
Volcanic rock measures over 5" (14cm) high, 7" (20cm) wide and 5" (13cm) deep.
Toy boat measures over 5" (13cm) long and 3" (8cm) wide.
Item No: 75938
Pieces: 716
Ages: 8+ years
Liquid error (sections/product-template line 203): Could not find asset snippets/spreadr-reviews.liquid