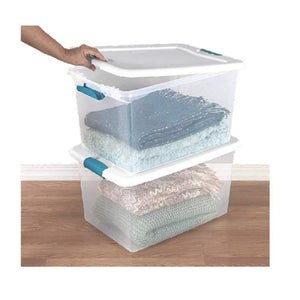 60 Quart Storage Containers 6-Pack Closet Lids Space Saver Baskets Box Stacking Bin Portable Organizer & eBook
Regular price $123.04 $87.26 Sale
Brand: 60 QT
Color: White
Features:
Set of 6 utility totes is practical to store, toys, tools, housewares, clothes,yarn, magazines, or sports supplies.
Suitable for bathroom, office, classroom, garage, basement, attic, closet, dorm, kitchen or outside.
Take this for a trip, fishing or outdoor picnic. Very easy carrying because have built-in handles and are lightweight.
Combining versatile and workability with a unique contemporary stackable style. Lids are secure and space-saver.
The big modern multi-functional 60-qt look will satisfy you. No-scent or odor with the rectangle storage-trunk.
Publisher: OI
Details: Product Dimensions: 13.48 in Tall,23.58 in. Deep, 15.87 in Large

Material: Durable PVC

Color: Clear

Weight: 3.78 p.

63.87 qt ability

Package include: 6 boxes with lids

Decor items are not included in the package

These totes are the best enhancement to your residence.

Trendy, useful, and also simple on the eyes.

Redefine your space with these distinct storage containers !

Don't wait for another second to add this fantastic product to your home!

You can not buy happiness and pleasure but you can buy this beautiful product, and that is pretty much the same thing!


UPC: 600188456059
EAN: 600188456059
Liquid error (sections/product-template line 203): Could not find asset snippets/spreadr-reviews.liquid