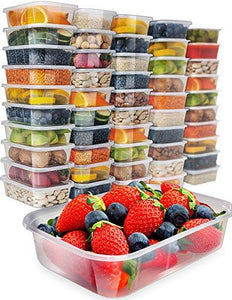 Food Storage Containers With Lids
Regular price $31.99 $25.99 Sale
åÊUNLIKE OTHER FOOD CONTAINER SETS THAT MELT, WARP OR LEAK, our freezer and microwave-safe deli container set has a sturdy, solid construction and snug lids to make sure, your food stays in the plastic storage containers. NO NASTY SURPRISE SPILLS in your meal prep lunch box, on car seats, your clothes or anywhere else. You, your car, your belongings and your food arrive where they‰۪re supposed to, as they‰۪re supposed to‰ÛÓwhether just from the fridge to the counter or from home to work.

åÊBPA-FREE, FREEZABLE, MICROWAVE SAFE, & STAIN RESISTANT MEANS your food storage container set will last long & save money! No plastic melting into your soup, warping from the microwave, or cracking in the freezer. Our sturdy containers withstand from -14F ‰ÛÒ 230F (-10C ‰ÛÒ 110C). And that pasta or green curry sauce? Delicious, but not pretty when colors absorb into the plastic container & won‰۪t wash out. WHILE OTHER CONTAINERS STAIN, our storage containers keep looking good, use after use.

åÊWITH THIS REUSABLE OR DISPOSABLE 50-PIECE PACK, you can use them over and over again. Get more bang for your buck! You‰۪ll also have more than enough to send food home with guests & not worry if the kids leave one at school. Or‰Û_don‰۪t feel like doing dishes? With a 50-piece set, you can afford to toss a few without feeling guilty. Treat them as disposable containers with lids! They‰۪re also sturdy enough FOR STORING NON-FOOD ITEMS LIKE office supplies, hardware, or whatever you may have.

åÊOUR CLEAR RECTANGULAR 17-OZ. CONTAINERS ARE THE PERFECT SIZE, PERFECTLY STACKABLE & FOOD IS EASILY IDENTIFIED - just right for main courses, salads, or a refreshing fruit snack, YOU KNOW EXACTLY WHAT YOU‰۪RE GRABBING WHEN YOU REACH INTO THE FRIDGE! They make great to go containers. And since they‰۪re all the same size, YOU GET GREAT PORTION CONTROL, the kids won‰۪t fight over who got more, and you can save space by stacking your food prep neatly away in your cabinet.
Liquid error (sections/product-template line 203): Could not find asset snippets/spreadr-reviews.liquid