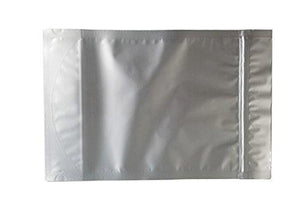 (50) - 8 X12 X4 Ziplock Stand Up Mylar Bag Gusseted Pouches - 5 Mil Genuine Resealable Odor-Proof Smell-Proof Aluminum Foil-Lined Bag For Long Term Food, Grain, Dried Flowers, Baking, Coffee, Storage Container
Regular price $49.47 $33.46 Sale
MULTIPLE USES: Ideal storage solution for grains, beans, pasta, rice, dried herbs and flowers, coffee, tea, candy, powders, pet food, supplements, electronics, and even liquids (and much more).

SHORT OR LONG TERM STORAGE: Secure ziplock top provides convenient short term storage (with or without oxygen absorber) or top can be heat sealed to protect your products long term. Reinforced 4 gusset permits bottom of bag to expand greatly increasing your storage volume.

BETTER THAN OUR COMPETITORS: Most competitors' bags are made with only 2.5 - 3.5 mil. of Mylar. Ours offers 5 mil. of mylar protection for less than what the competitors are charging for similar sized (but thinner) bags. And we provide a 100% money back satisfaction guarantee!

THICKER IS BETTER: Our 5 mil. of Mylar provide greater puncture resistance and stronger odor, light, moisture, bacteria and mold protection for your products that other plastic (or thin competitor mylar) bags are unable to provide.

MORE SPACE, BETTER VALUE: 8 x 12 bags provides more storage space than standard 8 x8 quart bags, are easier to seal and bottom gusset allows bag to expand 4 inches at bottom, almost doubling the storage capacity.

Color : Silver
Contains:
50 Premium Top-Opening Mylar Stand Up Ziplock Gusseted Pouches (8 x12 x4 )
Features and Usages

Our Mylar films have extremely low Oxygen Transmission Rates (OTR) and Moisture Transmission rates (MVTR). Our 5 mil. Mylar provides superior and leakproof performance barrier from air, moisture, mold, vapor, odor and light intrusion.

Secure ziplock top provides you with ideal short-term storage protection for your herbs, dried flowers, coffee, tea, nuts, baking, candy, snacks and dehydrated and freeze dried foods. Top may also be heatsealed easily with a hair straightener or iron to secure your products for long-term storage.
Although the listings on Amazon are flooded with copycat sellers who do not understand flexible packaging, ShieldPro Flexible Packaging designs our Mylar bag structures specifically for storage of food or valuable organics. Plus, the owner is an expert in shelf-life systemology who will help with any questions.
The ShieldPro Platinum Guarantee

ShieldPro is committed to your success, and offers a full money-back guarantee on any product, for any reason. If you have questions, you are welcome to reach out to our food storage experts, and we also include links to online information and frequently asked questions to help you understand the process.
Liquid error (sections/product-template line 203): Could not find asset snippets/spreadr-reviews.liquid