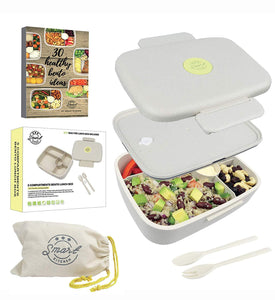 5 Compartment Eco Lunch Box with Bag and Cutlery by Smart Kitchen for Kids &...
Regular price $500.00 Sale
5 Compartment Eco Lunch Box with Bag and Cutlery by Smart Kitchen for Kids & Adults, Reusable Japanese Bento, Leakproof, Microwave Safe, Natural Wheat Straw BPA Free + Bonus 30 Healthy Recipes eBook
---
Product Details
Brand: Smart Kitchen
Model Number: 1
Colour: Beige
Item Weight: 721 g
Product Dimensions: 22 x 18 x 5.5 cm
Capacity: 1.30 litres
Material: Wheat Straw; Silicone
Auto Shutoff: No
Shipping Weight: 721 g
✅HIGH CAPACITY AND PRACTICAL SEPARATE SECTIONS: Inspired by the traditional Japanese lunch box. The SmartKitchen bento box offers a very large 1.3 litres capacity. It consist of 4 big compartments and 1 divided sauce section in the middle. Simple and great idea for lunchbox portion control. Pack up to five different foods in one box and keep them separated for your balanced and healthy diet.
✅ECO-FRIENDLY MATERIALS: This designer container is made of high quality food grade, natural and durable wheat-straw fibre. Forget about cheaply made bento boxes or plastic disposable food containers and invest in this non-toxic, BPA-free lunch container. Set includes also: convenient cutlery (fork and spoon) and original, stylish cotton bag for carrying your bento.
✅FUNCTIONAL: Take your lunches and snacks in boxes for picnic, camping, school, gym, office or anywhere you go and don't worry about spills, leaks or smells in your bag. Suitable for children over the age of six, and they are the perfect size for teenagers and adults.
✅MICROWAVE, DISHWASHER AND FREEZER SAFE: Leave the silicone sealed lid on during heating to reduce the time and prevent splashes and spills. Pop open the ventilation cap allowing air to escape. Microwavable up to 3 minutes. Easy to clean due to the super smooth inner surface, plus it's dishwasher safe. You can store bentobox in refrigerator or use as a storage container for frozen food.
✅BONUS FREE E-BOOK - Smart Kitchen is encouraging you to embrace a healthy eating lifestyle. That is why we included in the package our " 30 Healthy Bento Ideas" for you and your family. This is three sectioned ebook included food recipes with meat, vegetarian and kid-friendly meals. Prepare these delicious recipes and enjoy ! Please contact us if you didn't receive an e-mail with e-book after purchase.
Smart Kitchen eco lunch boxes - for balanced and healthy meals, wherever you are !◆ Do you want a food container which is natural and safe for you and your family as well as for the environment?◆ Do you worry about spills and stains on your kid's backpack or on your bag?◆ Are you looking for lunch box that doesn't get the food mixed + is in the right size to pack enough food to not be hungry wherever you go? Introducing bento boxes by Smart Kitchen!Modern design, durable & sturdy. Provides maximum ease of use for satisfying lunches.Lunch boxes by Smart Kitchen are made of Wheat straw fibre - organic material which is 100% biodegradable. Natural Wax of the wheat straw will fade after long usage - This does NOT affect the quality. Withstand from -20°C to 120°C. Natural fibre may emit the fragrance of wheat straw under high heat. Our lunch box comes with cutlery made of the same material and with eco cotton bag.The whole lunch box is designed to be leak-proof, and the sauce compartment has a separate leak-proof sealing ring that ensures the sauce won't mix with food. In addition tight clips prevent opening the box - no bands that might be lost.You can safely put it in your bag without worrying about the smell or food will leak out.Practical bento with separators won't allow food to mix. Each section has enough room for a variety of healthy and tasty foods and snacks. Take it with you to work, school or on the go.Net weight: lunch box with cutlery - 590g, cotton bag - 75g.For delicious, balanced meals, we have included in the package our "30 healthy bento ideas".E-book will be sent to your e-mail after purchase.Our Special Pricing on Seller will End Soon. Be sure to Click to Buy Now!
Liquid error (sections/product-template line 203): Could not find asset snippets/spreadr-reviews.liquid