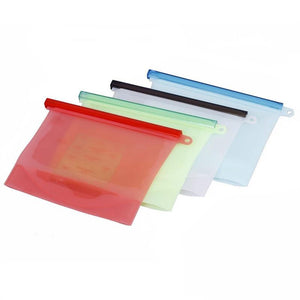 4PCS Reusable Silicone Food Preservation Bag Airtight Seal Food Storage Container Versatile Cooking Bag for Fruits Vegetables Meat
Regular price $38.14 $38.14 Sale
Description

Reduce waste and limit your impact on the environment with our reusable silicone storage bags. Use them to replace non-biodegradable plastic bags used for storing leftovers, sandwiches, snacks, freezing meat, fruit, vegetables, and more.
 
Features 
 
- Color: Red, green, transparent and blue.
- Material: Food Grade Silicone
- Width: 18cm/ 7.08 inch; Upper length: 23.5cm/ 9.25 inch; Width: 19cm/ 7.48 inch;
- LEAK-PROOF: Airtight seal locks in freshness, flavor and nutritional value. Can be stored in any direction! Won't break like glass or stain like plastic
- REUSABLE: only pure silicone is safe, healthy, eco-friendly, non-allergenic, non-reactive, hygienic, repels germs and chemicals, not toxic to environment, recyclable, possess a long lifespan.
- MULITIFUNCTIONS: Same commercial quality as name brand bags at a fraction of the cost. Perfect for camping, traveling or on-the-go occasions.
Liquid error (sections/product-template line 203): Could not find asset snippets/spreadr-reviews.liquid