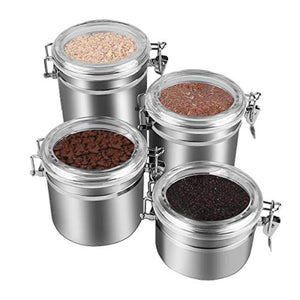 4 Piece Stainless Steel Airtight Canister Set
Regular price $37.99 $29.99 Sale
4-Piece Stainless Steel Airtight Canister Set, Beautiful Food Storage Container for Kitchen Counter, Tea, Sugar, Coffee, Caddy, Flour Canister with Clear Acrylic Lid n' Locking Clamp Up to 65 oz

[Air Tight Design] Many foods, spices and condiments are negatively affected by being exposed to air, humidity, light and heat. With silicone gasket and locking clamp, ENLOY air tight canisters is not only protecting the contents from ants and bugs, but also ensure they remain fresh for a long time.

[4-Piece Set] ENLOY canisters set include 4.7" x 3.54" ( 28 fl oz); 4.7" x 4.72" ( 32 fl oz); 4.7" x 5.9" ( 38 fl oz); 4.7" x 7.48" ( 65 fl oz); They are great for storing cookies, coffee, flour, sugar, nuts, coarse cereals and more. This practical canisters set is perfect for various occasion including coutertop, restaurants, bistros, pubs, cafe, pantry an so on.

[Easy to Use and Clean] ENLOY stainless steel kitchen canisters are made with a wide, 4.7" opening which makes it easy to use full size 1 cup measuring scoops. The canisters are dishwasher-safe, however we recommend hand-washing to protect the mirror finish. One Piece Design will not hide dirty. A quick wipe with a damp cloth is sufficient for a light cleaning.

[Safety] ENLOY canisters for kitchen are made of high quality stainless steel, which is safe for everyday use. The BPA free silicone gasket have no smelly odour, and no toxic chemical releasing in the process of using.

[Sweet Design] Clear clamp lid allows easy viewing of canister contents. With transparent lid, you will save more time. We ENLOY Offer Not Only Top Grade-A Quality Products But Also Provide Top Of Customer Service Along With Our 1-Year No Questions Asked Warranty Policy.
Liquid error (sections/product-template line 203): Could not find asset snippets/spreadr-reviews.liquid