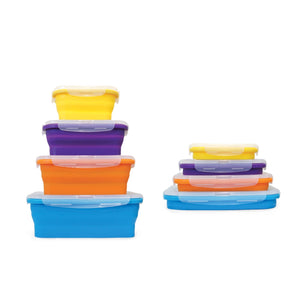 4 Piece Set of Environmentally Friendly Reusable Collapsible Microwave Safe Silicone Food Storage Lunch Box Kitchen Containers
Regular price $75.50 $62.90 Sale
FREE SHIPPING offer on this product extended to 30th September 2019
Go Eco-Friendly with BPA Free Food Grade Silicone Containers and Say No to Plastic! This 4 Pieace Set of Reusable Collapsible Food Storage Lunch Box Kitchen Containers are Perfect for Keeping Your Food Fresh and Kids Healthy. Made of non-toxic food-grade BPA-free Biodegradable 100% Safety Guarantee. Size and dimensions: Red Box (350ml) : 5.4 inch x 4.0 inch x 2.6 inch 4.1oz Yellow Box (450ml) : 6.6 inch x 4.4 inch x 2.6 inch 5.3oz Green Box (800ml) : 7.5 inch x 5.0 inch x 3.0 inch 7.9oz Blue Box (1200ml) : 8.7 inch x 5.7 inch x 3.1 inch 9.5oz Silicone is better for the health of your family Silicone is better for the environment too Unlike plastic containers which can melt in the microwave at low due to low heat resistance silicone containers can withstand temperatures up to 230 o C making it safer for warming up your meals. Unlike plastic containers silicone food storage containers are odourless and do not transfer flavours to the food and meals you keep inside them.
Stock of this item is warehoused within Australia
Add this to your cart today, and pay over time with your choice of Afterpay, zipPay or LayBuy!
Liquid error (sections/product-template line 203): Could not find asset snippets/spreadr-reviews.liquid