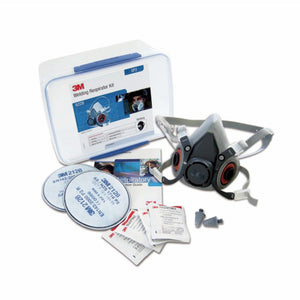 3M Reusable Respirator Starter Kits - Welding 6228
Regular price $0.00 $68.00 Sale
The respirator kit provides respiratory protection in a convenient and easy way. The 3M Half Face Respirator 6000 Series is simple and lightweight. To avoid moisture and contaminant exposure, store the respirator in the handy, sealable storage container. 
Kit Contains: 
1 x 3M Half Face Respirator 6000 Series - Medium 
 1 x pair 3M Particle & Metal Fume Filters 2128, GP2 
4 x 3M Respirator Cleaning Wipes 504 
1 x 3M Skull Screws™ Earplugs P1300, Class 5 (SLC80: 26dB) 
1 x 3M Respiratory Protection Guide 
1 x Handy Storage Container 
Common Applications/Hazards: 
For protection when welding, soldering, brazing, grinding, polishing, drilling, metal pouring or machining 
Protection Factors 
Note that any filtering respirator should not be used for protection at airborne concentrations of contaminants above the relevant IDLH levels. 
This filter, when used for protection against the contaminants as specified, is capable of providing the following protection levels: 
With a 3M 6000 Half Face Respirator: for particles, for airborne concentrations up to 10 times the Workplace Exposure Standard (WES) 
Organic compounds with low vapour pressures (<1.3Pa @ 25 degrees Celsius) in concentrations up to 10 x WES 
Ozone up to 10 x WES 
Offers relief from acid gases and organic vapours at levels below the WES 
To avoid moisture and contaminant exposure, store the respirator in the handy, sealable storage container
*Price listed is per kit, minimum order of 2 kits
Liquid error (sections/product-template line 203): Could not find asset snippets/spreadr-reviews.liquid