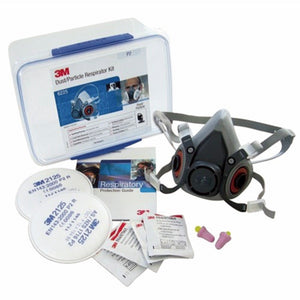 3M Reusable Respirator Starter Kits - Silica Dust & Particle 6225
Regular price $0.00 $68.40 Sale
Complete respirator kit for silica & dust. Very lightweight & compact, provides respiratory protection in a convenient and easy way. 
The 3M Half Face Respirator 6000 Series is simple and lightweight. To avoid moisture and contaminant exposure, store the respirator in the handy, sealable storage container. 
Cartridge or Filter Type - P2
Connection Type - Bayonet
Facepiece Type - Half Facepiece Reusable
Filter Type - Particulate Filters
Standards/Approvals - Meets the performance requirements of AS/NZS 1716:2012
Kit Contains: 
• 1 x 3M Half Face Respirator 6000 Series - Medium 
• 1 x pair of 3M Particulate Filters 2125, P2 
• 4 x 3M Respirator Cleaning Wipes 504 
• 1 x 3M No-Touch Foam Earplugs P2000, Class 4 (SLC80: 25dB)
• 1 x 3M Respiratory Protection Guide 
• 1x Handy storage container 
Common Applications/Hazards: 
For protection when sanding, sawing, lead paint removal, food manufacturing, insulation, drilling, cutting, masonry, grinding, powder coating 
Protection Factors
Note that any filtering respirator should not be used for protection at airborne concentrations of contaminants above the relevant IDLH levels. 
This cartridge/filter, when used for protection against the contaminants as specified, is capable of providing the following protection levels: 
- With a 3M 6000 Series Half Face Respirator: for particles, for airborne concentrations up to 10 times the Workplace Exposure Standard (WES)
To avoid moisture and contaminant exposure, store the respirator in the handy, sealable storage container
*Price listed is per kit, minimum order is for 2 kits
Liquid error (sections/product-template line 203): Could not find asset snippets/spreadr-reviews.liquid