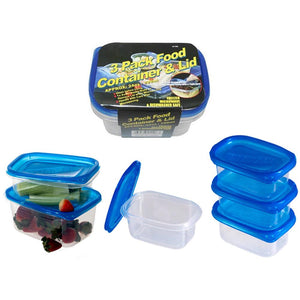 3 X Food Storage Container Freezer Microwave Dishwasher Safe Lids Lunch BPA FREE
Regular price $19.99 $6.13 Sale
3 X Food Storage Container Freezer Microwave Dishwasher Safe Lids Lunch BPA FREE

24 ounce (710 milliliter) capacity.
Wash before using. To avoid team build-up, remove lid when microwaving.
Handle with care afWhen wanting to save leftovers just place them inside and they will stay fresh in the refrigerator or freezer.
Want to take your food on the go to school work and more just place it in side.
You are also able to heat up that cold food in the microwave in these containers.
These containers are reusable or disposable as well.
Freezer, microwave, & dishwasher safe.
Measures: 5.5" W X 3 H, Rectangle shape.

Liquid error (sections/product-template line 203): Could not find asset snippets/spreadr-reviews.liquid