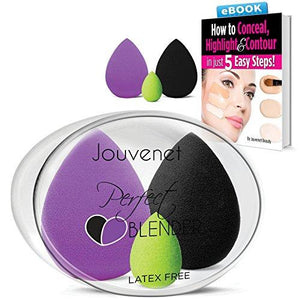 3 Piece Jouvenet Beauty Sponge Blender Set - Latex Free, Odor Free, Vitamin E Infused, High Definition Foundation Sponges For Liquid, Powder & Cream Concealer Makeup - Highlight And Contour Ebook
Regular price $34.61 $21.62 Sale
JUST 60 SECONDS TO A FLAWLESS FACE! These sponges will save you time on your morning makeup routine. Just follow the step-by-step instructions and you can achieve a flawless complexion in less than one minute!

WHY WE'RE BETTER! We really care about our customers. We have done lots of research and we offer you only the best quality sponge blenders available. Don't waste your money trying others. We want you to be happy and we are always here to help or answer questions.

LATEX FREE, ODOR FREE, NON-ALLERGENIC and VITAMIN E INFUSED! These sponges are made from the best quality material. They have no odor or harsh chemical and are guaranteed not to harm your skin. Each sponge is infused with Vitamin E to help soothe your skin and reduce redness and irritation.

BONUS! Included in every order is a reusable storage container. Flip the lid to the bottom of the container to air dry and store your blenders. Our exclusive E-Book includes step by step instructions on how to conceal, highlight & contour with your sponges to achieve that movie star glam look that is so popular right now. Get ready for lots of compliments!

RISK FREE 30-DAY MONEY BACK GUARANTEE! If for any reason within the first 30 days you are not completely satisfied with your purchase, please contact us directly and we will either replace it or refund your money. We stand behind our products 100% and we want you to be happy!

Color : Ivory
CONTENTS:
1 - Purple Sponge (Size: 2.28 x 1.6)
1 - Black Sponge (Size: 2.28 x 1.6)
1 - Mini Sponge (Colors vary) (Size: 1.5 x .75)
1 - Storage/Drying Container
1 - Printed Instruction Sheet
1 - BONUS E-Book download - Conceal, Contour & Highlight
SAVE MONEY! THESE WON'T SOAK UP YOUR MAKEUP! The special foam of the sponge expands and gets super soft when wet. They won't soak up your makeup like traditional wedge sponges and, they won't streak or smear your makeup like the hard, rubbery types. The special shape helps get your products into the tiniest spots that your fingers or brushes can't reach.
USE WET OR DRY! These sponges can be used with any liquid or powder makeup. Use with your favorite foundation, BB/CC cream, blush, concealer, makeup palette, concealer palette, foundation palette, highlight and contour palette or makeup concealer palette.
SO EASY TO CLEAN AND CARE FOR! Use a mild shampoo or our Jouvenet 100% Organic Cleanser after each use and with proper handling and care your sponges should last about three months.
LIMITED SUPPLY! THIS SPECIAL OFFER WILL NOT LAST! SO ORDER YOURS TODAY!
Liquid error (sections/product-template line 203): Could not find asset snippets/spreadr-reviews.liquid