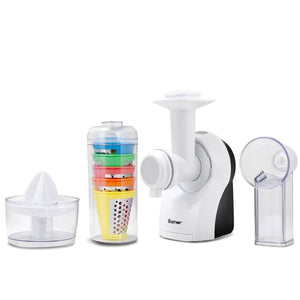 3-in-1 Electric Food Processor Juicer Frozen Dessert Maker
Regular price $48.90 Sale
This is a 3-in-1 food processor including a citrus juicer, a frozen dessert maker and a slicer with 5 cone cutters.

The frozurt dessert maker transforms frozen fruit into dessert in seconds for healthy and delicious treats that are fun and easy to make. With no additional fat, sugar, or preservatives needed, you can enjoy the sweet taste of dessert without the guilt or calories. You can also use citrus juicer to extract pure juice at home and squeeze nutritive juice for baby. Simply slide the pulp control dial left to right to choose how much pulp you want in your juice. In addition, slicers includes 5 diferent interchangeable cones can be used to slice or shred vegetables, fruits, and cheese for delicious salads, soups, tacos, pizzas, desserts, and much more dishes.

With this 3-in-1 food processor, you can make delicious and healthy meal! Don&rsquo t hesitate to buy one!
&nbsp
Brand new and high quality
Perfect for small apartments, dorms and more
Equipped with 5 easily interchangeable cone blades
Perfect for slicing, juicing and makes simple, healthy, dairy-free, vegan creations
Beautiful design and simple operation
A variety of shapes for your vegetables and fruits
Easy to clean
Overall dimensions: 4.5" x 3" x 11" (L x W x H)
Material: PP + ABS + stainless steel
Main color: White
Rated voltage: 120 V
Rated power: 120 W
Rated frequency: 60 Hz
Net weigh: About 24 lbs
Package included:
1 x Frozen dessert maker
1 x Cutting insert holder
1 x Citrus juicer
5 x Cone blades
1 x Storage container
1 x Manual
Liquid error (sections/product-template line 203): Could not find asset snippets/spreadr-reviews.liquid