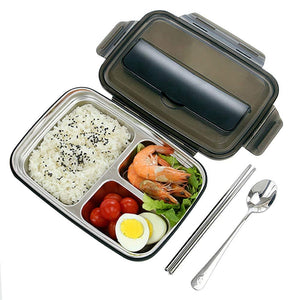 3 Compartment Bento Lunch Box, Insulated Stainless Steel Square Food Storage...
Regular price $500.00 Sale
3 Compartment Bento Lunch Box, Insulated Stainless Steel Square Food Storage Container, Leakproof Portion-Control for Woman Man Kids
---
Product Details
Brand: Aifusi
Item Weight: 458 g
Package Dimensions: 23 x 14.8 x 7 cm
Material: Stainless Steel
Shipping Weight: 458 g
Material: Interior is made of food graded 304 stainless steel, which is durable and withstands the demands of daily use. Double wall design allows this food jar to stay cool to the touch with warm foods and sweat-proof with cold foods.
Portion Control: Features 3 compartments, convenient to store variety food with divided lunch box design, portioned perfectly for adult and child's appetite, durable and easy to-go. Dimensions is 24cm*18.5cm*7cm.
Leak-proof: Keeps meals and snacks separated without mess. Our meal prep containers are leak-proof, thanks to the washable silicone ring and sturdy lids that snap-shut firmly to prevent spilling accidents.
Easy to Clean: The wide mouth makes the food jar easy to fill and pour out, clean. It is a great way to pack fresh and healthy meals for work or on the go.
Eat Health
Nowadays we all know the benefits of bringing your own lunch to work or school.
You save money, save time, and you eat healthier. But make sure you are eating healthy with safe bento boxes!
Our insulated lunch box bento food storage containers equipped with good quality 304 stainless steel inner box.
Suitable for kids and adults, ideal for school lunches, work, travel, picnics, takeout, and family leftovers.
With our lunch boxes , you can enjoy a well-balanced meal, even when you're away from home!
All-in-one design does more than create you a beautiful presentation. It also saves you the hassle of opening several small containers.

Insulated Bento Box with 3 Compartment
100% leakproof with airtight lid and silicone ring Keep food warm for 1-3 hours. Make food stay fresh and tasty for about 6-8 hours!
All small parts are suitable for dishwasher cleaning, easy to clean and easy to store.
Free gift : 1 x Chopsticks and 1 x Spoon.

Silicone Sealing Ring
Silicone Sealing Ring use the sealing ring design silica gel, close to the edge sealing well.
Cover with 4 side caps, the lid has a latch design that firmly locks in the delicious food.

Attention
1.Wash clean the inner wall before the first use.
2.Firstly wash with hot water or cold water, and then pour it.
3.Wash clean and keep dry after each use.
Liquid error (sections/product-template line 203): Could not find asset snippets/spreadr-reviews.liquid