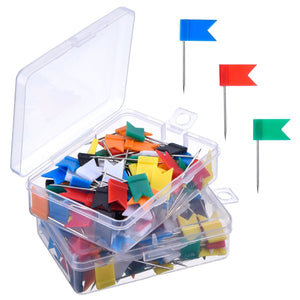 200 Pieces Map Flag Push Pins Tacks in 2 Box, Assorted 7 Colors
Regular price $39.95 Sale
to make sure this fits.

BRAND NEW - LOW QUANTITY IN STOCK - ORDER SOON




Quantity: 200 pieces; Color: yellow, blue, red, green, white, black and orange (random quantity for each color)

Made of flag shaped hard plastic head and steel straight pins

Fits for school, home and office; Mark on the map for places visited and places you want to visit

Easy to pin into cork board or cloth board; Not recommended for using on cement wall

Flag push pins are good to hang up travel photos, maps, calendars, to-do lists and other lightweight objects

Features:
200 Pieces map flag shaped push pins with 7 kind of colors comes packaged in plastic box for easy storage.
Packaged in plastic box for easy storage; Make your pins organized.
These flag map pins are good to mark locations on maps such as office locations, places visited, places to visit, favorite cities, etc.
Also suitable for art and craft activities, geography lessons, pinning up travel photos on cork board and so on.
A great way to mark a world map, travel maps or any other decorative wall map.

Specifications:
Length: 1.38 inch
Width: 0.7 inch
Storage container size: 9 x 6.8 x 2.7 cm/ 3.6 x 2.67 x 1.1 inch
7 Colors: yellow, blue, red, green, white, black and orange (random quantity for each color)

Package includes:
200 x Map flag push pins
2 x Plastic container

Note:
Small parts, please keep them away from children under 3 years old.
Liquid error (sections/product-template line 203): Could not find asset snippets/spreadr-reviews.liquid