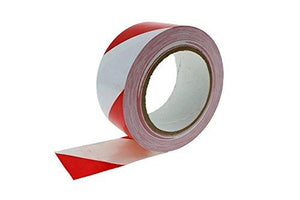 2 Red White Striped Vinyl Floor Tape 7 Mil Rubber Adhesive Sealing Warning Osha Caution Marking Safety Electrical Removable Pvc Tape 36Yd
Regular price $34.45 $21.58 Sale
Used in Military, Industrial, Construction, Manufacturing and general repair

High tensile strength, UV/Solvent resistant. Vinyl reinforced for tear & stretch resistance

Water resistant backing, pressure sensitive adhesive, weather resistant, long term outdoor use

Wide temperature range, 0-200 degrees. Leader in strength, flexibility, durability, and longevity

Resists twisting or curling, permanent adhesion to surfaces

Color : Red White
2 Vinyl Marking Safety Tape 36 yard. Cuts easily with scissors or razor knife.
Please NOTE: Surfaces must be clean, dust free, and dry. This tape is designed to resist wear, scrapes, solvents, and weathering for long-lasting performance. The vinyl backing allows it to conform to irregular, curved and convex surfaces and rubber adhesive provides good adhesion and excellent holding strength on many different surfaces. The combination of the backing and adhesive properties help to prevent edge lifting, keeping the tape in place. Once finished, the tape removes cleanly from most surfaces with no residue to help reduce clean-up time and labor costs.
Strong, durable and flexible, vinyl tape can be used for a huge variety of indoor and outdoor applications such as canister and storage container sealing, color coding, paint masking, wrapping air hoses and pvc pipe, building and reinforcing, temporary surface repair, decorating, lane marking and safety applications and can even be used in corrosion sensitive applications.
Always make sure you press the tape firmly into place everywhere contact is made - to set the pressure sensitive adhesive. The dryer and warmer the installation, the longer the adhesive will hold its position (avoid sliding). A vinyl tarp repair might last 1 season, wrapping a 6 pvc pipe could last 2 or 3 seasons. For best results wipe all surfaces with alcohol or acetone and allow to fully evaporate before application.
Other uses: Maintenance, general repair, joint sealing, pipe wrapping, bundling, patching, sealing, mending, insulation projects, temporary closure or flashing, heavy duty packaging, manufacturing, abatement, HVAC, color coding, labeling, wire/cable hold down, aisle marking.
Liquid error (sections/product-template line 203): Could not find asset snippets/spreadr-reviews.liquid