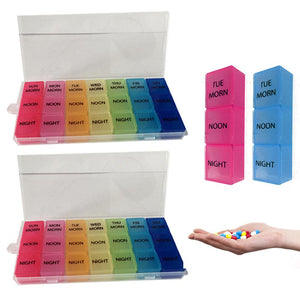 2 Pk 7 Day Pill Box Organizer Weekly Medicine Vitamins Storage Container Travel
Regular price $29.99 $13.95 Sale
2 Pack 7 Day Pill Box Organizer Colorful Weekly Tablet Vitamins Storage Container Daily Medicine Travel Case !!

This weekly pill organizer is a stylish and convenient way to keep medication, vitamins and other pills organized.
The 7 days detachable pill case pack reminds you to take your daily medication and vitamins divided into 21 small boxes, 7 days, 3 times a day; morning, noon and night.
Easy to distinguish different pills, and separated flip open casing stays securely.
Great holder for mints, vitamins, pills, tablets, beads or other small units.
Measures: Width: 3.25" x Lenght: 7" x Height: 0.75".
Comes 2 pill boxes.

Liquid error (sections/product-template line 203): Could not find asset snippets/spreadr-reviews.liquid