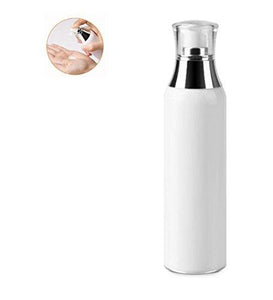 1Pcs White Acrylic Airless Pump Vacuum Bottles-Empty Portable Cosmetic Makeup Storage Containers Lotion Pump Bottle Cosmetic Toiletries Liquid Storage Containers(150Ml/5Oz)
Regular price $32.70 $19.64 Sale
Your skin care products will be kept fresher for longer, increasing their shelf-life and preventing any bacteria or pollution contamination. Leak Proof Travel bottles - Take it with you and go travel with ease

PERFECT DISPENSER FOR skin care products like: foundations, serums, creams, lotions, moisturizers or DIY skin care products. Clear Cap, white Body, Shiny Silver Collar

AIRLESS PUMP BOTTLE BENEFITS - Minimizes waste - No more squeeze tube - No more fingers in skin care products - Prevents skin care products from getting too thick - more accurate dosage of formulas - Very Easy to fill

Material of environmental protection,non-taxic and tasteless,health and safety

Color: white as photo shown; Material: Acrylic, PP plastic; Capacity:120ml and 150ml for your choosing;Package: 1Pcs

Color : white

Size : 150ml
Specification:
Capacity:120ml and 150ml for your choosing
Material:Acrylic, PP plastic
Color:White as photo shown
120ml size:Approx 165mm x 140mm/6.5x5.5inch
150ml size:Approx 178mm x 140mm/7x5.5inch

Package include 1PCS Plastic Airless Pump Vacuum Bottles

Features:
*The Airless Pump Bottle will help to minimize waste as product is being pushed up to the pump via a disk
*Empty Tins Have Multiple DIY Uses. Containers are Easy to Carry and Use.
*Material of environmental protection,non-taxic and tasteless,health and safety,can be used as a cream packed with bubble paper film
Notice:If there is any question about our product,please no hesitate to contact us,we will respond within 24 hours.


Liquid error (sections/product-template line 203): Could not find asset snippets/spreadr-reviews.liquid