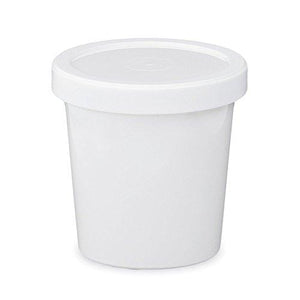 16 Oz. (Pint) Freezer Storage Containers With Lids | Food Storage Containers With Lids | Plastic Food Containers | Food Prep | Meal Prep | Freezer Containers | Food Containers - White -
Regular price $63.01 $45.05 Sale
Premium round plastic containers, food safe and BPA free - Lids included.

Freezer Grade

Perfect for freezing fresh fruit & vegtables and left overs. This pint size is also great for storing your homemade ice cream.

Product dimensions: Container 3.79 diameter x 4.3 height; Lid 3.91 x 0.59

Proudly made in the USA! - Berry Global Part #s T31416FCP & L320

Color : White

Size : 16 oz.
These BPA Free, Freezer Grade, Food Safe plastic containers are perfect for all your freezing needs, whether it is fresh fruit, vegetables or meals that you prepare ahead of time. You have the choice of white or translucent.
Liquid error (sections/product-template line 203): Could not find asset snippets/spreadr-reviews.liquid