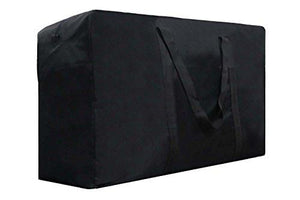 154L Oversized Storage Bag Waterproof Space Saving Laundry Bag Garment Closet Storage Organizer Travel Cargo Duffel Jumbo Bags Organizer For Comforter Quilt Bedspread Pillow
Regular price $42.27 $29.29 Sale
154L EXTRA LARGE STORAGE BAG. Well-made, breathable, and great color. Everything you would ever want in a packable, breathable storage container. Oversized bag, easy to store away, folds up very small for easy storage when you are not using it

LIGHTWEIGHT AND CAPACIOUS, extral large capacity, deep inside. Double zippers work well and capacity is generous, durable and truly great for storing comforters, blankets, quilts, sheets, clothes, etc. and keeps them dry, clean. Size: 33 x 21.6 x 13

HEAVY DUTY JUMBO BAG. Anti-tear handle for heavy duty work and for great moving around. Durable web woven handle for snug and comfort fit in hands when you need to moving the bag

Sturdy 600D Oxford fabric jumbo bag, dark color resist stains well while it does great job of keeping unused items out of sight and keep the bag under bed or on the shelf to make your room well organized

Reinforced sewing for added strength. Ideal storage bag, laundry bag, college carrying bag, camping carrying bag, festival decorations bag, Christmas item Bag, reusable laundry bag, space saver storage bag, Cargo Duffel, etc

Color : Black
Black Storage Bag

Domoos extra large comforter storage bag holds a lot and are quite sturdy. It's 154L and holds weight up to 170lbs. It's great storage bag for almost anything. It's able to fit Full/ Queen size Blankets, Extra Large Blankets, Bath Towels, Quilt, Pillows, Mattress, Toys, Shoes, Clothes. Easy to Slip the bag under bed, perfect for sliding toys in and out from the bed. Perfect for College dorm Carrying Use, House-moving organization. Use it to hold bed sheets, quilts, blankets, clothes, laundry, toys, pillows, comforters and store above cabinets/ in closet/ under bed to keep dust and dirt off the items. Add it to Cart now and get started to save your space!

Specification
Material: High density Waterproof 600D Oxford fabric outer, nylon lining interior
Size: Oversized
Dimension: 85*33*55cm/ 33 x 13 x 21.6 (L*W*H)
Weight: 0.63kg
Closure: Dual-zipper puller
Features: Heavy duty oxford fabric, and PVC painting inside for water resistance;
Water-resistant, Dustproof, Damproof, Tear-resistant
Extra Large Capacity, Washable, Foldable, Durable to Use for a long time!
More Function: Shopping bag, Picnic bag, Beach bag, Reusable laundry bag, Travel Cargo bag, Christmas tree bag, weekend bag, Weekender bag

Why We Prefer Oxford Nylon?
The extra large Reusable laundry bag is made of 600D oxford nylon. Unlike plastic comfortable bag, the fabric bag is breathable and has waterproof lining inside.

About Us
Domoos specialize in storage bag, commit to provide wise solution for home organization. Our product has modern and stylish design.We have storage bag, weekend bag, lunch bag, laundry bag, underbed bag, insulated bag

Guarantee
. 100% Money Back Guarantee. We always there to assist you with any problems or concerns. Simply contact us and we will be happy to address any of your concerns!
Liquid error (sections/product-template line 203): Could not find asset snippets/spreadr-reviews.liquid