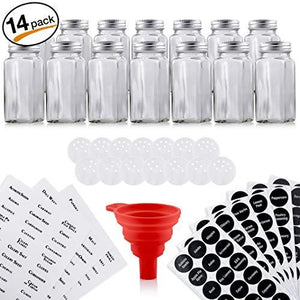 14 Glass Spice Jars Set With Airtight Aluminum Lids | Includes 14 Empty Square Bottles, 239 Labels, And 1 Collapsible Kitchen Funnel | Complete Storage Kit For Spices And Herbs (4Oz Containers)
Regular price $41.24 $26.25 Sale
COMPLETE SPICE JAR SET: Organize your kitchen with a spice container set that gives you everything you need. It comes with 14 glass spice storage containers each with a lid and shaker cap, 126 chalkboard spice labels, 113 translucent labels, and a collapsible funnel for mess-free filling.

KEEP SPICES FRESHER: Retain the kick and punch of your spices and herbs with the airtight aluminum lids on these glass spice jars. They screw on tight to keep your spices deliciously flavorful and are complemented by BPA-free snap-on shaker caps for precise dispensing.

MAKE A STATEMENT: You'll love the contemporary mix of the French square glass spice containers and the aluminum brushed silver caps. The stylish clash of heavy clear glass and rust-resistant metal adds a premium feel to any kitchen and matches just about any spice rack or organizer.

THOUGHTFULNESS IN DESIGN: Each of the glass spice bottles is 4oz to fully fit the contents of most store-bought spices, and each jar measures 4 1/8 (H) x 1 3/4 (W) for space-friendly storage. The square design prevents the bottles from rolling around if stored on their sides

LIFETIME WARRANTY: You have nothing to lose. Our decorative empty spice bottles with lids are backed by a one-of-a-kind lifetime warranty. Experience any issues with them? We'll quickly send you a replacement. Get the most complete spice jar set completely risk-free!
FRESHLY STORE YOUR SPICES THE ELEGANT AND FUNCTIONAL WAY

Everything You Need

Looking for a spice jar set to organize your spice collection and declutter your counters? Go for one that gives you the best
bang for your buck! No having to spend extra with our glass container set. Not only does it come with 14 premium spice jars with
lids and shaker caps but it also makes refilling mess-free by including 1 collapsible funnel and allows you to customize your spice
bottles with a choice of 2 types of spice labels. You'll get 126 chalkboard spice labels: 96 pre-printed with the most common
spice names, 18 blank, and 6 with numbers. You'll also get 113 translucent labels: 96 pre-printed and 17 blank. So you'll
have everything you need to start organizing right out of the box!

Durability Meets Aesthetics

A spice jar set should do more than just neaten up your kitchen, it should also spruce it up! The combination of our
French square bottles and aluminum caps does just this. Whether placed on a countertop or perched atop a
cabinet, the spice jars upgrade any space with the premium look of glass and the sleek sheen of metal. Unlike other spice
container sets with glass jars that easily break and metal lids that quickly rust, we've designed ours with heavy glass and
corrosion-resistant aluminum lids. Your set remains in eye-catching condition.

Here are more reasons to love this premium glass spice set:

- Airtight lids keep your spices fresher for longer.
- The 4oz jars fully fit contents of most store-bought spices.
- Square bottles never roll around even when stored in drawers.
- Snap-on shaker caps dispense just the right amount of spice.
- Carefully packed to get to you intact.
- Makes a great kitchen gift to crown any occasion.
Make sense of your spices with a set that gives you impressive value.
Liquid error (sections/product-template line 203): Could not find asset snippets/spreadr-reviews.liquid