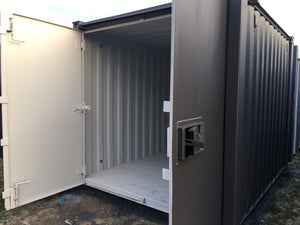 12x8 ft Anti Vandal secure store Storage Container
Regular price $1,500.00 $1,300.00 Sale
Cabin Depot presents Excellent condition 12ft x 8ft  Secure Store Anti Vandal Unit ! 

Transportation can be arranged at  reasonable rates !
This container is ideally suited for the smaller site or garden where this container can be positioned with crane assisted vehicles.
The container is supplied with a lock box and lock inside for secure storage.

External:
- Steel Anti Vandal Construction
- Resprayed Dark Grey Exterior,  Interior Light Grey 
- 2No. anti-vandal Heavy Duty Doors to the storage area with locking keys

Payments accepted:
-  Bank Transfer.
- Cheque.
- Debit Card.
- Credit Card (3% charge)
- All prices quoted are exclusive of VAT
At Cabin Depot, our customers satisfaction is our #1 priority. We can offer custom color choice( interior or exterior). We can install extra: Window/Door/ Partition wall. You name it: We will make it Happen.
Call Tom 07707685669 or email info@cabindepot.co.uk for more information or to arrange viewing.
Many more Containers, Portable Offices, Toilets, Welfare units available at our Sales and Refurbishment Centre of Cabin Depot Near Chichester.
Liquid error (sections/product-template line 203): Could not find asset snippets/spreadr-reviews.liquid