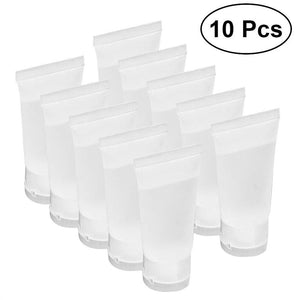 10pcs 10ml Refillable Bottle Travel Squeeze Bottle Storage Container with Flip Cap for Shampoo Facial Cleanser Toner Hand Cream Body Lotion
Regular price $2.46 $2.46 Sale
Description

Are you looking for refillable storage bottles for travel use? These travel bottles will be good organizers for you! Made of good-quality material, they are eco-friendly, odorless and non-toxic, perfect for shampoo, body wash, face wash, hand cream, etc. They will be great companions for your travel or business trip!

Features

- Color: As shown.
- Material: Plastic.
- Size: 8 x 4 x 3cm.
- Well made of high quality material, odorless, non-toxic, wear-resistant and durable for long-lasting use.
- Appropriate size, easily packed into luggage, suit case, handbag, backpack, Yoga bag, sports bag, etc.
- Well organize liquid, perfect for shampoo, body wash, body lotion, face wash, facial toner, hand cream, sun cream, etc.
- Suitable for travel, business trip, sports, outdoor activities, etc.
Liquid error (sections/product-template line 203): Could not find asset snippets/spreadr-reviews.liquid