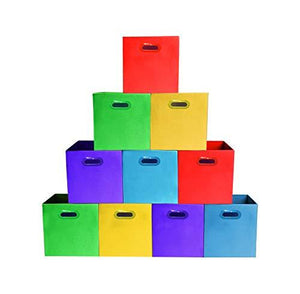 (10-Pack, Assorted Colors) Bright Colors Storage Bins With Plastic Handles, Containers, Boxes, Tote, Baskets| Collapsible Cubes Household Organization | Fresh Fabric &Amp; Cardboard,Nursery Office| Toys
Regular price $69.85 $72.60 Sale
AN ATTRACTIVE SOLUTION TO YOUR STORAGE NEEDS: This set of 10 collapsible storage cubes offers an appealing and lightweight solution if you want to eliminate mess, and is suitable for any room. Now, you can sort out everything from clothes to toys inside these durable storage bins. Because they're made of non-woven fabric, they're easy to clean with a cloth.

FUNCTIONAL & STURDY: Our foldable storage containers are exceptionally intended to fit impeccably with shelves on account of their handles! Strong, beautiful and simple to utilize, these collapsible storage baskets are an astounding decision! Besides, you will be able to keep your small and out of season items out of sight, hiding them behind the vivid colors.

TRANSFORM & ORGANIZE ANY ROOM! You can use this set of storage boxes everywhere in your house, from your garage to your kid's playroom or your living room. These valuable storage containers come with durable handles, which makes them easy to grab or carry from place to place. Plus, their beautiful design will keep dust away from your precious things inside the boxes.

PREMIUM MATERIALS: Hand-made of non-woven, breathable fabric and Cardboard (PP), these storage bins are extremely lightweight. They offer sufficient space to organize your clutter and they're a viable and appealing addition to any dorm, office or house. They're environmentally-friendly and they'll keep insects and mold away. Each container measures around 11 (H) x 10.5 (W) x 10.5 (L).

CREATE MORE SPACE: If space planning is not your strong point, these fabric storage bins will meet your different stockpiling needs through giving you additional storage room and well sort out the mess. They're fashionable, with delightful looks and can be used to decorate any room. Regardless of whether you need to store clothes, toys or useful tools, these storage containers can enable you to keep things perfectly organized

Color : 5 Colors 10pack
These foldable storage containers are handy and solid and with their substantial space, they are ideal for putting away things such as garments, toys, books, tools and other little individual items. Very simple to arrange, they're suited to your storage needs.
They're Foldable & Easy To Transport
The fact that they're collapsible, makes these storage bins perfect for creating more space wherever you need it. In this way, not only will you beautify your home but you'll also feel better. Not to mention that transporting them from place to place is a breeze!
Dual Handles For Extra Flexibility
Each storage box has convenient and sturdy handles on the sides which is extremely advantageous when you need to slide them in or pull them out. At the same time, it's easy for you to carry around when you need to utilize them.
Environmentally Friendly Materials
Our storage containers are made of non-woven fabric and cardboard material, which makes them friendly to the environment and anti-wrinkle. In this way, you don't have to worry about your well-kept items inside the bins, since our materials are breathable.
Unique Decor
With their beautiful colors and outstanding minimalistic deign, these storage boxes splendidly fit in any room or home dcor. You'll no longer need to put things away under your bed because our storage containers are so eye catching, they'll influence you to put them in plain view where individuals will see them!
Multi-Functional
The ideal size of these boxes makes them perfect for putting away your stuff, for example, baby garments, clothing, socks, toys and other little things. It is truly a decent stockpiling partner.
This Is A Risk-Free Purchase! Add To Cart Now!
Liquid error (sections/product-template line 203): Could not find asset snippets/spreadr-reviews.liquid