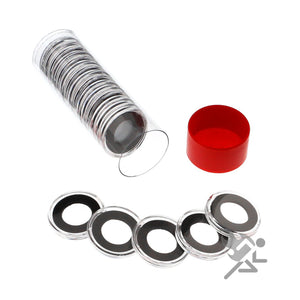 1 Airtite Coin Holder Storage Container & 20 Black Ring 16mm Air-Tite Coin Holder Capsules for 1/10oz Gold Eagles (SG_B00GMLCJY6_US)
Regular price $199.95 Sale
Condition: New
Shipping: Free shipping to US addresses
Satisfaction garanteed!
* Capsule Measurements: Inside Diameter 16mm x 1.57mm Depth, Outside Diameter 30.94mm x 4.9mm
* Tube Measurements: Inside Diameter 32.44mm x Height 4-1/8 inches
* Rings are placed inside the capsule
* Coins that Fit: 1/10oz Gold Eagle, 1/10oz Gold Maple Leaf, 1/10oz $10 Platinum Eagle, 1/10oz Koala, 1/10oz Philharmonic Gold, 1/10oz Gold Britannia, 1/10oz Gold Sovereign, 1/10oz Silver Britannia, 1/10oz Gold Libertad, 1/10oz Krugerrand, 1/20oz Silver Libertad, 2.5 Peso Gold, 1/20oz Silver Maple Leaf, and 1/10oz Lunar Gold Series 1
Product description
Each capsule tube is designed for storing coins encapsulated in Air-Tite brand coin capsules. Each capsule tube holds up to 20 completely closed coin capsules. Tubes are crystal clear and PVC free with a snug fitting cap. A welded bottom allows for a complete view of any enclosed capsules. Air-Tite coin capsule holders are made from acrylic plastic with a non-yellowing agent, a process that results in a final product that is hard, crystal clear, and smooth to the touch. The cover and base snap together firmly to form a perfect seal enclosing the ring and securing your collectible. Capsules are PVC free, archival safe, and suitable for extended periods of long term coin or bar storage. Coin capsules are securely packaged un-assembled within layers of foam to protect them during shipment. Coin capsules are made in the USA.
Product information
| | |
| --- | --- |
| Manufacturer | Air-Tite Holders |
| Brand | Air-Tite Holders |
| Model | SG_B00GMLCJY6_US |
| MPN | SG_B00GMLCJY6_US |
| Weight | 0.01845 lbs |
| Lenght | 8.1952 inches |
| Width | 7.0132 inches |
| Height | 1.4972 inches |
| Type | OFFICE_PRODUCTS |
| PartNumber | SG_B00GMLCJY6_US |
| PackageQuantity | 1 |
| UPC | 799475935374 |
Liquid error (sections/product-template line 203): Could not find asset snippets/spreadr-reviews.liquid