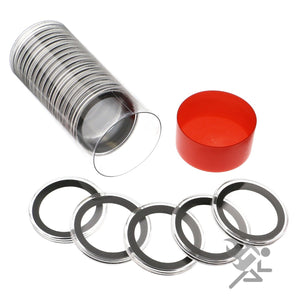 1 Air-Tite Coin Holder Storage Container & 20 Black Ring 38mm Air-Tite Coin Holder Capsules for Silver Dollars (SG_B00BEFQQW6_US)
Regular price $199.95 Sale
Condition: New
Shipping: Free shipping to US addresses
Satisfaction garanteed!
* Capsule Measurements: Inside Diameter 38mm x Depth 2.92mm, Outside Diameter 51.59mm x 5.7mm
* Tube Measurements: 2.03" / 51.59mm O.D. capsules x 4.75" length w/ Cap
* Rings are placed inside the capsule
* Capsules are shipped Un-Assembled between layers of foam
* Coins that Fit: 1oz Silver Dollars (Morgan, Peace, Eisenhower), 1oz Silver Canadian Maple Leaf*, 1oz Silver Britannia (2013-present), Modern 1oz Silver Commemorative, and Churchill Dollar. Will NOT hold American Eagles.
Product description
The capsule tubes are designed to store Air-Tite Brand Capsules. Each tube has a small hole poked in the cap to allow air-flow when removing the lid, tubes will hold 20 completely closed capsules. The tubes do not provide any extra protection for the coins, and are only a storage solution. These capsules are Made in the USA from an acrylic plastic with a non-yellowing agent. This process results in a final product that is hard, crystal clear, and smooth to the touch. The cover and base close together firmly to form a perfect seal. The capsules are PVC Free, archival Safe are suitable for extended periods of long term coin or bar storage. The Rings are made of an inert cross linked polyethylene. The rings secure the coin in the holder. They will create an additional barrier against air contamination and also presents an attractive border to accent the coin. *Some coins are thicker than the inside depth of this capsule, but can still be used in this holder. You may experience a small gap between the top and bottom pieces that is about the thickness of a fingernail.
Product information
| | |
| --- | --- |
| Manufacturer | Air-Tite Holders |
| Brand | Air-Tite Holders |
| Model | SG_B00BEFQQW6_US |
| MPN | unknown |
| Weight | 0.51045 lbs |
| Lenght | 10.9138 inches |
| Width | 5.713 inches |
| Height | 1.1032 inches |
| Type | OFFICE_PRODUCTS |
| Language | English. |
| PackageQuantity | 1 |
| UPC | 700580770149 |
Liquid error (sections/product-template line 203): Could not find asset snippets/spreadr-reviews.liquid