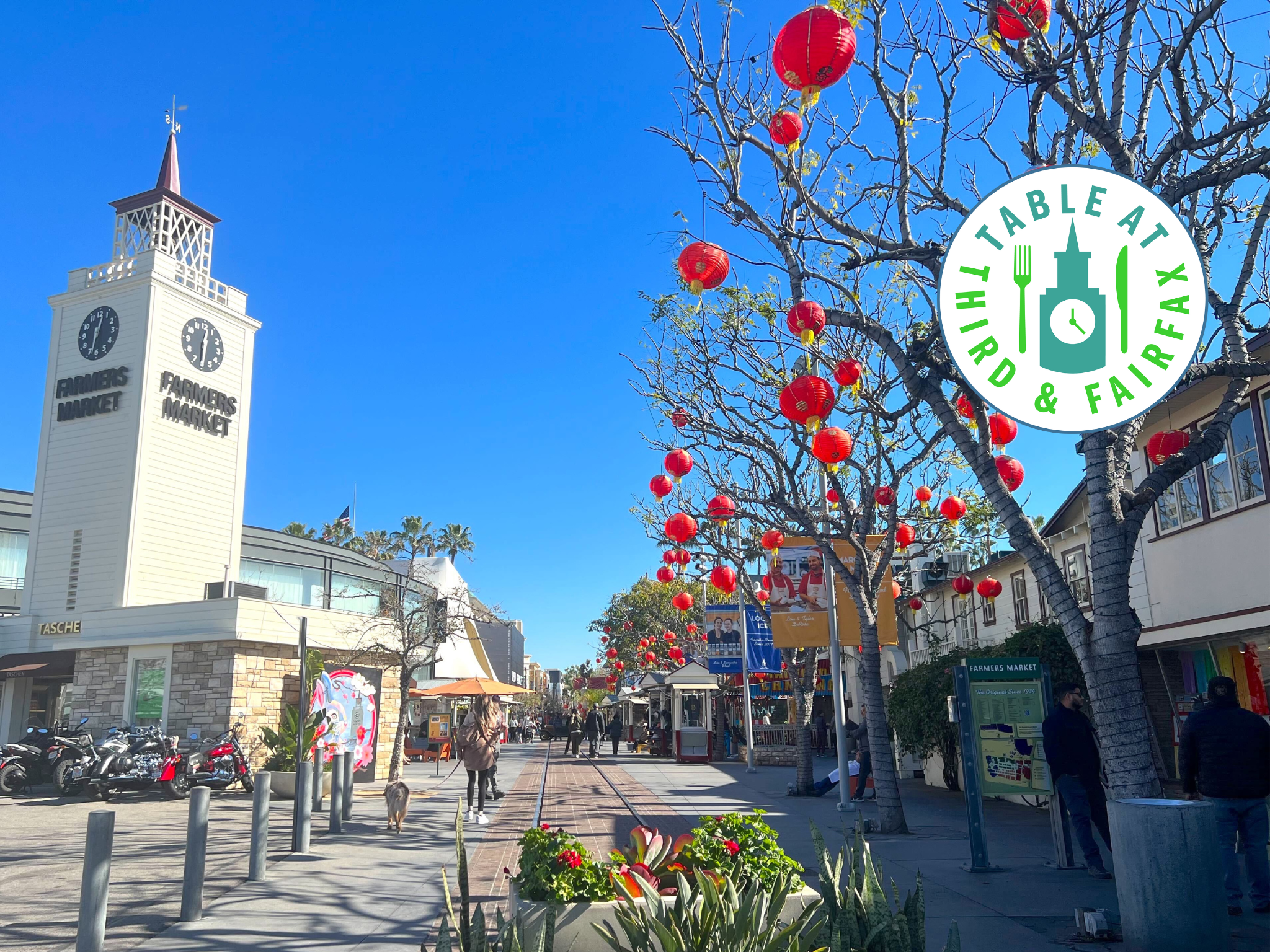 Table at Third & Fairfax is a weekly dining column where Food and Drink editor Patricia Kelly Yeo will eat her way through the Original Farmers Market in 2023. Each column will drop on Thursday for a week-by-week recap of her journey through the classic L.A. tourist attraction. Last week, Kelly tried Bryan's Pit Barbeque and Rick's Produce.
Is there anything better than a delicious plate of rotisserie chicken? The city is full of them, from classics like Zankou Chicken and Koreatown's Pollo A La Brasa to chef-driven spots like Los Feliz's Kismet Rotisserie and CevicheStop in Culver City. Walking through the Original Farmers Market—again on a Wednesday, this time right around noon—I find myself in front of Market Chicken Rotisserie (est. 2022), the avian-oriented newcomer that opened just short of five months ago near Littlejohn's English Toffee House and Nonna's Empanadas.  
Owned by the same folks behind Pampas Grill and Phil's Deli, Market Chicken offers plates of chicken, whole roasted birds, sandwiches, wraps and salads. It's a familiar format and cooking method that doesn't draw as much attention as fried chicken, but the lower-calorie method of preparation makes it a far more viable everyday meal. Coming off dinner at the Mondrian's brand new Casa Madera the night before, I'm not in the mood for red meat, seafood or tacos (all of which the Farmers Market has in spades).
In light of that, I order Market Chicken's spicy two-piece leg and thigh plate ($12), which comes with a choice of two sides. Though the stall offers heartier sides like black beans, roasted potatoes and French fries, I opt for two veggies: mixed greens and roasted vegetables. Usually, my editorial diet doesn't allow much leeway for such nutrition options, so I make the most of it when I can. It's also the first time in ages for me that the total of a non-taco meal in L.A., including tip, comes out to around $15, and I'm grateful for this rare unintentionally inexpensive meal. 
Recently, we polled our Instagram followers to find out under what dollar amount people consider a given food item to be "cheap." Though the largest proportion went to those saying $10 or less, I'm wondering, short of taco trucks, single sandwiches and fast food chains, exactly what Angelenos think they will find available under that amount. In my experience, you won't find much in this city, or the Farmers Market for that matter, for less than $15. These days, for reasons you probably are already aware of, places like Market Rotisserie Chicken are in the minority of restaurants and takeout spots offering affordable meals that can deliver a substantive meal that stays around that amount.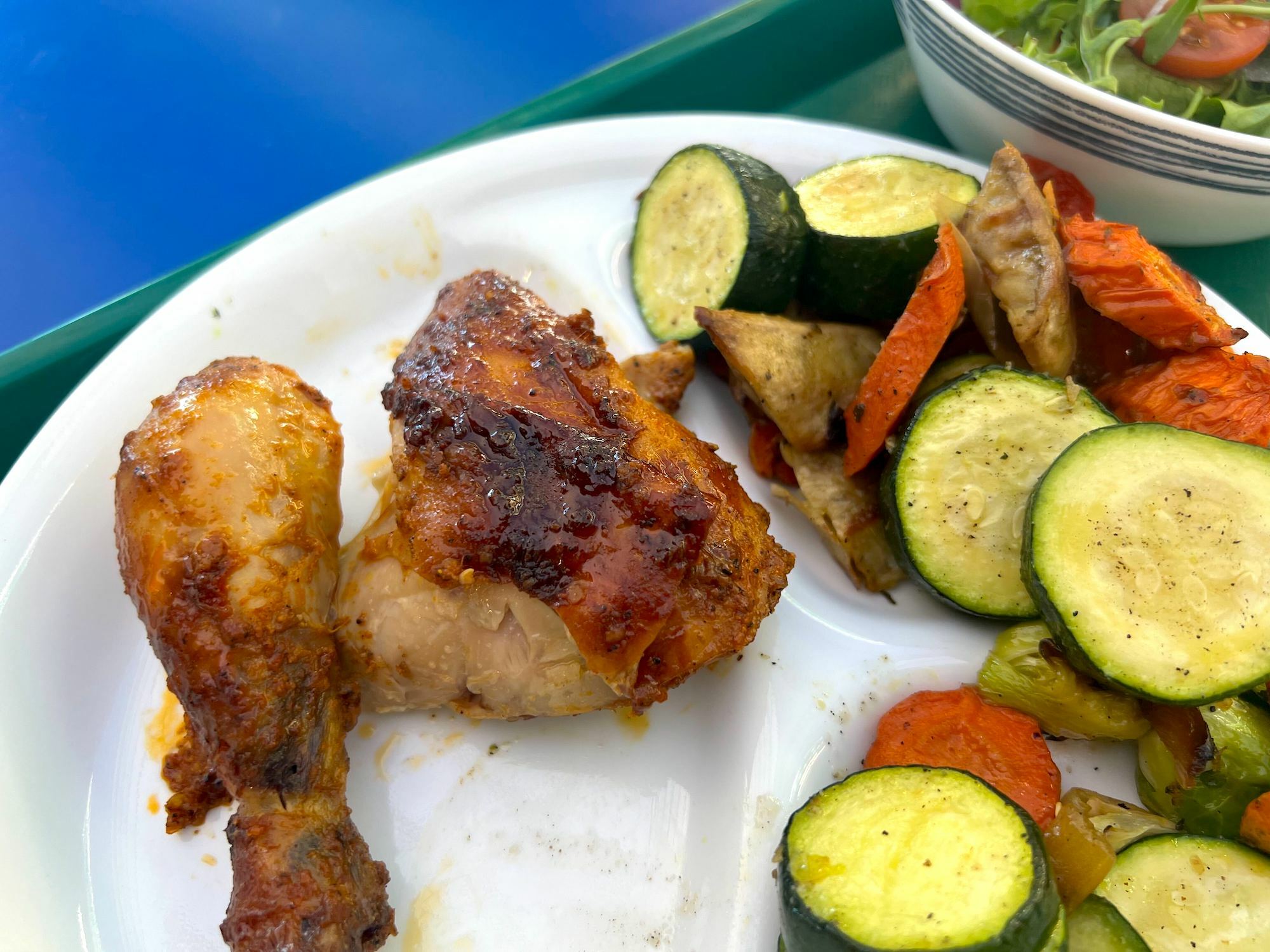 Waiting for my order to be ready, I wander back out towards the parking lot, where the trees have been strung in red lanterns for the Lunar New Year and the clock tower sports a mural celebrating the Year of the Rabbit. By the time I've looped back towards Market Chicken, the plate is ready on a green tray. Though the two pieces of chicken are quite small, the meat is juicy and flavorful—just the right amount of spice. The Peruvian-style aji verde sauce on the side delivers ample zing with each morsel of chicken, and the roasted veggies—a mix of potatoes, carrots, Brussels sprouts and zucchini—aren't mushy or overcooked. The salad is straightforward, containing crisp lettuce, fresh arugula and onions.
By the time I'm done with the chicken and most of the vegetables, I'm still feeling peckish. Granted, for $2 more, I could have opted for a three-piece dark meat plate; a dollar extra for either plate upgrades you to larger white meat options that would probably leave you more satisfied. Instead of veggies, I could have chosen the roasted potatoes or black beans, which would have definitely filled me up. As for the main event, the chicken itself is on par with plenty of other great chef-driven rotisserie options around town, and a little bit cheaper.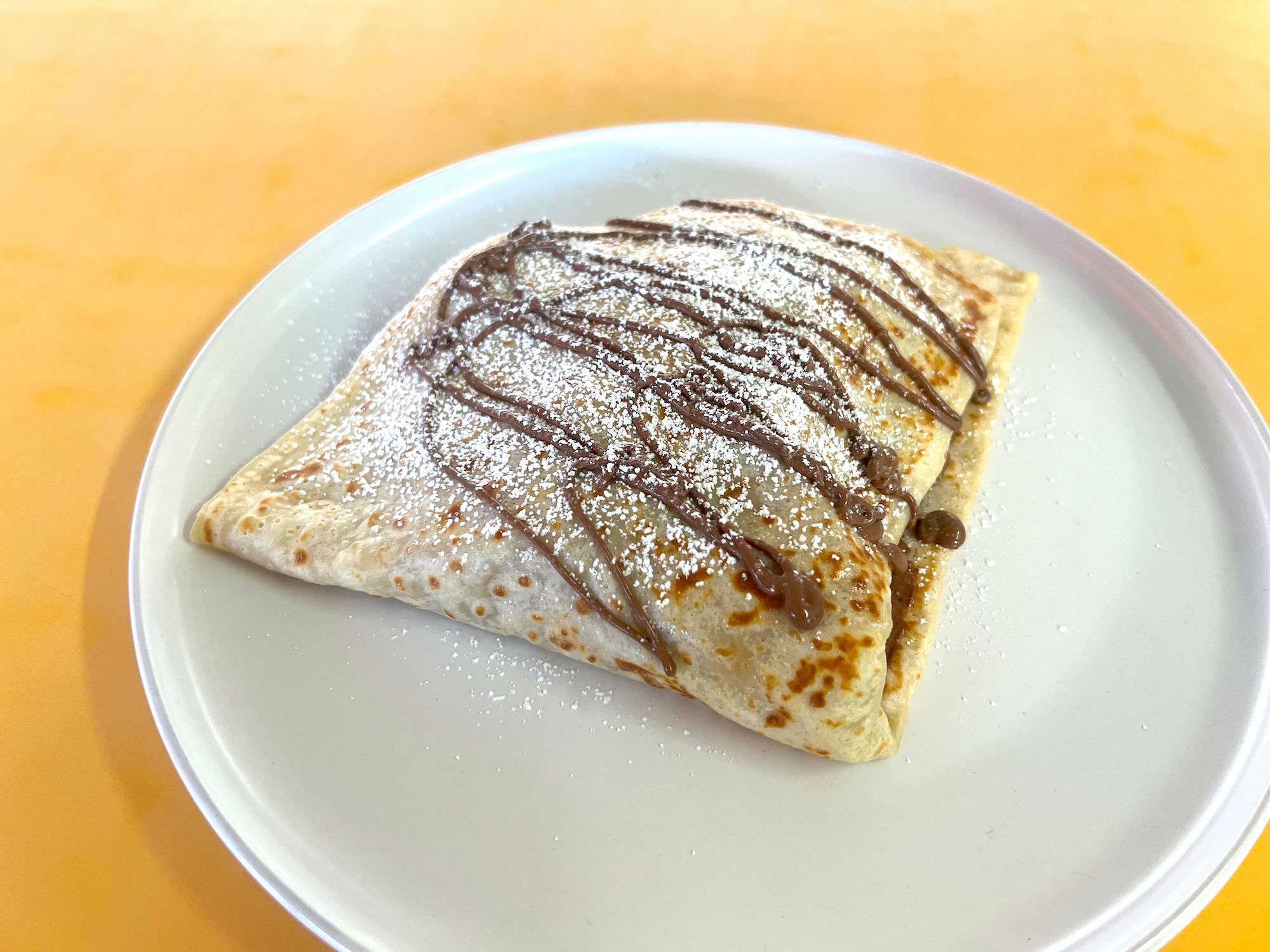 For dessert, I make a beeline for the French Crepe Company and order a sweet crepe stuffed with Nutella, banana and strawberries ($14). Though the consistency of the generously stuffed crepe itself isn't the best I've ever had, it's a serviceable vehicle for the fillings, which I get into with my knife and fork. Within minutes, the crepe cools and takes on a somewhat chewy consistency: not exactly a desirable trait in what should be an airy, paper-thin pancake. Still, I find myself finishing most of the plate, buoyed by all the sugar and always delightful mix of chocolate and hazelnut. 
Meals from Table at Third & Fairfax fall into three categories: Skip It, Worth Trying and Must Have. 
Vendor: Market Chicken Rotisserie
Order: Two-piece leg and thigh plate with mixed greens and roasted vegetables
Verdict: Worth Trying. The juicy, flavorful and tender pieces of chicken come with substantive sides for an affordable price. The rotisserie itself is just as good as more expensive places around town.
Vendor: The French Crepes
Order: Sweet crepe stuffed with Nutella, banana and strawberries
Verdict: Worth Trying. While these aren't the best crepes you'll ever have, they'll sate the sweet tooth of anyone walking through the market and willing to wait for a freshly made, still-warm pancake for dessert.