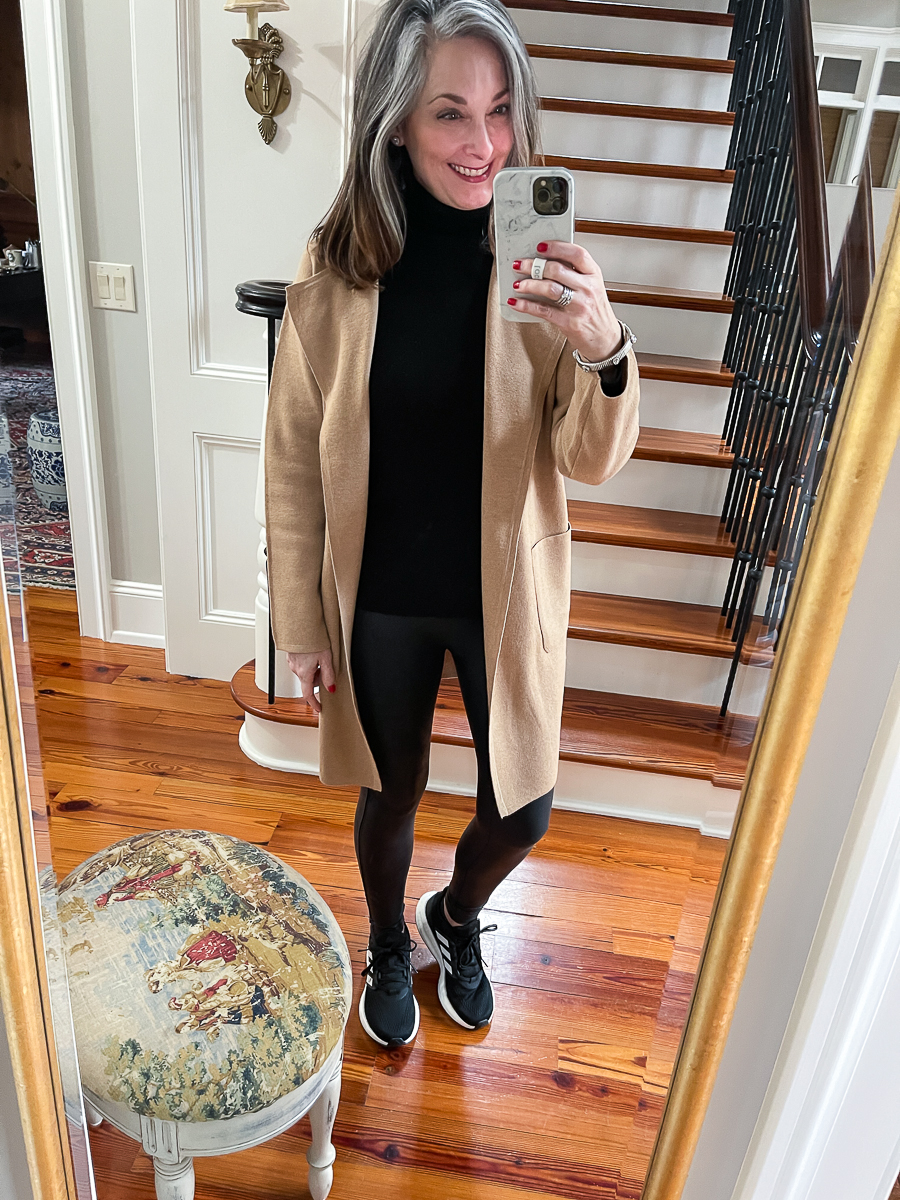 Latest from OSH
This post may contain affiliate links. If you purchase something using one of my links, I may earn a small commission from the retailer costing you nothing more. You can read more on my disclosure page. YOU WILL FIND A SHOP THE LOOK FOR OUR HOME AT THE BOTTOM!
Check out the most recent Saturdays on the Porch.
Saturdays on the Porch #58
Happy New Year's Eve! I hope you had an amazing holiday! Here is a recap of ours.
I wore this yesterday to the Clemson basketball game. My husband gave me the cardigan for Christmas. I LOVE it. It's an oversized look and very chic. It can be dressed up or down.
FIT TIP: I am wearing a size small in the cardigan. The Chico's turtleneck is a couple of years old, but wearing a size 1. Size up in Spanx faux leather leggings to a large. The petitie length is perfect. My old, regular length was too long. I am close to 5'6″. The sneakers are so comfortable and do not cramp my toes, a frequent issue for me with sneakers. They are on sale for $40 and wearing my true to size 8.
Wow! What a holiday season. I hope you had the Merriest of Christmases.
Happy New year!
This Christmas was very different for us. It was our first Christmas as true empty nesters.
Don't get me wrong, we saw the kids a lot in December with our Sunday lunches, my birthday, a Murder Mystery Party Night and Christmas evening.
It was just different.
Murder Mystery Party Night
FIT TIP: I am wearing a medium in the Amazon pants. The exact blouse is no longer available in my color, but in a pretty ivory color. I am wearring a small. TIP…..I bought these sleeve cuffs that kept it pushed up on my arms all night!!!! I have the 8.5-9 in the mules. I probably could have worn the 8, but reviews reccomended sizing up.
We had a murder mystery game night the Saturday before Christmas. It was such a fun, family night. I linked a similar game by the same brand above. Our game was centered around a Hollywood movie premiere. My character was old Hollywood and 100 years old. The two to my left were 120 years old! Kara with the walker was a hoot! She wound the prize for the best costume. I won the best actor award! I declined my prize to the next one with votes since we were the hosts.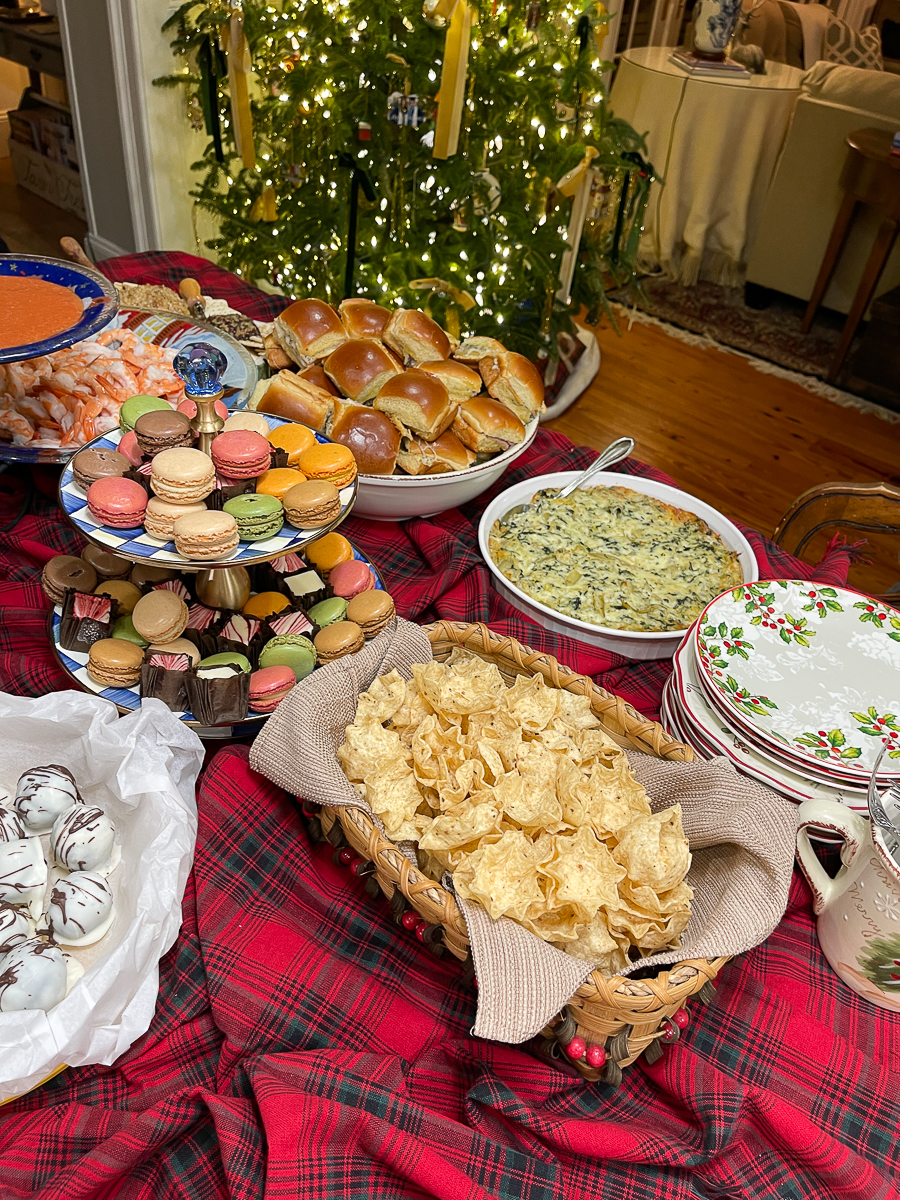 Ask your guests to help with the food. Everyone brought an appetizer-type food to go with what I was serving.
We supplied: Shrimp Cocktail, Ham Delights, Hot Artichoke Dip, and Goat Cheese Log.
Chico's Favorites!
I frequently partner with Chico's for sponsored content. This means that they send me clothing + compensate me to create content. A lot of my clothing is sent to me from them, but I also love them so I make my own purchases. Their pieces can sometimes be pricey, and I tend to watch for sales. Here are a few recent Chico's favorites. Some are on sale right now. A few purchases just arrived yesterday so I don't have photos of me in them yet, but are too good to not go on and share. They were on sale when I purchased them. Some have gone back to regular pricing. A few are markdowns.
I have had my eye on this vest forever, and keep waiting for a sale. FINALLY! It is marked down to $79. If you want it, do not wait. I know this will be gone soon. It is absolutely just as gorgeous in person. It arrived yesterday. I ordered the size 0, and it is perfect.
I am a turtleneck girl through and through. I am always cold plus they are super flattering. I can't wait to wear this with the above vest. I ordered this in a size 1. On sale!
I have had these joggers in black for a couple of years now. They are a bit elevated for a jogger and so comfy! I am quite torn on the size. I get them in a 1 which is a bit big. I typically get a .5 in other pants. I don't mind these being a bit larger. I do wish they came in a petite length, but comfort wins with these. On sale!
I bought this tunic to wear with the above joggers, jeans, and leggings. I ordered a size 1. On sale!
Coated denim has been all the rage for several years now. They look like faux leather and can be dressed up or down. I wish they came in a petite length. I need to have them hemmed. For now, they fold under nicely, but I do plan to get hemmed. I ordered the .5 and the 1. I ended up keeping the .5. The size 1 sagged in the crotch area. They are a slim fit and a different fit than my typical girlfriend style that I buy.
This vest was for a sponsored post. I requested a size 1, but too big. I just received the size 0. It is gorgeous and a much better fit. I can't wait to style it for you!
This turtleneck is fabulous with the sleeve button detail. It is on sale and almost sold out. Only a few sizes are left. I got a size 1.
This tunic is so very cozy! It looks fabulous with black leggings. It can be dressed up or down. I ordered size 1. Please look at the photos. It is not a very long tunic so it may not give you the complete legging coverage that you may be used to with Chico's. It's a keeper!
Christmas Eve
My birthday is on Christmas Eve. I am now 54….gulp! When the kids were younger, I asked my mom to start having my birthday several days to a week before Christmas Eve. It was just too much to have two get-togethers back to back. I wanted Christmas Eve in our home to be our Christmas Eve and start new traditions with the kids.
FIT TIP: Birdies sent me the monogrammed velvet flats as a Christmas gift. Aren't they lovely. They are so very comfortable and classic. They are true to size in my regular 8. I wear a .5 in Chico's pants. I purchased the sweater in store for 50% off during Christmas. I love it. It is one size.
It worked out perfectly. My husband still insisted that we do a birthday celebration for me on Christmas Eve, but we made it festive nonetheless. Our new tradition became going out to lunch as our family of 4 and to a movie. We always looked forward to it. When covid hit and movies in recent years haven't been stellar, we opted for just lunch. I'm just not into all the superhero movies that are out now….we haven't done the movie thing in about 3 years. BUT we whoop it up at home with several Christmas movies, a nice fire, and some light snacks that evening.
I really want the kids to start their new traditions of being married. I also don't want them pulled in too many directions with having multiple families to now celebrate the holidays.
This Christmas Eve was just the two of us. We had a lovely day. It was brutally cold. We woke to 7 degrees that morning. We decided to go to lunch in Downtown Greenville. The first two places that we went to were packed and required reservations. People were also really dressed up! We had no clue that Christmas Eve would be that busy. First, we tried the new Grand Bohemian Lodge restaurant, Between the Trees. It was slammed, but we walked around the hotel first. GORGEOUS!!!!
Next, we walked over to Hall's Chophouse. They were slammed as well.
Both of the above restaurants are expensive, but they have a nicely priced lunch menu.
We had no trouble getting seated immediately at one of our favorites, The Lazy Goat. This is actually where Ashlyn and Tim had their rehearsal dinner. If you go to the Lazy Goat, you must try the fried goat cheese! It is amazing!
Next year, we have decided to start a new tradition. We are dressing up a bit and going to one of the first two mentioned with an advance reservation!
Christmas Day
Christmas morning was so relaxed and carefree. This was the first time in many, many years that we did not host a 10 am Christmas Breakfast with my egg casserole and grits casserole.
We hosted Christmas Dinner instead. It was such a wonderful meal and time.
Max and I served Beef Tenderloin, make-ahead mashed potatoes, roasted carrots, and brussel sprouts.
Others brought homemade bread, ambrosia, and desserts.
The beef tenderloin was amazing and quite the experience. Publix has a big sale on it right before Christmas. We didn't know any better and purchased one that was untrimmed. They will trim it for you for free. Next year…
Max was in charge of researching how to do the tenderloin. He watched a youtube video on trimming it.
We ended up buying a nice boning knife. It's a wonderful knife and VERY sharp. I played nurse not once, but twice on Christmas Day bandaging cuts. He should have worn my kitchen glove. It has saved my hands many times. I actually used it when peeling potatoes. The new vegetable peeler that I bought several months ago worked like a charm. Did you know that a vegetable peeler is one of the items that is recommend replacing yearly in the kitchen because they become dull? Mine was about 10 years old. Ha, ha! We ordered the above knife online and picked it up in-store. I love walking through a Williams Sonoma. Our knives needed sharpening, and it's such a pain to bring them to the store. We ended up purchasing this electric knife sharpener. Max has already sharpened all of our knives. It did a fabulous job.
I bought this bar cart for my husband for Christmas along with these glasses. The cart is absolutely gorgeous and looks very expensive. He had to put it together, but always enjoys a project on Christmas Day. I can't wait to share it with you styled.
Anniversary
And if all of the above was not enough for December, we celebrated our 33rd wedding anniversary on December 27th! We had a lovely dinner out at Rick Erwin's in Downtown Greenville. It's a definitely treat. The waitstaff and the food are amazing! I had salmon and Max had surf and turf.
All of the above festivities in course of 4 days have me exhausted. LOL! That's why you don't typically hear from me on social after Christmas for a while.
This year, I had our Christmas decorations down by the 28th. I typically leave them up for the new year, but with the kids gone and just the two of us…..I was ready to put it all away.
I did leave the mantel in the family room intact with a little festive look for winter. I just couldn't quite say goodbye to all of the twinkle lights just yet. I am also leaving the window candles up as well as the curtain lights in the French doors across the front of the house through January. The window candles are new this year and AMAZING!!! They run 6 hours every day, turning on automatically + battery operated. They are literally set up and forget. They are still going strong on the same batteries since November. I'll put them away when this set of batteries dies.
New Year's Eve and Day
We have absolutely no plans…..which is wonderful! We have had both the grandpup and grand kitten since Christmas night while the kids traveled. They both were picked up last night. It was an eventful week and got a taste of what it might look like with real grandkids. LOL! …….constant entertaining, potty duty, multiple feedings, refereeing all 4 animals, and sleepless nights.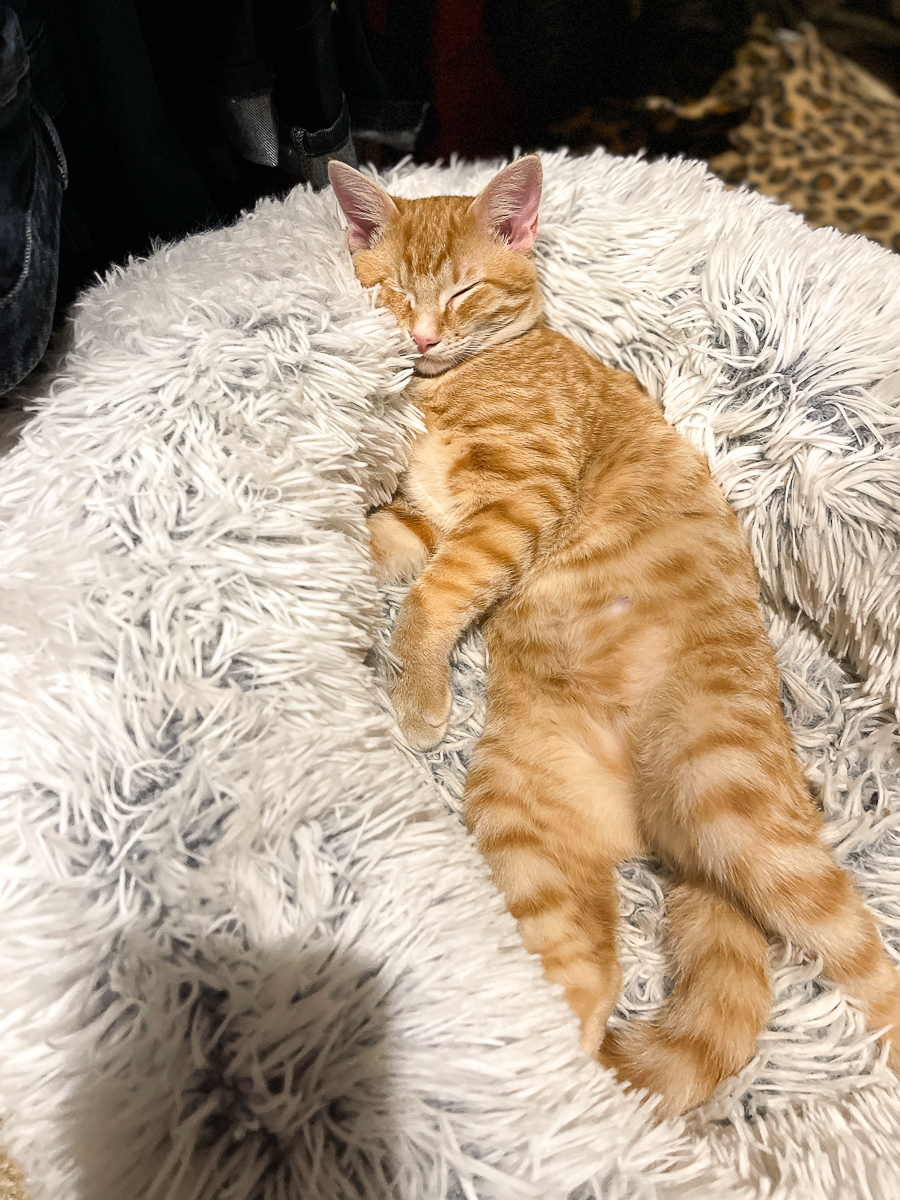 We will be spending the evening at home in PJs. I don't even know what I am cooking. I need to see what is in the freezer. We did buy a bottle of champagne. We plan to light a fire and watch a movie or TV show. I have a strong suspension that we will not see midnight. I'm sure it will be a regular night with lights out by 11 pm.
New Calendar
My new calendar is due to arrive today. I ordered something different so excited to get it. Here is the link in case you want to check it out. I also ordered this set of erasable pens. I may add these date tabs, but waiting to see the book.
What I'm Reading
I have one more Christmas book to finish. I started it last week. I am enjoying A Vineyard Christmas. It takes place on Martha's Vineyard. This is actually the start of a series that I plan to read.
I totally read the Christmas books below out of order. I didn't realize they were a series of 5! Ha, ha! I totally understood them, and it really didn't matter. Here is the complete list of the series that I do plan to finish.
#1 The Cafe by the Sea, #2 The Endless Beach, #3 Christmas on the Island, #4 Christmas at the Island Hotel, #5 An Island Wedding
I just finished Christmas on the Island (Book 3 of 5). Read it before the Island Hotel mentioned below.
I really enjoyed Christmas at the Island Hotel (Book 4 of 5). This takes place on a small island between Scotland and Norway. I am enjoying this book. It's by the same author as this book that I read last Christmas.
I have also started Girl, Forgotten.
I just finished listening to the book From Scratch. It is a new Netflix series. I'm looking forward to watching it.
I just finished reading The Good House. I really like it!
If you are looking for a new Christmas book to read, check out this roundup from last year. I need to make a new one for this year.
I just finished my first Christmas read of the season. If you love quilting, you'll like this one. I didn't realize that it is a series, but that did not affect me jumping in this late into it…..The Christmas Boutique.
COMING SOON
Amazon Reader Favorites from 2022
Top 10 Blog Posts of 2022
My Reading List for 2022 (1 per month)
Exciting Kitchen News: New island countertops coming soon!
NEW thrift store projects
More over 50 fashion
Thank you so much for being here today with me! I hope your weekend is joyful. XO, Christy
The post Saturdays on the Porch #58 appeared first on Our Southern Home.