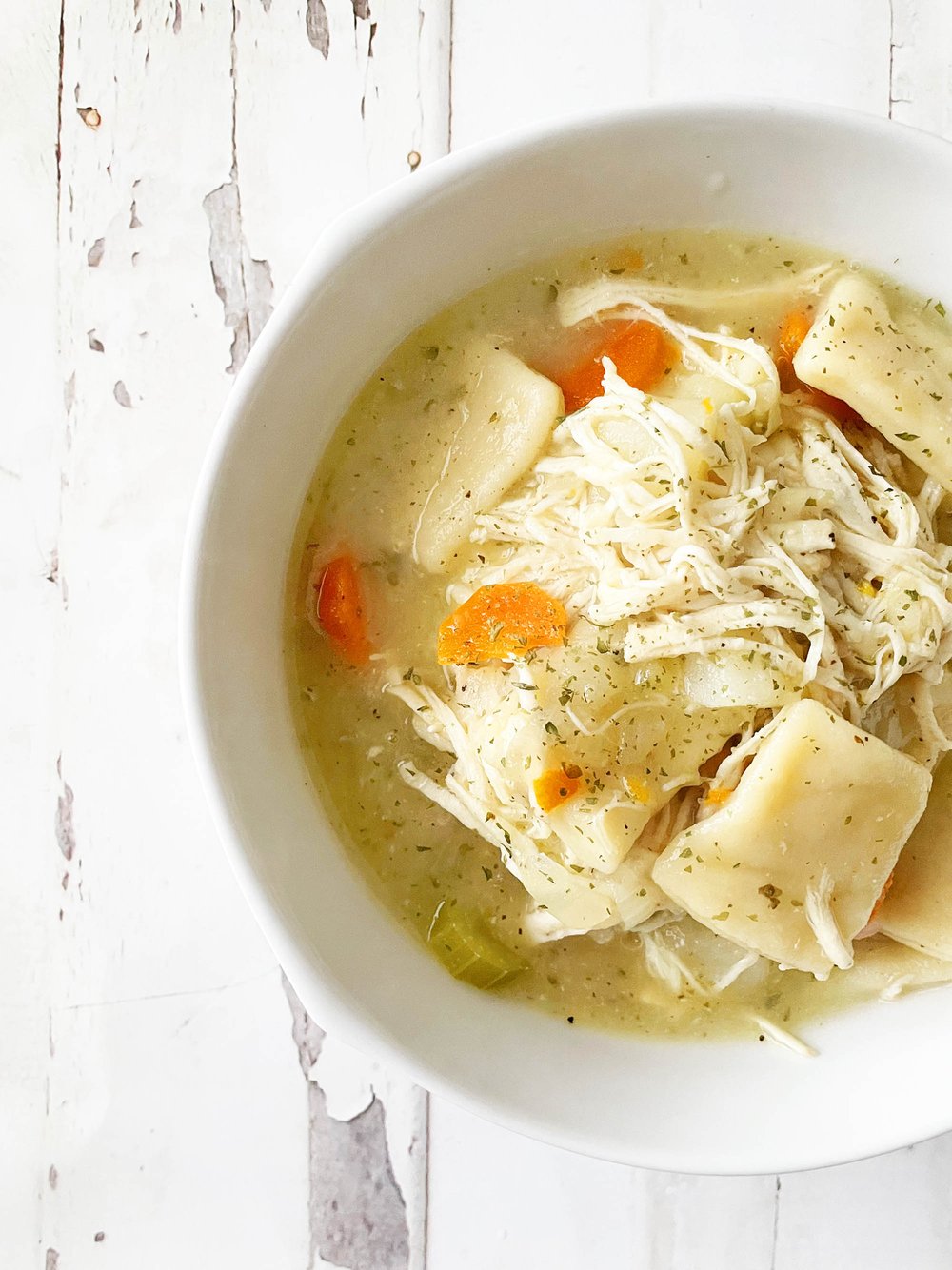 So I was talking to a good friend of mine the other day about 'comfort food' and they brought up the fact that they grew up with their mom calling chicken and dumplings 'chicken pot pie'. Fast forward a few days and I came across PA Dutch Chicken Pot Pie - which I thought was funny since my friend who mentioned chicken pot pie is from PA. Of course I immediately sent the recipe to my friend for them to confirm and low and behold it was exactly what his mom used to make.
It sounded pretty tasty and it's cold out here so I thought I would give it a try and put my healthified spin on it. So that's exactly what I did!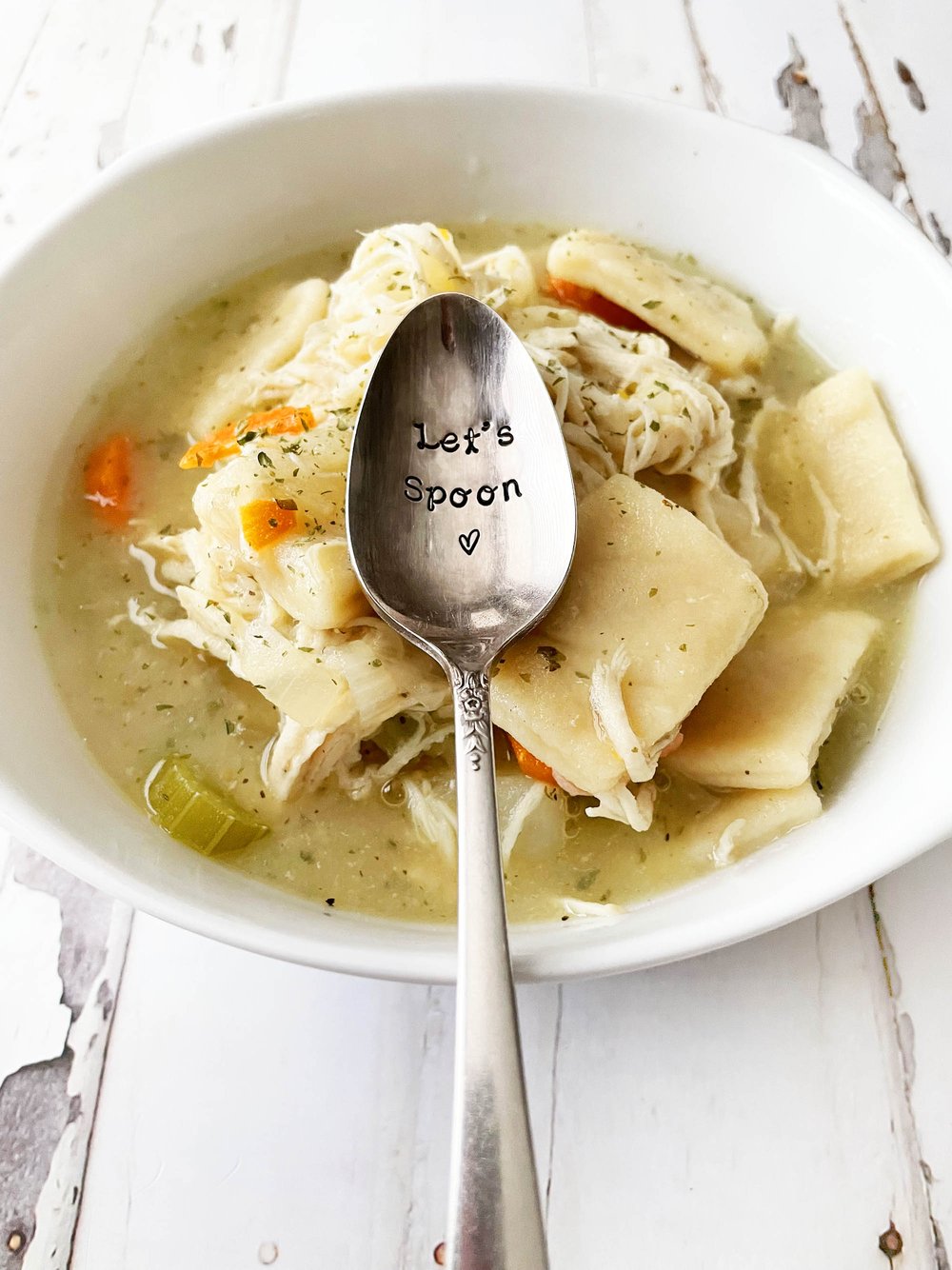 As I said, this is basically what I would call chicken and dumplings. But, somehow the folks up north call it pot pie. Either way, it starts out pretty simply with mixing a basic noodle dough up. The base of the soup is simple veggies like carrots, celery, and onion in broth. Then you add in the noddles to cook, followed by chicken and BOOM you're all done!
This stuff is really good, it makes a bit lot, and it reheats well too. I don't know why it couldn't be stored in the freezer either.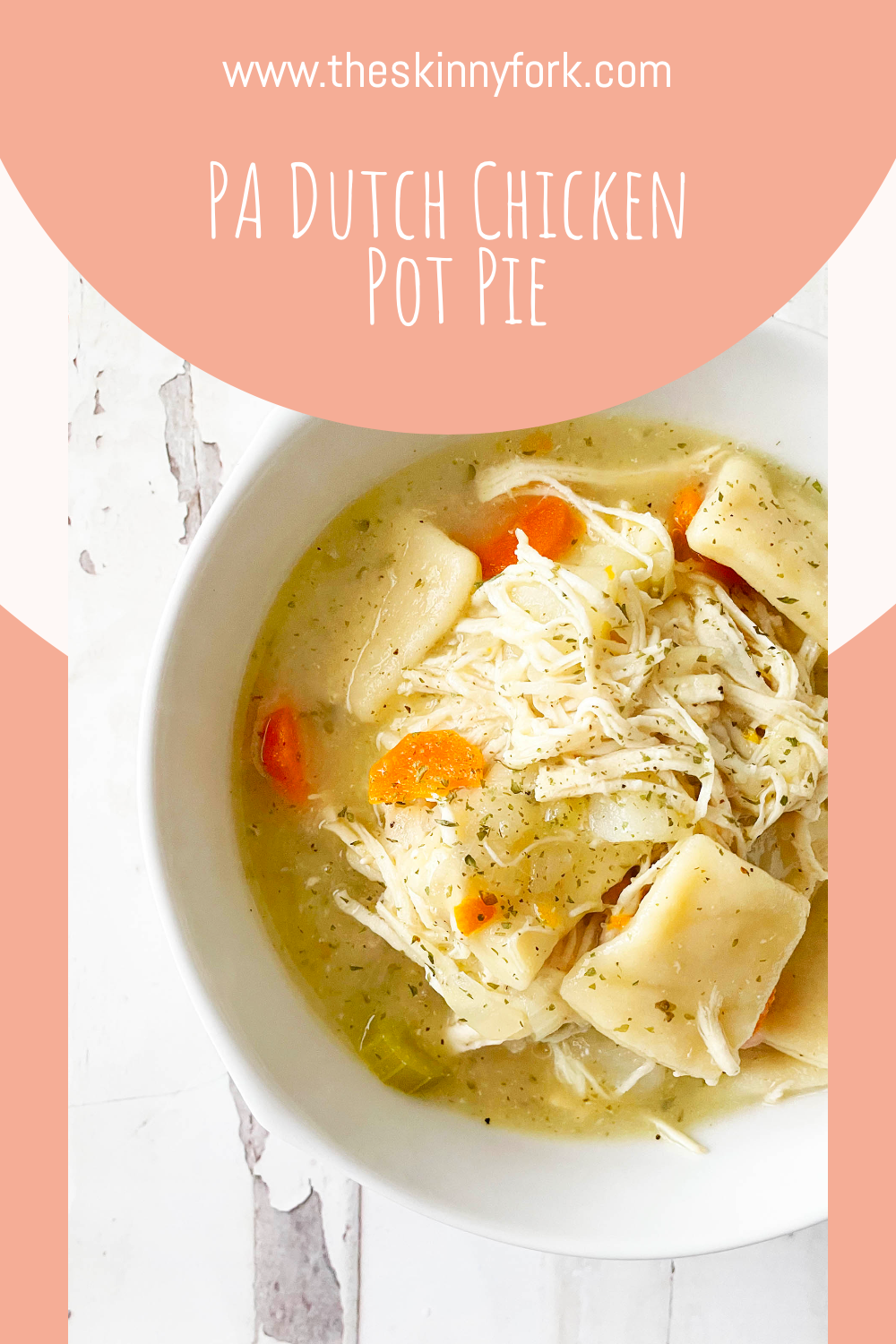 PA Dutch Chicken Pot Pie
Yield:
8
Author:
The Skinny Fork (Amanda Plott)
Prep time: 10 Min
Cook time: 25 Min
Total time: 35 Min
The PA Dutch take on chicken pot pie. It's classic and homey and basically chicken and dumplings. Great on cold winter nights when you need something warm for dinner!
Ingredients
Noodles
3 C. Flour
2 Whole Large Eggs
1/2 Tsp. Salt
1/4-1 C. Water
Pot Pie
8 C. Reduced Sodium Chicken Broth
4 Medium Russet Potatoes, Peeled & Diced
3 Celery Stalks, Chopped
2 Carrots, Chopped
1 Whole White Onion, Diced
1 Tbsp. Dried Parsley
1 Chicken Breast, Cooked & Shredded
1/4 C. Water
1 Tbsp. Cornstarch
Salt & Pepper to Taste
Instructions
In the base of a stand mixer fitted with the hook attachment, mix together the 3 C. Flour, 2 Whole Large Eggs, and 1/2 Tsp. Salt.
Slowly add in 1/4-1 C. Water until a sticky dough ball has formed.
Turn the dough out onto a lightly floured surface and roll it out to be 1/8-1/4" thick then cut into 1x1"-2x2" squares or something close to. Set aside.
Place 8 C. Reduced Sodium Chicken Broth, 4 Medium Russet Potatoes, 3 Celery Stalks, 2 Carrots, 1 Onion, and 1 Tbsp. Dried Parsley into a large stock pot and bring to a boil over high heat.
Once boiling, drop in the noodles one at a time, stirring in between a few to keep them from sticking together.
Reduce the heat to a low boil, cover, and cook for 25 minutes, stirring every so often.
Whisk together the 1/4 C. Water and 1 Tbsp. Cornstarch into a slurry.
When the noodles are tender, add in the cooked chicken and the cornstarch slurry. Stir to combine and season with salt & pepper to taste.
Nutrition Facts
Calories
324.81
Fat (grams)
3.09
Sat. Fat (grams)
0.87
Carbs (grams)
61.72
Fiber (grams)
3.4
Net carbs
58.33
Sugar (grams)
2.48
Protein (grams)
13.61
Sodium (milligrams)
276.33
Cholesterol (grams)
41.01
Nutritional Claims: Low Fat • Low Fat Abs • Sugar Conscious • Mediterranean • Dairy Free • Milk Free • Peanut Free •Tree Nut Free • Soy Free • Fish Free • Shellfish Free •Pork Free • Red Meat Free • Crustacean Free • Mustard Free • Sesame Free • Lupine Free • Mollusk Free • Alcohol Free • No Sugar Added • Kosher • B Healthy
Similar Recipes
Healthified Crock Pot Chicken & Dumplings
Chicken Pot Pie Tater Tot Casserole
Chicken Pot Pie Casserole
Did you make this recipe?
Tag
@theskinnyfork
on instagram and hashtag it # theskinnyfork
Step-by-Step Photos: