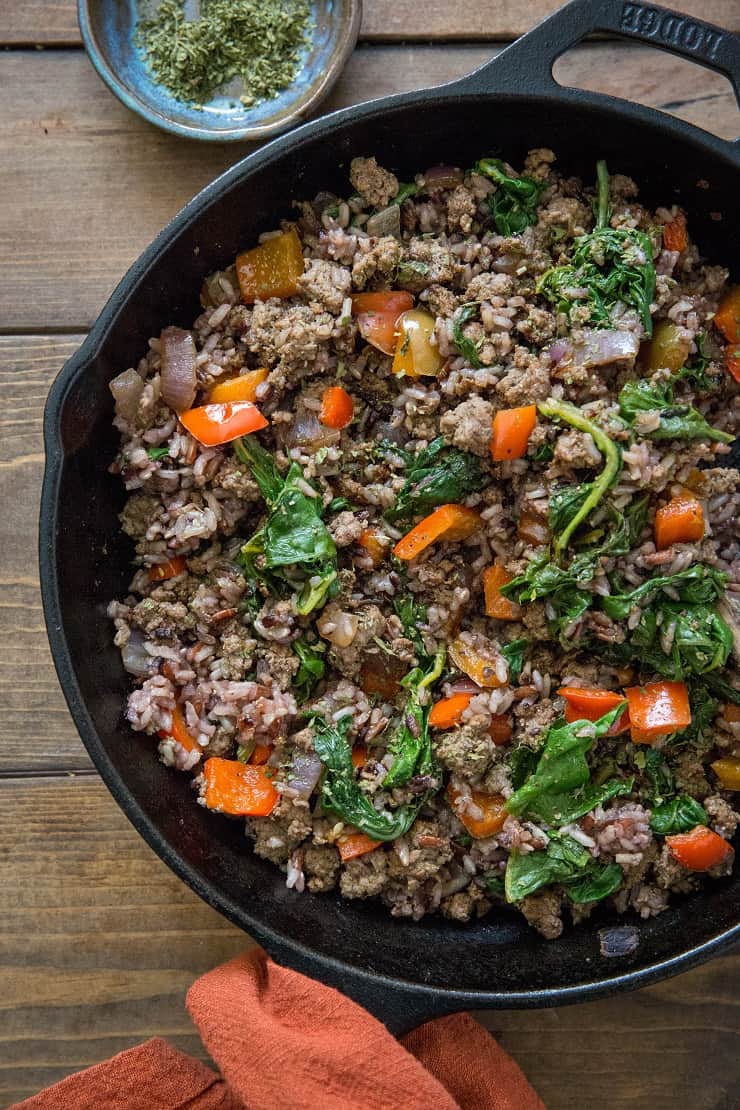 One skillet ground beef and wild rice with onion, garlic, bell pepper and rainbow chard is a quick and easy one-pot meal that results in a lovely well-balanced dinner.
When it comes to cooking dinner at home, I generally aim for three things: 
1.) Affordability - I like to keep it inexpensive...no need for pretention in my household! 
2.) Nutrient-Dense  - I go for balanced meals that contain all three macros - protein, fat, and carbs. Bonus points for fiber, vitamins and minerals! I find that meals that hit all three are very satisfying 
3.) Quick to Prepare - While I love cooking, I don't typically want to spend a huge chunk of time on cooking, so I try to keep it around 30 minutes, or at the very most, 1 hour.
My skillet recipes fit all three criteria, and this ground beef and wild rice recipe is no exception!
Onion, garlic, bell pepper, ground beef, wild rice, broth, and rainbow chard is all we need to make this beauty happen! The combination of flavors is fresh and the meal itself is super satisfying! You can serve it up with a side salad or roasted veggies if you're looking for even more vegetable power!
Let's make it, shall we?
The post One Skillet Ground Beef and Wild Rice appeared first on The Roasted Root.