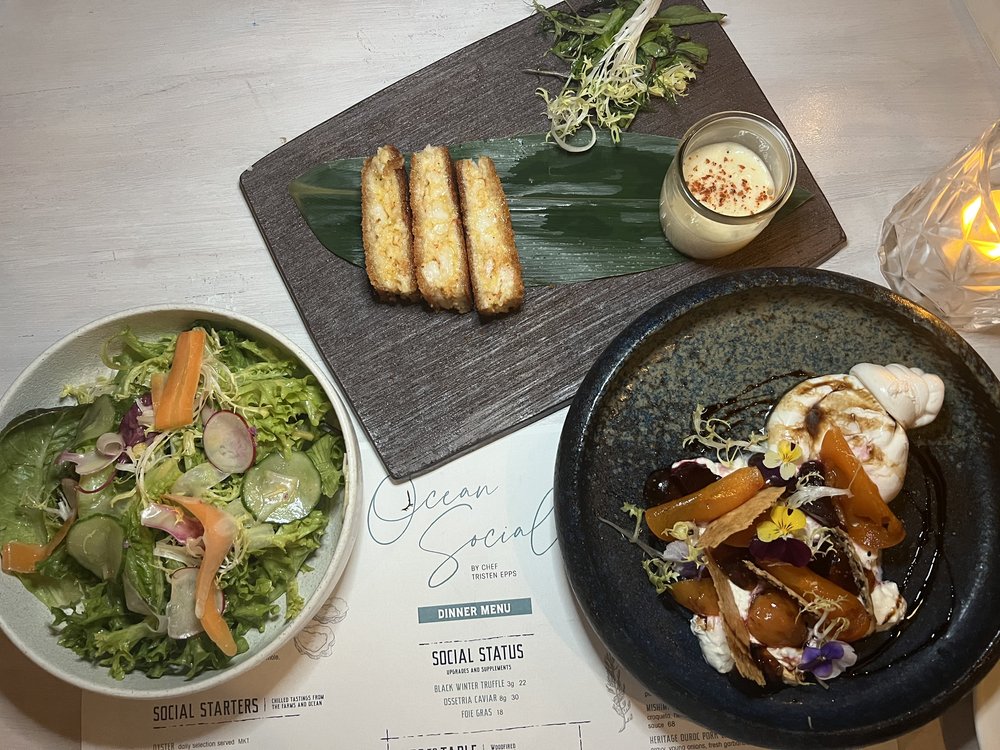 The Eden Roc is one of those iconic Miami Beach hotels with a storied past. Designed by Morris Lapidus in 1955, the original MiMo architecture, design, and "vision of Italian Renaissance" created by Harry Mufson and Morris Lapidus have largely been preserved including the stunning design of the lobby, the grand front entrance, and the iconic "Eden Roc" a top the main hotel remaining as a lasting fixture on the Miami Beach skyline. Top talent like Frank Sinatra, Sammy Davis Jr and Harry Belafonte entertained in the now gone Mona Lisa Room and Café Pompeii.
Today the Eden Roc boasts over 400 rooms. Nobu Hotels has taken up residence adding another 204 rooms in the main hotel, a private rooftop pool in addition to its namesake Nobu restaurant.
Sitting oceanfront with stunning views of the beach and the Atlantic sits the casual Ocean Social restaurant. Malibu Farm occupied the space until closing during Covid and the space reopened as Ocean Social in late 2021.
And now Ocean Social is poised to begin a new and exciting new chapter, as Chef Tristen Epps has been selected to helm the restaurant and elevate it into a coveted dining destination.
Chef Tristen, a "Chopped" Champion, and Rising Star Chef, came to Miami as Chef Marcus Samuelsson's handpicked choice to be Executive Chef to open the highly anticipated, Red Rooster Overtown. Rooster was scheduled to open end March 2020 and we all know how that went.
Instead of laying off everyone, Chef Tristen partnered with Food Rescue US South Florida and World Central Kitchen to keep everyone employed as they made and distributed over a 1000 free meals each week to furloughed hospitality workers, health care workers, food insecure and homeless for over 10 weeks.
Not quite as challenging of a project, Chef Tristen is focused now on turning Ocean Social into something more than a basic hotel restaurant.
On a balmy Saturday evening, I went with a friend and fellow Food Rescue US volunteer to visit with Tristen and sample some of his newly reimagined menu items. The menu continues to be tweaked on an ongoing basis as Chef Tristen tries out new items.
While the ocean is dark at night, the breeze was lovely, the moon and stars visible overhead, and we sipped martinis and scanned the menu.
A couple items jumped out as reminiscent of favorites at Red Rooster, including the Smoked Fish Dip starter, Key West shrimp toast with mustard dipping sauce, and the Snow Crab Spaghetti.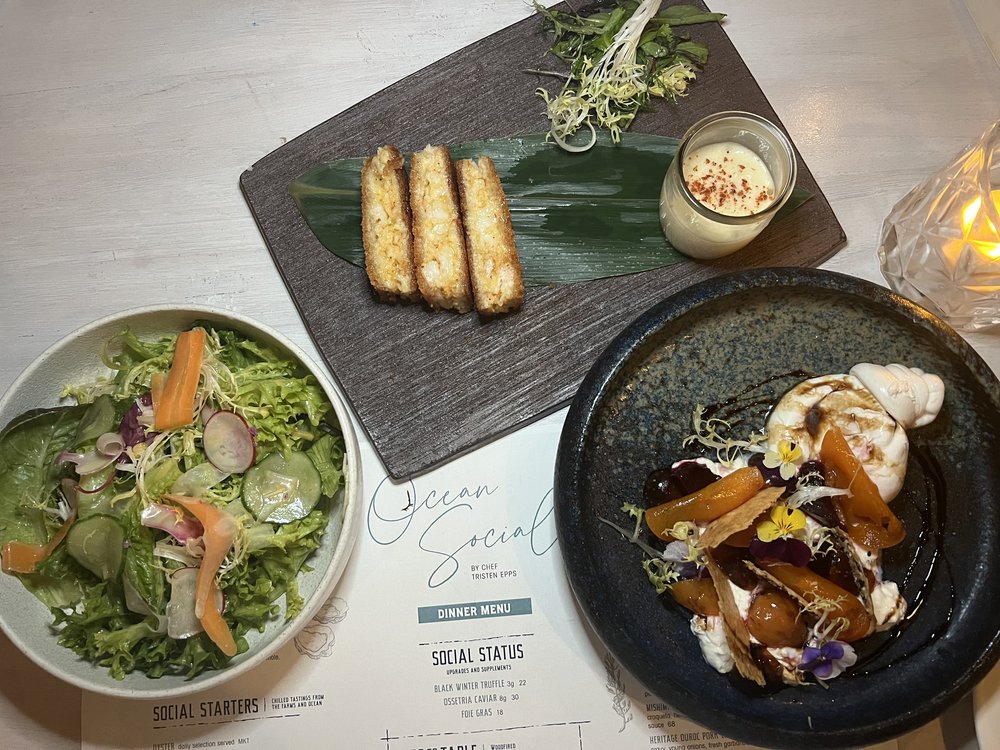 A hydroponic greens Garden of Eden Salad and Mimmo's Burrata and Beet starters were refreshing and flavorful.
The overall menu has a coastal "Surf & Turf" focus, with main course options including wood-fired roast Whole Fish, Dry aged Swordfish T-bone with braised brisket, and Roasted Diver Scallops with black bean, crispy kale and smoked pork. The Snow Crab Spaghetti was dressed with red kuri squash, pine nuts, brown butter a roasted fennel.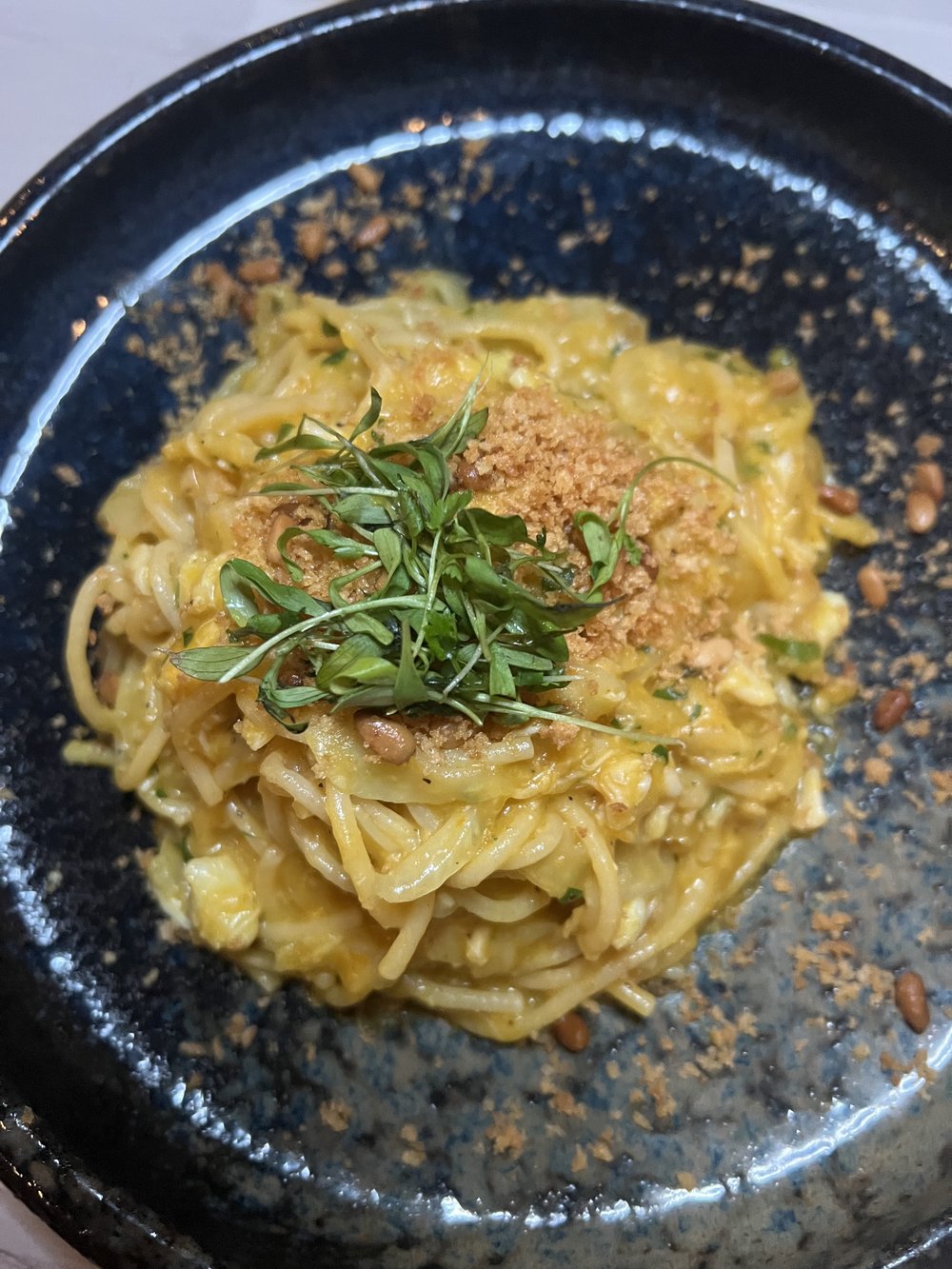 Meat-centric dishes include Roast half chicken, Heritage Pork Chop, and the popular Ocean Burger, with Havarti cheese, foie gras, crispy onion, and truffle fries, a popular item carried over from the prior Ocean Social menu and a creation of current Chef De Cuisine, Jorge Nieves.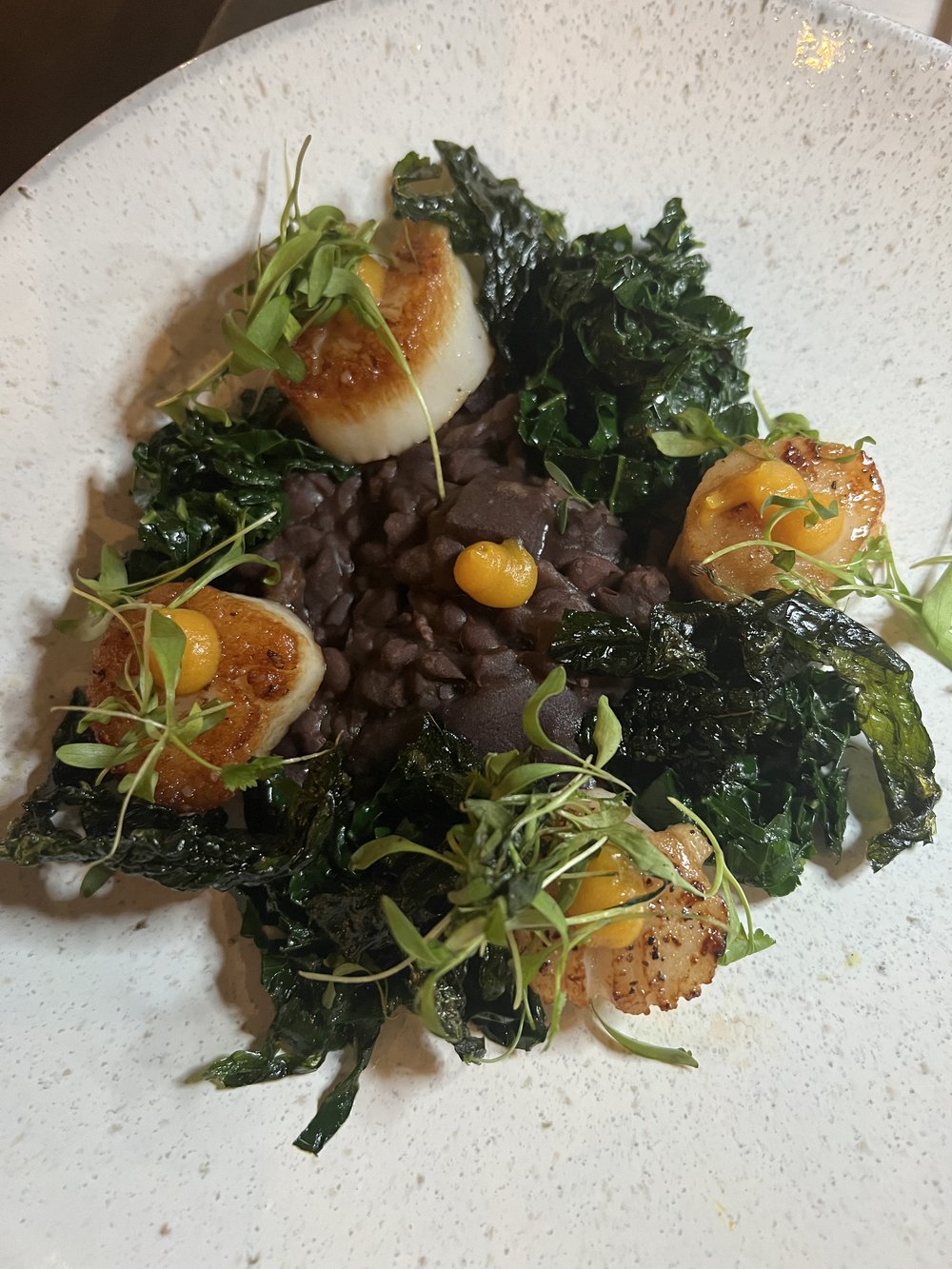 Much of the ingredients are locally sourced from Swank Farms, Hammock Greens, and Miami Purveyors.
And Miami Beach residents are entitled to a 15% off discount!
Chef Tristen, with a twinkle in his eye, has big plans for Ocean Social starting with this coming Saturday's 2/18, Black History Month "African Diaspora "dinner with James Beard finalist, Chef Cleophus "Ophus" Hethington. This special dinner served family-style at the Aquatica Pool will feature authentic Afro-Caribbean dishes.
Ocean Social is open for breakfast, lunch, and dinner with 1/2 off bottles of wine on Tuesdays and Wednesdays and Happy Hour 4-6 pm drinks and bites.
Eden Roc Hotel
4525 Collins Ave,
Miami Beach, FL 33140