Moyashi Ohitashi is bean sprout salad with mustard dressing and sesame seeds. It is a refreshing nice small side dish, and it goes well with any kind of Japanese meals, traditional or more western styles.
Ohitashi means soaked. Cooked vegetables are marinaded in some kind of sauce, usually soy sauce and some Dashi. Spinach Ohitashi may be the most widely known kind of Ohitashi. However, here we made vinegary soy sauce with Japanese yellow mustard for Moyashi sprouts in this recipe. The combination of rice vinegar and soy sauce is very similar to Ponzu Sauce, but without citrus juice such as lemon or Yuzu. Japanese mustard is quite spicy and may sting your nose like Wasabi. It has a different taste from American yellow mustard which is more vinegary. Adjust the amount of the mustard depending on your spice tolerance.
Moyashi Ohitashi is a quick fix, and it is a great side dish to add at the last minute. Try this for tonight's dinner!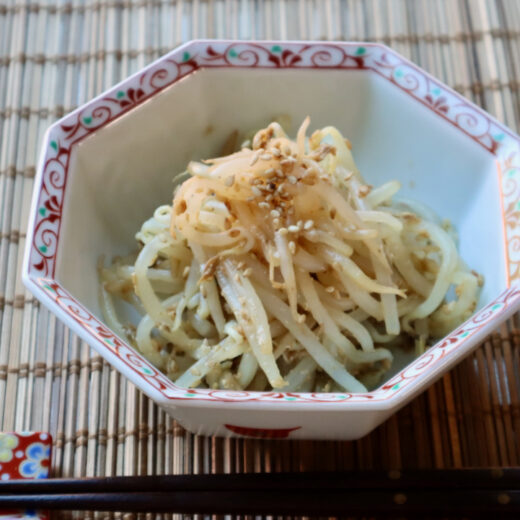 Print
Moyashi Ohitashi (bean sprout salad)
Instructions
Blanch bean sprouts in boiling water for 2 minutes. Strain and set aside.

Grind the sesame seeds. Add the rest of the ingredients, and mix well. Then add the cooked sprouts to the sauce, and let sit for 30 minutes in the fridge.
Video