I learned how to make the best chicken and vegetable stir fry with this recipe by Nanaaba's Kitchen on Youtube. The sauce is so delicious, the meat is tender, and the vegetables are crunchy!  It's an easy and quick dish you can prepare for lunch or dinner for your whole family. Serve it with rice and you have a full meal! Read on for the instructions.
Ingredients:
8 pieces of chicken (skinned, deboned, fat trimmed, and cubed)
2 bell peppers (diced)
1 large onion
3 cloves of garlic (minced)
1 thumb-size ginger (minced)
2 tablespoons of oil (1/3 for marinade, 1/3 for stir-frying of chicken, 1/3 for stir-frying vegetables)
1 teaspoon of honey
1 chicken bouillon cube
1/4 teaspoon of crushed black pepper for the marinade and a pinch for stir-frying
2/3 cup of chicken broth
1 teaspoon of dark soy sauce
1 heaping tablespoon of cornstarch (1/2 for marinade and 1/2 for slurry)
Instructions:
Step 1:
Marinade the chicken. Place the chicken cubes in a bowl. Add 1/2 of the ginger and garlic, crushed black pepper, all-purpose seasoning, bouillon cube, soy sauce, honey, 1/3 of oil, and cornstarch. Mix until everything is well-coated. Set it aside for 10 minutes.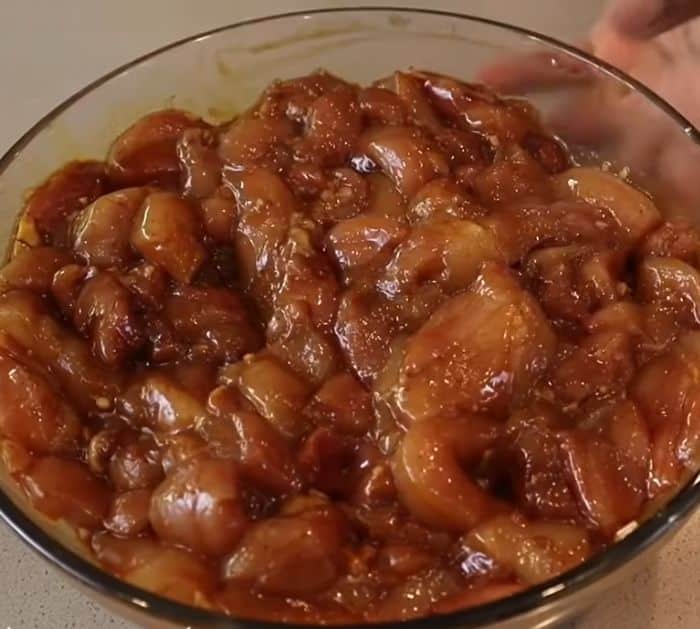 Step 2:
Create the slurry. In a large bowl, combine the chicken broth and the rest of the corn starch. Whisk together to combine.
Step 3:
Place a wok or frying pan over high heat and add the oil. Cook the marinated chicken in 3 batches. Cook for 2 minutes for each side. Transfer them to a plate.
Step 4:
In the same pan, add more oil, garlic, ginger, all-purpose seasoning, black pepper, and salt. Stir together and cook for 1 minute. Next, add the vegetables and cook for another minute.
Step 5:
Add the slurry and mix until the sauce thickens. Next, add the chicken and stir to combine. Remove it from heat and serve. Enjoy.
How to Make the Best Chicken and Vegetable Stir Fry
The post How to Make the Best Chicken and Vegetable Stir Fry appeared first on DIY Joy.