Thanksgiving dinner is a daunting task, even for experienced cooks. Its a bit of a logic puzzle figuring out how to prepare ten different dishes with one stove and still have everything hot and delicious when its time to eat. Luckily, I enjoy puzzles. So Ive put together this guide on How to Make an Easy Thanksgiving Dinner for Beginners to help guide any newbies out there, and ease you into the rite of passage that is cooking a Thanksgiving dinner.
How to Plan and Cook Thanksgiving Dinner A Beginners Guide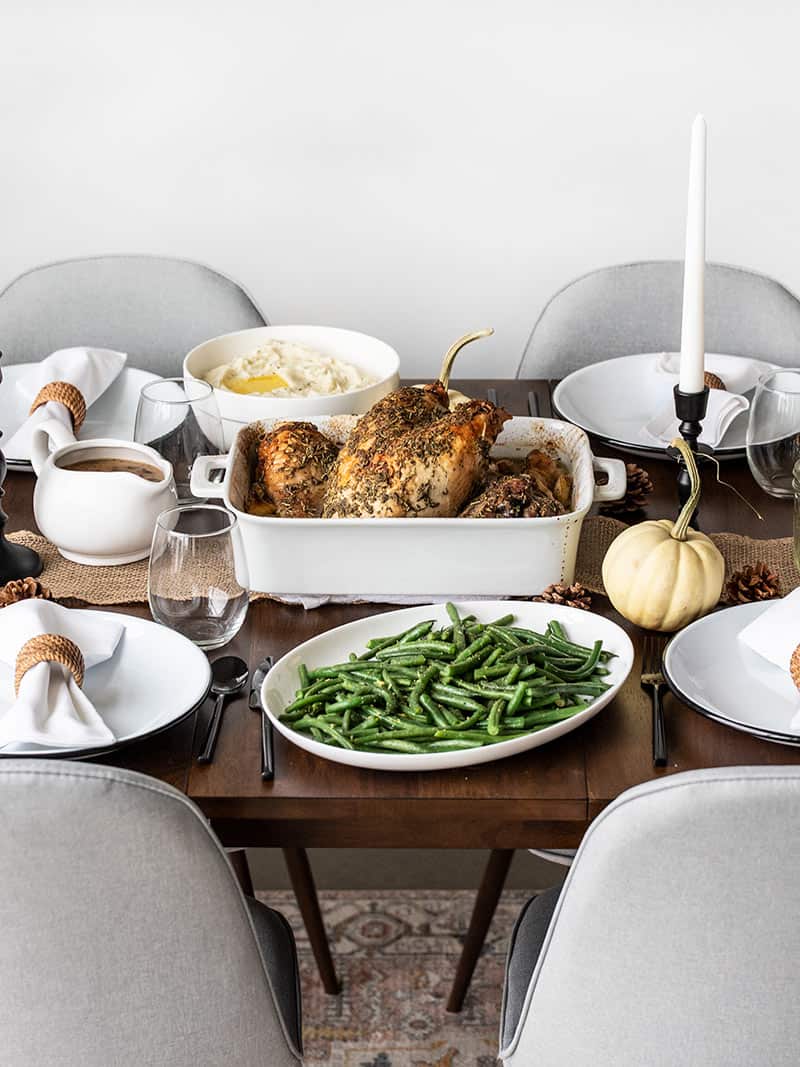 About This Thanksgiving Dinner Guide
This Thanksgiving Dinner for Beginners plan includes a menu of 11 recipes, including: one appetizer, a cocktail, one main dish, seven side dishes, and one dessert. All the recipes are super simple to accommodate new cooks. You dont want your first attempt at Thanksgiving dinner to be for a crowd of 20, so thismenu serves approximately six people, with some leftovers. Start small, my friends.
The guide also includes a complete prep schedule to help you get everything completed in time for dinner, no matter what time you like to eat your Thanksgiving meal. This Thanksgiving dinner for beginners can be prepared by one person (Ive done it!), but if you have helpers, thats even better.
My newsletter subscribers will also receive a pdf of the menu, prep schedule, and a full grocery list! So if youre not already a subscriber, subscribe here (its free!):

If you want to plan out your own Thanksgiving dinner, or are attending a larger gathering and only need to bring one item, make sure to check out our Holiday Recipes category, and our Friendsgiving Recipe Roundup for more delicious Thanksgiving recipes.
The Shortcuts
Im all about taking a few shortcuts with Thanksgiving dinner, especially if youre a beginner. I have included a few simple shortcuts in this plan, to help keep you from pulling out your hair:
Store bought pie crust Pie crust is, on its surface, very easy, but it can take some finesse. Finesse can be learned another time, when you dont have ten other recipes to cook. ;)
Boxed stuffing mix The stuffing recipe below uses boxed stuffing mix as abase,but is spruced up with a bunch of fresh ingredients. Wrestling with cubing and drying a huge loaf of bread on Thanksgiving is just more work than necessary. Save the from-scratch stuffing for when youre only in charge of one dish.
Roasted turkeypieces This plan does not include roasting a whole turkey. *pearl clutch* Roasting a whole turkey is a LOT of work. Roasting turkey pieces takes half the time, is way less work, and still insanely delicious. Lets start there and work up to the whole turkey another year.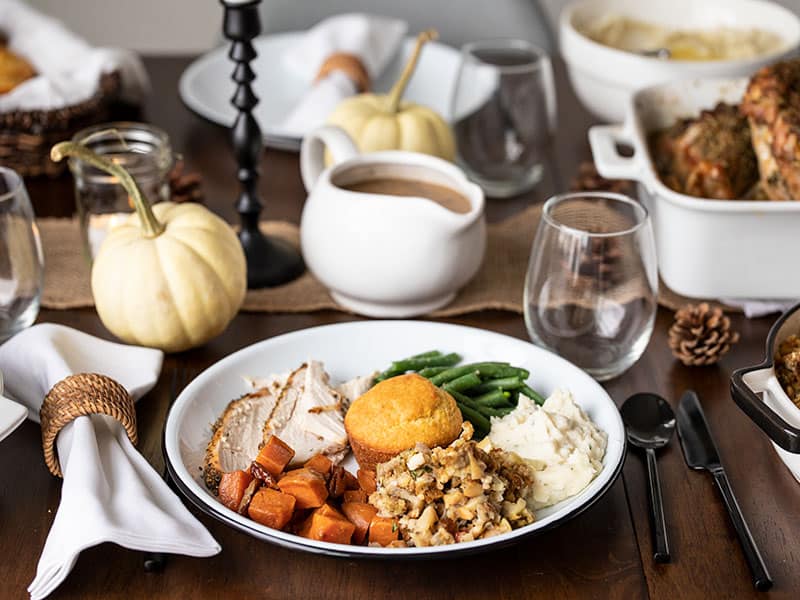 Thanksgiving Dinner Menu
Here are the recipes included in this Thanksgiving Dinner for Beginners plan:
Appetizers/Drinks
Side Dishes
Main Dish
Cider Roasted Turkey (double recipe, using a full 4 lb. bone-in, skin-on turkey breast and two drumsticks, roast about 2 hrs. total)
Dessert
So, how do you cookall that with just one oven? Lets take a look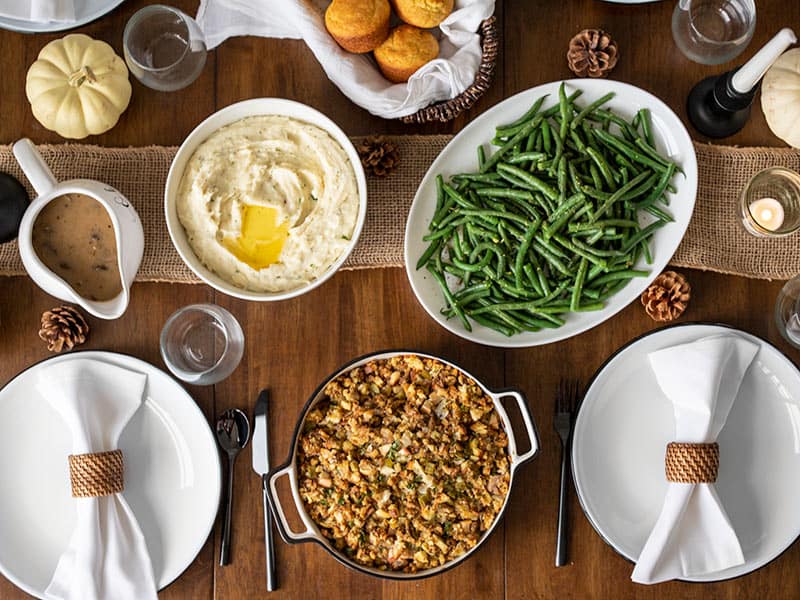 Thanksgiving Dinner Timeline
The Day Before:
COOK:
Maple Brown Butter Pumpkin Pie cool to room temperature, then cover and refrigerate.
Cranberry Cream Cheese Dip (make cranberry sauce, assemble the dip and platter the next day) you have the option to just make a double batch of the plain cranberry sauce and use that for both the appetizer and a side with dinner (the sauce in the appetizer recipe has jalapeo).
Simple Homemade Cranberry Sauce cool, then refrigerate.
Garlic Herb Mashed Potatoes cool, then refrigerate.
PREP:
Dice sweet potatoes for Maple Roasted Sweet Potatoes
Clean and remove stems on green beans for Lemon Butter Green Beans
Chop apple, onion, and Celery for Apple Walnut Stuffing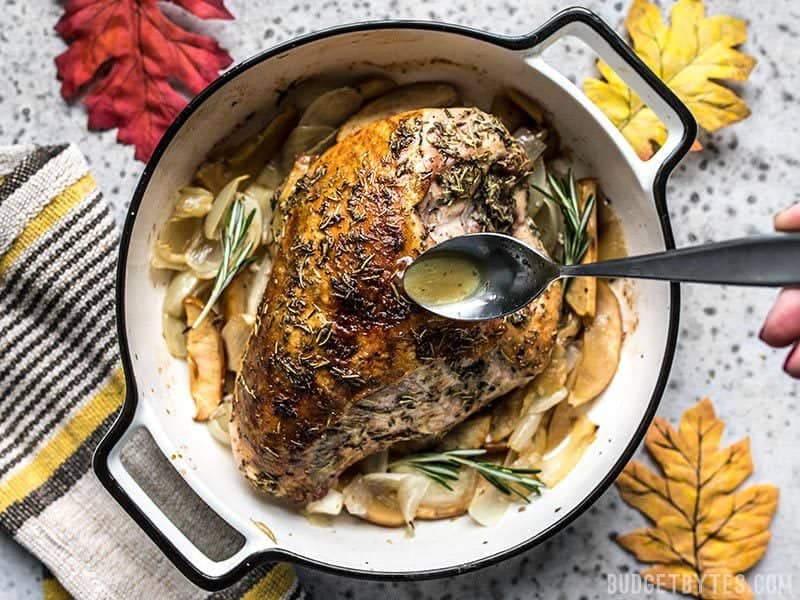 Thanksgiving Day:
4 HOURS BEFORE:
Take 1 stick of butter out of refrigerator to warm to room temperature for Cider Roasted Turkey.
Make Cornbread Muffins. Allow to cool to room temperature.
Assemble and serve Cranberry Cream Cheese Dip.
Serve Cider Mimosas now, or wait for dinner (save one cup for roasting the turkey).
3 HOURS BEFORE:
Preheat the oven to 350F for turkey.
Assemble Cider Roasted Turkey and begin roasting (will take approx. 2 hrs).
2 HOURS BEFORE:
Begin reheating Garlic Herb Mashed Potatoes in a pot on the stove top over low heat (with lid, stir often, and add extra milk to keep it moist, if needed).
Cook Apple Walnut Stuffing. Keep it warm in a pot on the stove top with lid.
Cook Mushroom Herb Gravy. Pour into a gravy boat, cover with foil.
Assemble Maple Roasted Sweet Potatoes with Pecans to get ready for roasting.
1 HOUR BEFORE:
Remove turkey from oven (check internal temperature first), cover with foil, and let rest.
Turn oven temperature up to 400F. Cook Maple Roasted Sweet Potatoes with Pecans.
Cook Lemon Butter Green Beans.
AT DINNER
Assemble and serve Cider Mimosas.
Enjoy the good food, good company, and good memories!
Dont forget to subscribe to get the free pdf download of the Thanksgiving for Beginners Meal Plan, including prep schedule AND grocery list!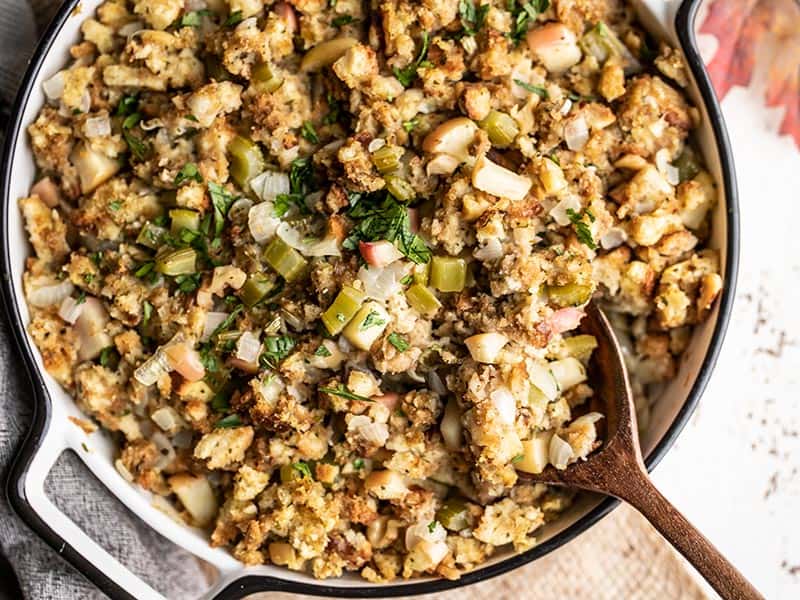 How to Make Cider Mimosas
Since youll have leftover apple cider from the Cider Roasted Turkey Breast, might as well make it into a quick cocktail!
Fill champaign flutes half way with apple cider
Top off with sparkling wine (I suggest a Brut or other dry sparkling wine)
Add a small sprig of rosemary for garnish, then serve!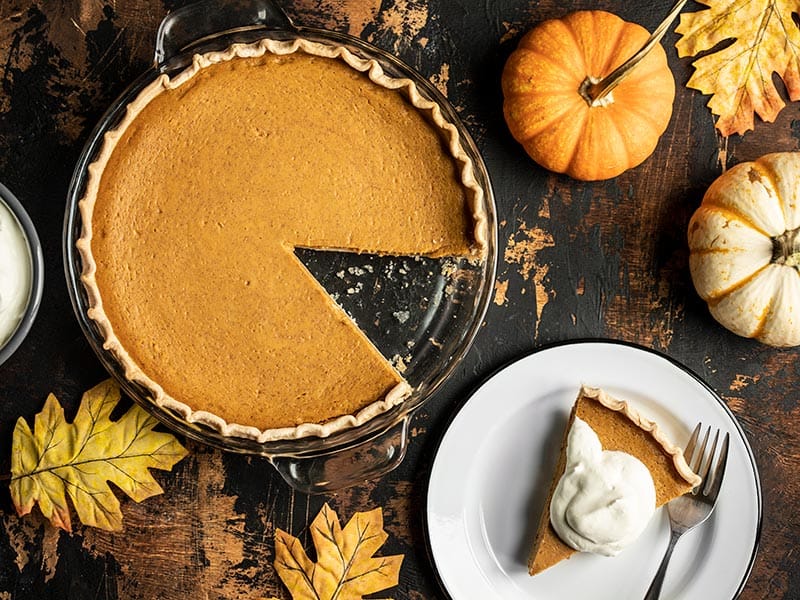 Got questions? Ask away in the comments below. Well do our best to help you troubleshoot!
The post How to Make an Easy Thanksgiving Dinner for Beginners appeared first on Budget Bytes.