Did you recently cook a ham? Did you buy more than you needed, and don't know what to do with what's left? These 20 gluten free leftover ham recipes offer great meals to create with what you have left!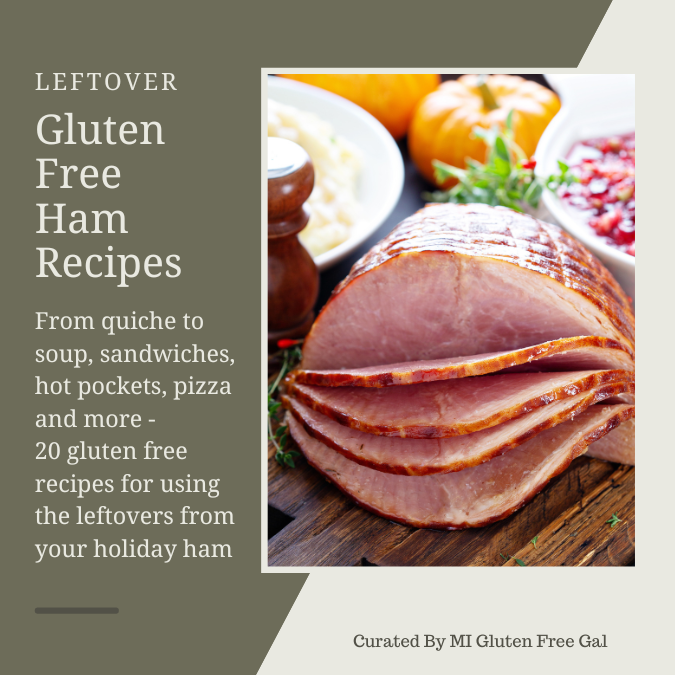 What is Ham? How is it Different from Pork?
The term pork encompasses all cuts of meat from a pig. However, a ham is specifically the back thigh or rump of a pig. A ham may be sold fresh, smoked, or cured. Compared to a pork roast, a ham lasts longer in the fridge, due to preservatives.  Since hams usually contain additional spices, their flavor is deeper than a fresh cut of pork. To learn more, visit this Ham v Pork article, or the Ham 101 article. 
Which Ham Brands are Gluten Free?
Truth be told, I've never seen a ham that lists wheat, rye or barley as an ingredient. Boarshead Ham is gluten free, as are most of their meats. Other gluten free brands include Dietz & Watson and Jones Dairy Farm, which are both certified gluten free. For my fellow Michiganders, Dearborn Hams are also gluten free. For an extensive list of brands that make gluten free ham, visit Verywell's Gluten-Free Ham List.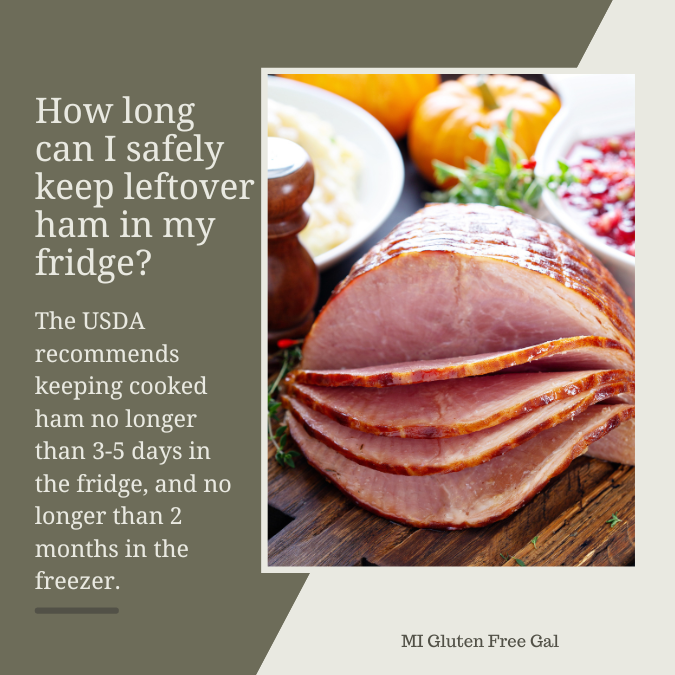 How Long Can I Keep Leftover Gluten Free Ham? 
The suggested serving size for ham is about 1/3 lb per person. (1/4 lb for a boneless ham, 1/2 lb for a bone in ham.) However, people always buy larger hams to keep leftovers for themselves, and to send home with guests. The USDA recommends keeping leftover ham no longer than 3-5 days. For best taste, the USDA recommends freezing ham no longer than 2 months. Visit their article on Ham and Food Safety for more information. 
What Can I Make with Leftover Gluten Free Ham?
There are lots of options! I've compiled a list of 20 recipes to make using your leftover gluten free ham. While there are traditional soup recipes, I've also included quiche, ham spread, croquetas and even pizza! So plan ahead now and make sure you have all the ingredients you need to cook up these dishes.
Gluten Free Leftover Ham Recipes
Have leftover ham from Christmas, Easter, or another meal? These recipes are a great way to get creative with those leftovers!
What dishes do you traditioanlly make with your leftover gluten free ham? Are there new-to-you recipes on this list you hope to try? Share your recipe ideas with us in the comments! 
**This post contains affiliate links. Purchases made through those links, or the Amazon search bar above, help support this blog with no extra expense to you. Thank you for your continued support!**
The post 20 Gluten Free Leftover Ham Recipes appeared first on MI Gluten Free Gal.