Case Club's 4-Pistol Backpack might be the latest version of the perfect range buddy for all your pistols and extra kit. We're doing an in-depth review, breaking apart all the big features, small details, pros and cons, and whether it's a great buy. Let's take a look:
Case Club Pistol Pack at a Glance
Short N' Sweet: The Case Club Backpack's a mobile gun locker with plenty of weatherproofing. It has a rain fly, the zippers are covered with waterproof rubber sleeves, it offers a sturdy foam shelf that securely holds up to four full-size pistols, and it includes plenty of smart little compartments to neatly tuck away your ammo, mags, ear and eye pro, targets, and other stuff for a full range day.
The Big Features:
Manufacturer's Page: https://www.caseclub.com/product/tactical-4-pistol-backpack-gen2/
Dimensions: Approx. 19" H x 16" W x 10" D
Foam gun shelf holds (4) pistols (max length 8-5/8″)
Semi-rigid frame keeps bag upright under weight
Includes ammo cup and strap for securing targets
Pull-out rain cover protects bag & gear in wet weather
Lockable heavy-duty zippers provide added security
Zippers come with rubber seals for wet weather
Exterior shell and interior liner are water-resistant
Generation 2 upgrades include:
Better water-resistant zippers
Stronger Cordura/ballistic material
Upgraded and improved stitching
Reinforced strap buckles for heavier load-bearing
Longer straps to accommodate body armor and comfort
Padlockable (with customer-supplied padlock)
Our Test Gear
We stuffed the foam shelf full with some full-size shooters: A 1911 G.I., CZ-75, Glock 23, and a S&W M&P 9. To test ear pro fitment, we stuck with an over-the-ear electronic headset, the Peltor Sport Tactical 100s. In the right-hand-side compartment we filled each spare magazine pouch to add some weight. Our eye pro fit well inside the top-front compartment. You can also spy the spent shell casing cup in the top-right compartment.
Compartments & Features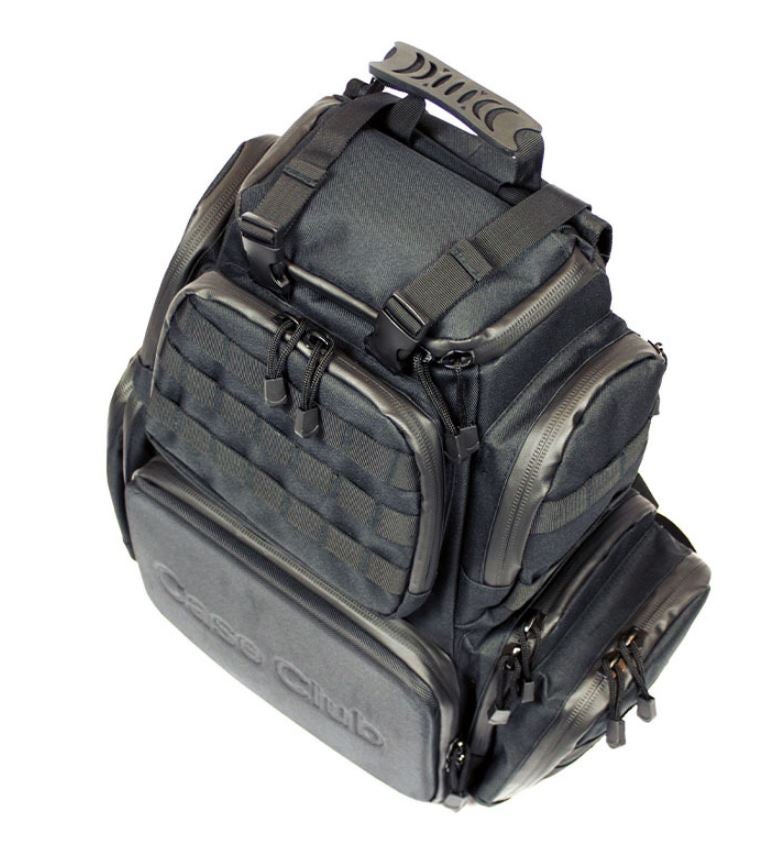 Once cinched, zipped, and buckled up, the Case Club Backpack is pretty compact. The pistol shelf's lid is made from a rigid, semi-flexible rubberized material and it keeps the backstraps of your handguns tucked in and protected. The pack's also fitted with rigid sides to keep it upright and stable when loaded down. The zippers have Paracord pull strings and are all very smooth. They can handle a bit of tugging if you stuff any compartment extra full, or if there's extra weight (like loaded double-stack mags) pulling on the compartment itself.
The Shoulder Straps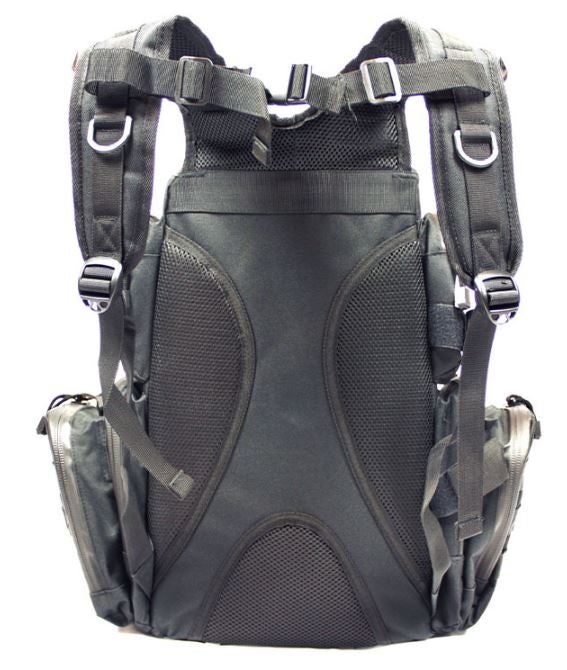 The Case Club is quite comfortable to carry: The backside is ventilated and well padded, and the top straps provide plenty of support and disburse weight around your shoulders to reduce strain on your neck. There's no cummerbund for the waistline, but the bag is compact enough that it's not really necessary.
The shoulder straps are also well padded and come with the same ventilation to wick away sweat on hot range days. The adjustments are easy enough – just pull on the straps to cinch the bag up nice and high. A check strap is also provided to keep the straps close together and high on the shoulders, adding to the comfort factor.
Now let's take a look at the innards and some of the features.
Foam Gun Shelf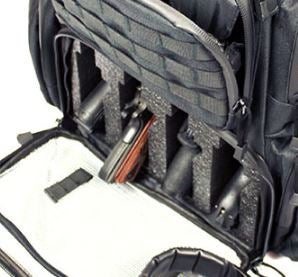 The foam gunshelf is pretty slick. The foam itself is high-density and rigid, providing support for the bag under weight. It also provides plenty of impact protection for your pistols. The shelf can hold any semiautomatic that measures up to 8-5/8″ in length, and if you're rocking smaller or subcompact pistols, Case Club has some basic instructions for sizing up the foam inserts to accommodate your shorter pistols.
Plenty of Room for Magazines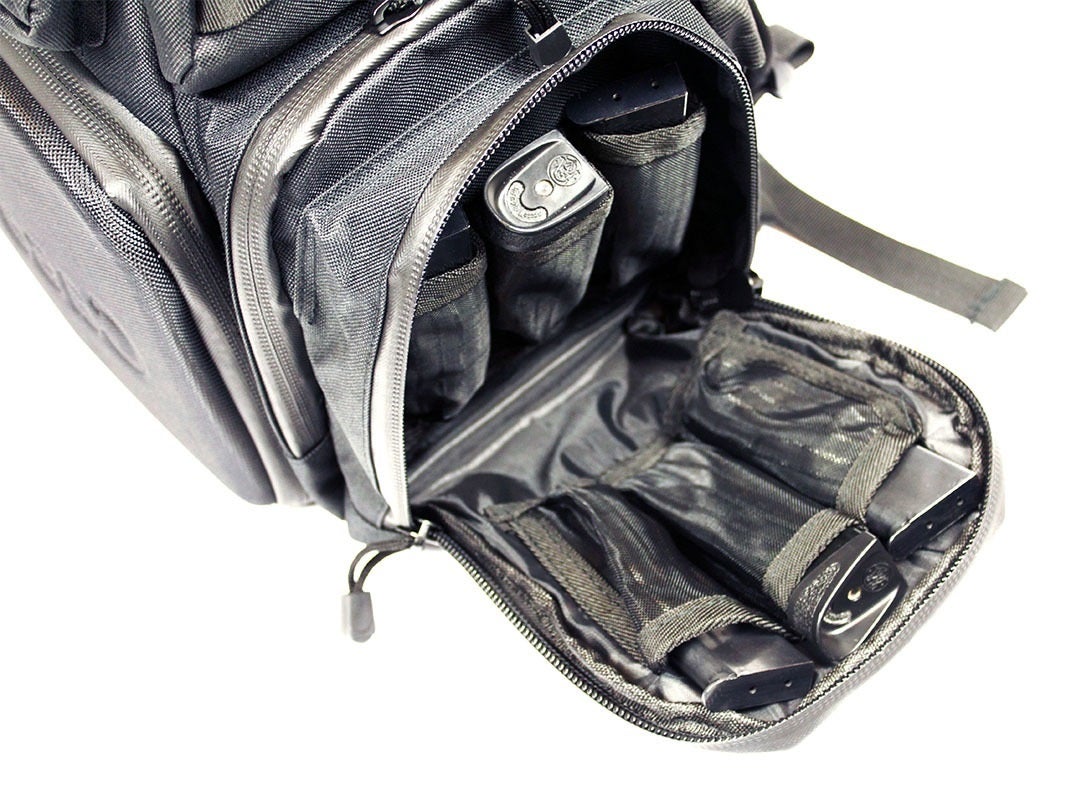 For being relatively compact, the Case Club has plenty of room for single- and double-stack magazines. We were able to comfortably fit both our 1911's single-stack .45 ACP and our S&W's double-stack 9mm mags in each of the pouches inside, with some room to spare for a pair of gloves or a small box of target tacks.
Extra Storage Behind the Mags
Directly behind the six-mag compartment is a second zippered compartment measuring the same size, sans the mag holders. It provides more space for extra boxes of ammo or gear. Take a closer look above and you'll also see the rubber seals covering all the zippers, too. They do a nice job of keeping rain out of the zippers and compartments.
Velcro Target Straps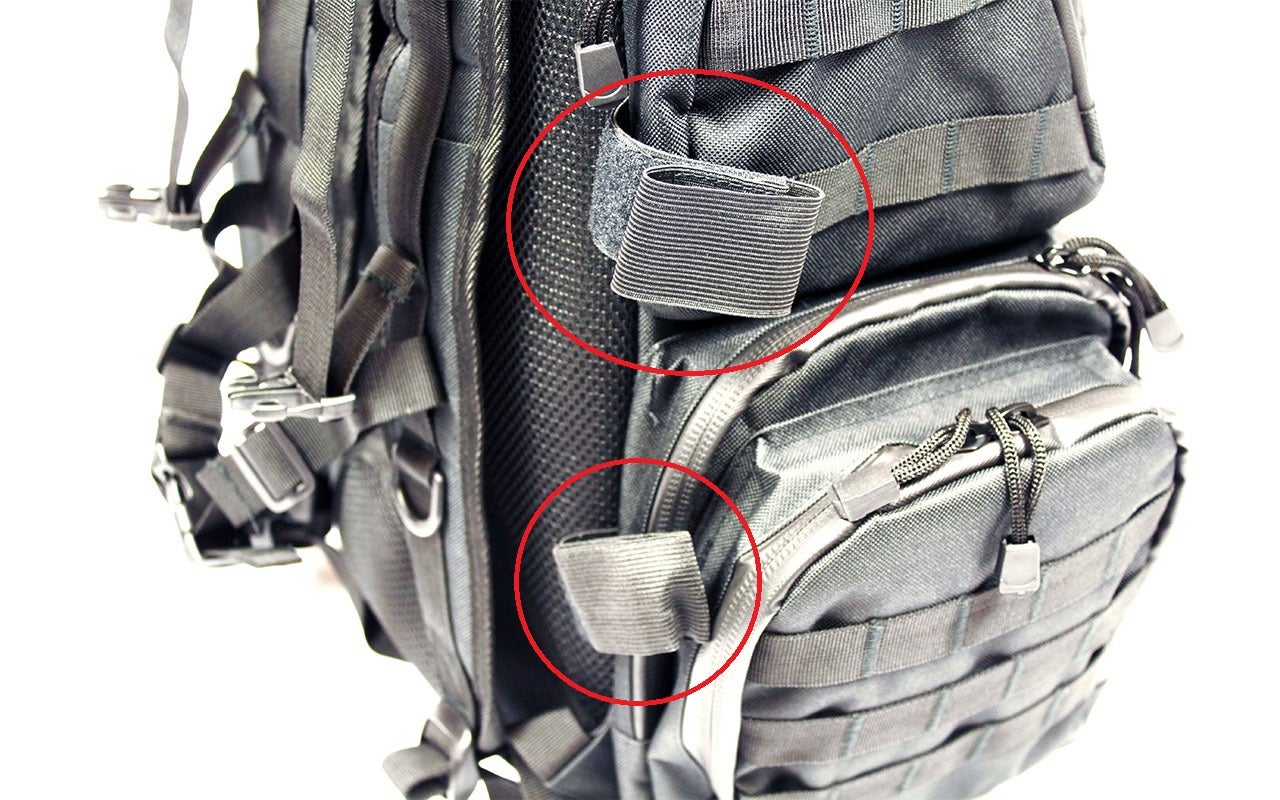 Adjacent to the pistol mag pouch are some nice little Velcro straps for carrying some rolled up paper or plastic targets. This is a nice little touch that often gets overlooked, and it'll help prevent you from folding or crumbling up your shooting targets.
Tuck-Away Rain Cover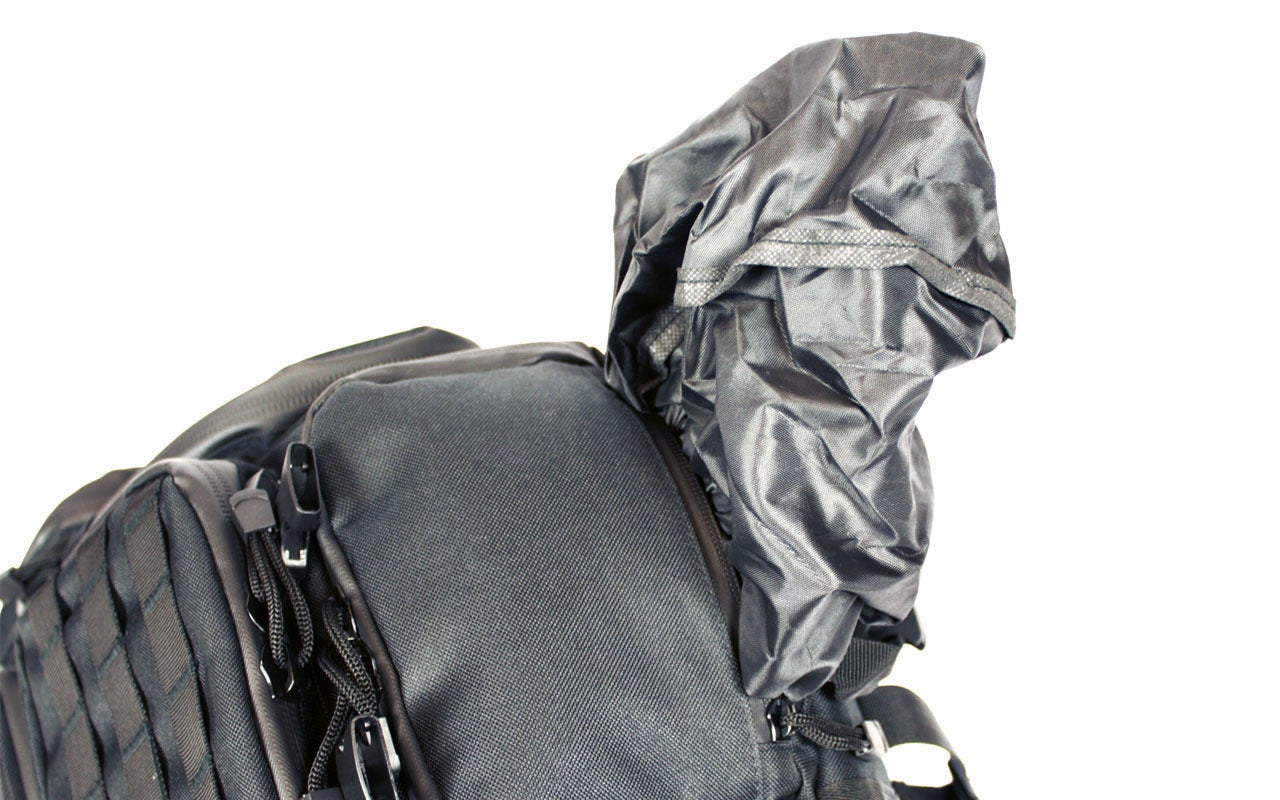 The rain cover included in the top pouch is a nice touch. It's sturdy, completely waterproof, and it covers the entire bag when unfurled from its compartment.
Main Storage Compartment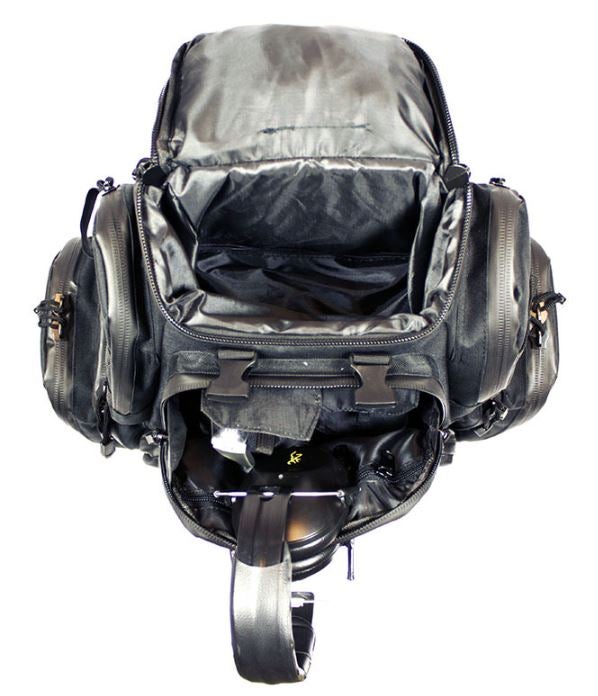 The main storage compartment is pretty spacious, measuring around 7″ deep, 8-9″ long, and 7″ wide. It's padded with a waterproof nylon material and provides plenty of room for various 50-round boxes of pistol ammo or more gear. We were able to easily squeeze around 300 rounds' worth of boxes into the compartment, with room to spare for additional magazines, and some more eye pro. Which brings us to…
Secondary Storage Compartment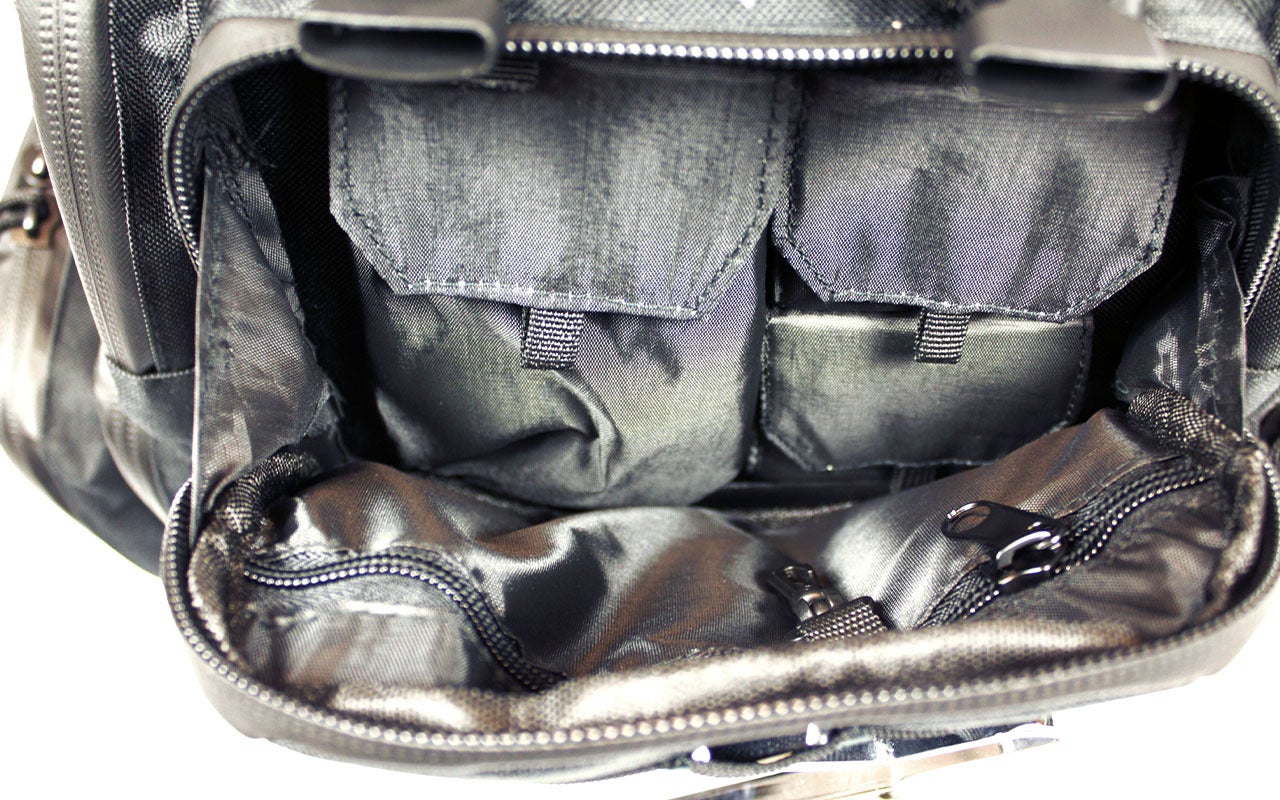 The secondary storage compartment has enough space for folding over-the-ear muffs, some ear plugs in the smaller Velcro pouches, and some shooting glasses. A zippered pouch-within-a-pouch is made for smaller bits that might otherwise get lost, like tacks, a multi-tool, or some cleaning swabs or a small rod for your bore and barrel. There's a small clip for securing an ear plug case or a phone case, too.
MOLLE Straps for Extra Gear
The top-front compartment comes with three rows of standard MOLLE/ PALS webbing. This makes it easy to throw on a few extra magazine pouches or any other PALS gear you might normally carry with you to the range (like an extra ear pro or eye pro container). The stitching on the webbing is nice and thick, and the straps are typical heavy-duty nylon, so they can take some weight.
The Verdict
Case Club's 4-Pistol Backpack is one helluva compact little range bag. We love the gun shelf because it's not a gimmick, it's very well-constructed and tough. The entire bag is designed for the outdoors, with water-resistant and waterproof materials, a rainfly, and weather-sealed zippers. The straps and backside are padded and comfortable, so even though it doesn't have a cummerbund, it can handle some serious weight, like a load of ammo and plenty of extra magazines to accompany those four handguns you're lugging around. We struggle to find any complaints or nit-picks and give it a top rating overall.
The post AllOutdoor: Case Club Tactical 4 Pistol Backpack Review appeared first on AllOutdoor.com.