Yoga is more than a group of physical, mental, and spiritual practices; it is a lifestyle. Once people get used to practicing yoga, they cannot resist the urge to learn more because it is a practice that improves the body and relaxes the mind. If you have a friend, family member, or colleague who has started practicing yoga or is a yoga instructor, you can find some interesting and thoughtful gifts for them right here. Scroll down to find some exciting gift options for yoga lovers.
30 Best Gifts For Yoga Lovers
1. Yoga Mate The Perfect Yoga Towel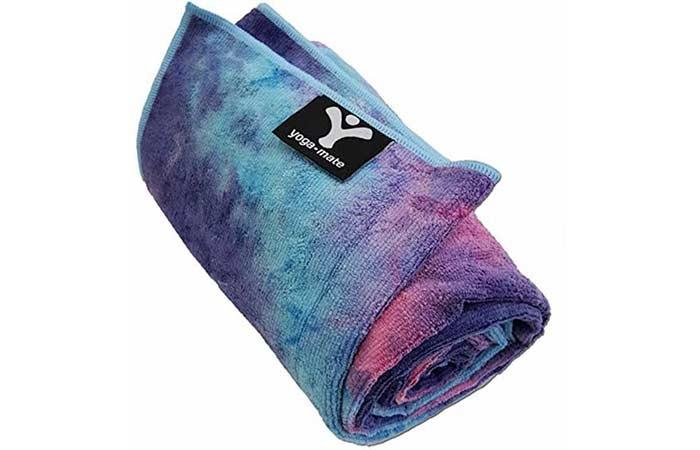 Your yogi friend surely needs a super absorbent and soft towel to freshen up after sweating it out at their Bikram Yoga class.They can wipe off all the sweat using this high-quality yoga towel. Everything about this towel is simply desirable the color, the fabric, and the durability. The perfect yoga towel by Yoga Mate is odorless and made of non-slip microfiber. It is lightweight and easy to carry around for yoga classes, camping, travel, and much more. The blue and pink tie-die towel is something that your friend will be able to use every day.
Key Features
Made from non-slip microfibers for better absorption
Lightweight and compact for traveling
Can be used after yoga, cycling, Pilates, sports, beach bath, etc.
2. SukhaMat Yoga Knee Pad Cushion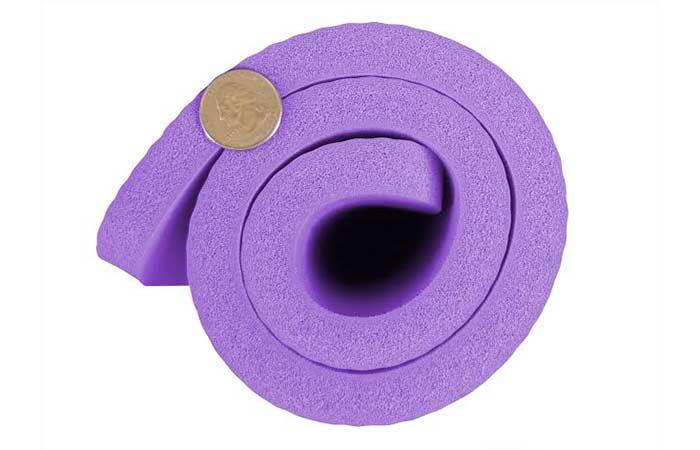 Yoga is all about poses, and when you switch poses, you need to balance on your knees, elbows, and wrists. Performing yoga poses on a yoga mat can cause bruises and pain in these areas, and a toga knee pad cushion can help prevent that. It comes with soft and cushiony padding that prevents pain and discomfort in areas like the knees, wrists, and elbows. Instead of the wood or floor, you can do the poses on this cushiony pad and prevent bruises and damage. The pad is large enough to be placed on any standard yoga mat and can also be used as a mat extension.
Key Features
Prevents pain and bruises while working out
Can also be used as a headrest while working out
Large enough to be placed horizontally on the yoga mat
Designed for balance, comfort, and stability
3. Ewedoos Yoga Mat Bag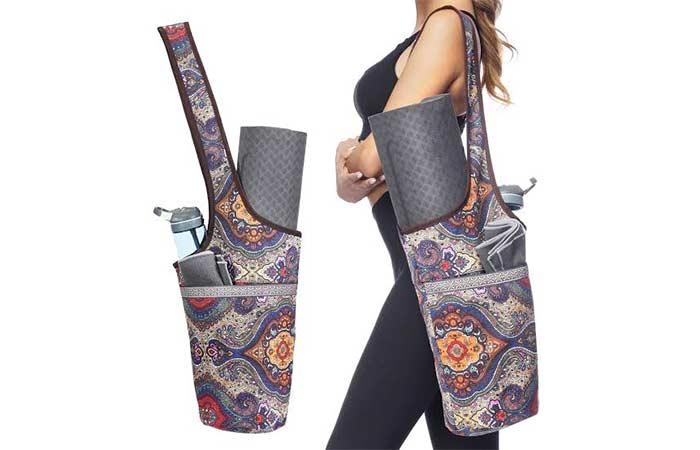 Every yoga lover would appreciate this cool yoga mat bag. It comes with a large pocket and a small zipper pocket to accommodate yoga mats of different sizes and some small accessories like glasses, a water bottle, a yoga towel, a mobile phone, etc. This amazing floral printed shoulder strap yoga mat bag has a shoulder strap and a zipper pocket to hold your yoga gears easily. This multipurpose bag can be used for a beach trip where your friend can relax and perform some yoga poses under the sun. The tote bag is made using high-quality cotton canvas and is highly durable.
Key Features
Shoulder strap printed tote yoga mat makes carrying yoga gear easy
Has a zipper pocket to hold bottles, glasses, towels, etc.
Made from high-quality cotton canvas fabric
Multipurpose bag useful for a beach trip, shopping, gym, camping, etc.
4. Leggings Depot High Waisted Leggings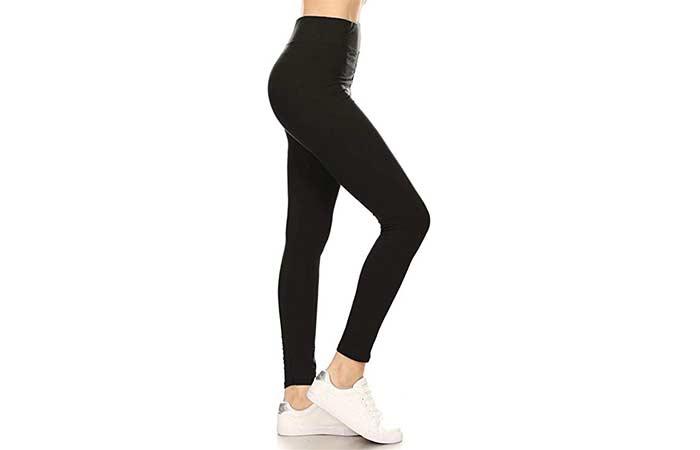 Yoga classes are all about flexibility, poses, and stretching, and you definitely need a durable and flexible pair of leggings to rock these sessions without any discomfort. These high-waisted leggings are soft, flexible, and extremely comfortable. They are made from buttery-soft polyester-spandex fabric. The fabric stretches equally in all directions and allows you to move freely. The leggings are not see-through even when stretched as they are made from high-quality, thick fabric. The high-waisted band prevents skin sagging and holds your skin tight for a comfortable yoga experience.
Key Features
Made from buttery-soft polyester-spandex blend
Super stretchable and versatile
High-waist band prevents sagging
Not see-through even when stretched during workouts
Perfect for casual outings, night outs, and daily wear
5. Yes4All Exercise Foam Pad
This multipurpose anti-fatigue pad will help your yogi friend de-stress while and after performing some tough yoga poses. It is constructed using soft and durable EVA foam. This sweatproof pad provides stability and grip and prevents slipping even during intensively sweaty workout sessions. It is also useful while performing planks, push-ups, squats, and exercises in which the body has to be balanced on certain body parts.
Key Features
Made using EVA foam to add comfort and durability
Sweatproof, anti-slip, and cushiony
Provides extra grip and stability while performing difficult poses
Best for relaxing joints and muscles
Also used for planks, squats, push-ups, etc.
6. Waterglider International Zafu Yoga Meditation Pillow With USA Buckwheat Hull Fill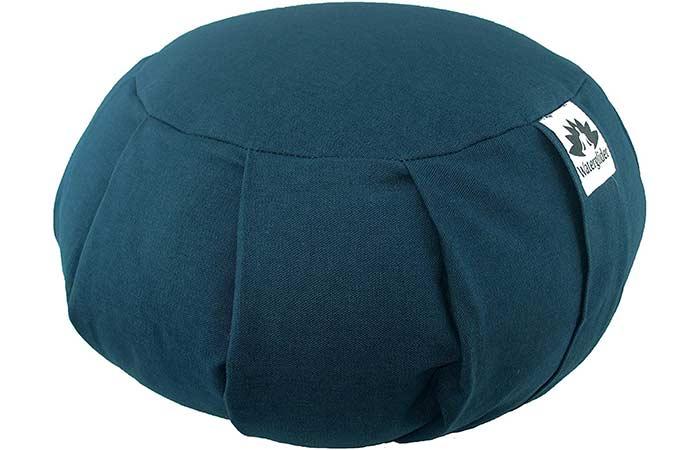 Meditation practitioners and yoga enthusiasts love small meditation pillows that offer comfort and ease. This meditation pillow is stuffed with original buckwheat hull. If your friend is creating a dedicated space for meditation, gift this amazing meditation pillow to them. It helps maintain posture and focus better while meditating. The hardwood floor and tiles might not let you meditate properly. This cushiony pillow helps you sit in a proper position and focus and helps eliminate discomfort, especially during long meditation yoga poses.
Key Features
Eliminates any discomfort while meditating
Specially designed for those who meditate for hours
Filled with original and fluffy buckwheat hull
7. Silent Mind Tibetan Singing Bowl Set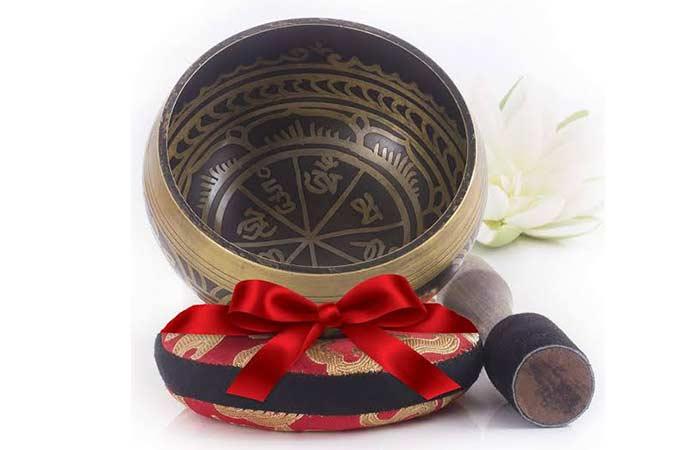 Surprise your yogi friend with this antique and unique gift. The Silent Mind Tibetan Singing Bowl is designed by Nepalese artists and devoted practitioners. The dual surface pencil grip mallet is perfect for producing heavenly sounds for peace of mind. The bowl comes with a stuffed and hand-sewn designer pillow/cushion for stabilizing the vital tones. It is suitable for meditation, spiritual gatherings, sound therapy, and personal moments when you want to feel positive energy. Help your friend relax and rejuvenate with this traditional sound bowl.
Key Features
Creates pleasing and relaxing sounds while meditating
Comes with a stuffed cushion
Perfect for spiritual gatherings, sound therapy, and meditation sessions
8. Gaiyam Yoga Block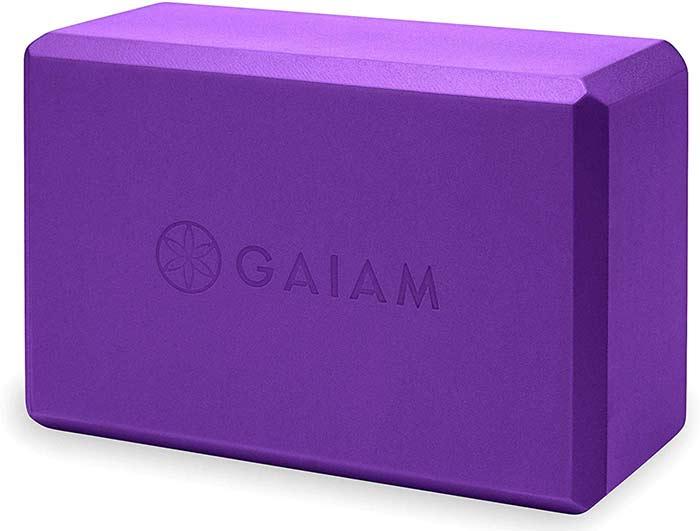 Not all yoga poses are easy. This supporting block can help your friend master different yoga poses. The Gaiyam yoga block comes with EVA foam and is a non-slip block that will help your friend hold the poses without slipping. This block improves balance and stability and also increases overall body strength. The block is lightweight and beveled from the edges to prevent slipping and eliminate any risk of injuries.
Key Features
Anti-slip and gripping EVA foam
Highly supportive for practicing tough yoga poses
Improves overall strength and alignment
Helps deepen, extend, and support your stretches
9. Kieba Massage Lacrosse Balls for Myofascial Release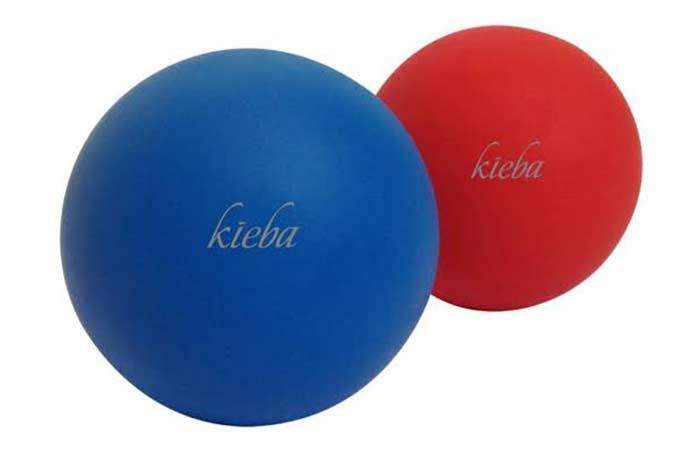 Yoga is the art of working out and relaxing different body muscles in different ways. You can use a lot of other gears and tools to relax your muscles post-workout. Kieba massage lacrosse balls are intended for myofascial release and are perfect for an effective massage. Muscle knots are released, muscle tension is relieved, and the body feels light after using these balls. They can be used while sitting on a chair, lying down, or on the yoga mat.
Key Features
Relieve muscle tension and knots
Can also be used on yoga mats at the home and gym
The ball uses body weight and gravity to improve muscle function and rejuvenate the body.
10. Trideer Exercise Ball (45-85cm) Extra Thick Yoga Ball Chair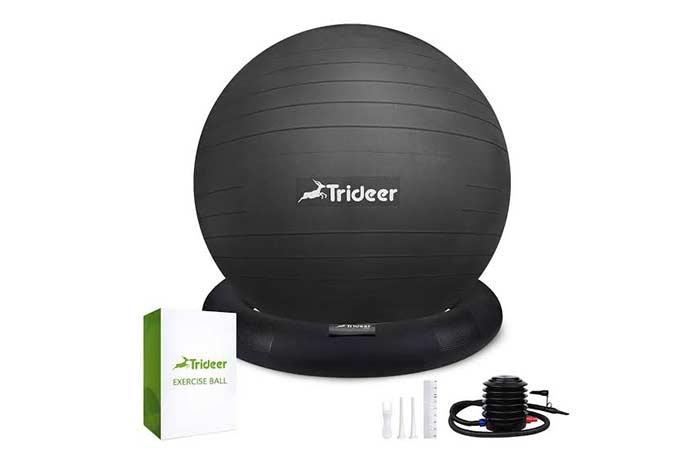 This anti-burst yoga ball chair makes your workout sessions more thrilling. This is one of the highest density balls on the market. It has 2000 micrometers diameter and can withstand weight up to 2200 lbs. It is not only a ball for yoga training, but it is also ideal for pregnancy gymnastics, Pilates, and back and abdominal training. Using this ball can improve posture and also relieve back pain.
Key Features
High-density ball with anti-burst sustainability
Relaxes back muscles and improves posture
Best for Pilates, yoga poses, gymnastic, pregnancy workouts, etc.
11. Ozaiic Yoga Socks For Women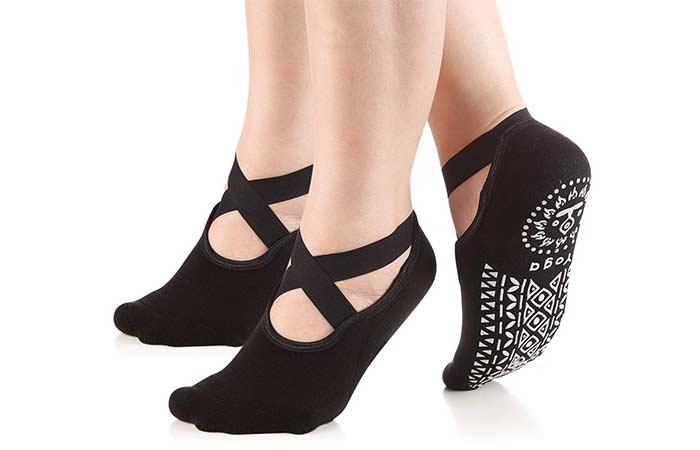 These anti-slip socks can create stability and help you perform yoga poses better. They are made from combed cotton and have silicone gel strips at the bottom to improve performance while working out. These breathable socks offer the perfect grip on the floor, a yoga mat, or any platform. It is an ideal pair of socks for Bikram yoga, gym, dance, or any such activity. The socks also have front straps to hold your feet in place.
Key Features
Stylish front strap socks with a beautiful pattern
Smooth, breathable, and lightweight
Studded with silicone gel strips at the bottom
Anti-slip
12. Sivan Health And Fitness Yoga Set 6-Piece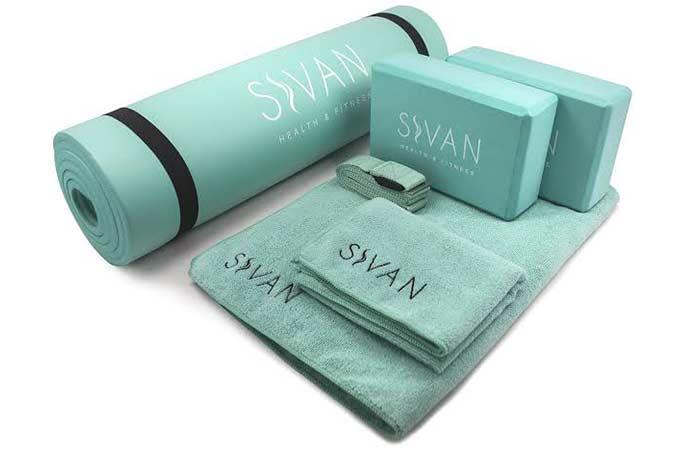 This yoga set is a perfect gift for someone who has started practicing yoga recently. It consists of a thick NBR exercise mat, 2 yoga blocks, 1 yoga mat, 1 hand towel, and a yoga strap. The yoga mat is stuffed with memory foam to offer a smooth surface and better grip while working out. This non-slip mat prevents injuries and provides balance. The foam blocks will help deepen your stretches and provide better extension. The microfiber yoga towels are highly absorbent and assure sweat-free workout sessions. The set is great for yoga practices, Pilates, stretching, and toning workouts.
Key Features
Anti-slip yoga mat provides better grip and stability during workouts.
The block will help you stretch better.
The towels are highly absorbent and made of high-quality fabric.
13. Yoga EVO Strong Resistance Strap With Loops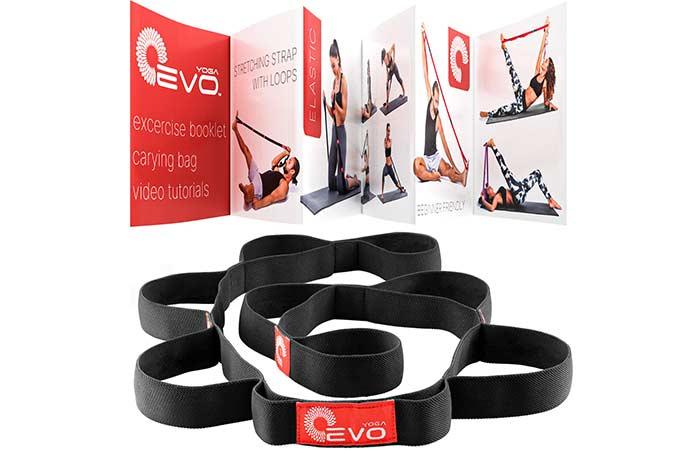 This resistance strap with loops is perfect for beginners and seniors. These multipurpose straps are used for stretching, physical therapy, yoga poses, and warm-up sessions. The stretch bands help you perform deeper stretches and poses. Stretching with this band elongates the muscles around the joints and helps increase the range of motion. The loops fit the hands properly, and the cotton blend fabric wont hurt the skin. The bands are comfy and portable to carry to the gym, garden, etc.
Key Features
Makes workouts, stretching, and yoga poses easy
Elongates muscles and relieves muscle tension
Improves range of motion
Ideal for yoga practitioners and also for physical therapy for senior people
14. UpCircleSeven Yoga Wheel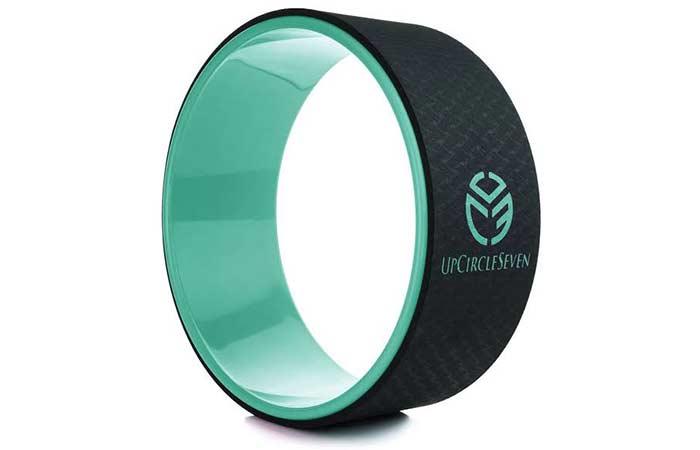 This Dharma Yoga prop wheel is an awesome tool to improve yoga practice and a perfect accessory for stretching. This is a great back opener prop that improves your ability to stretch. It also comes with a cool e-guide to try new poses and relax your muscles. It is a strong wheel with a capacity of 550 lbs and is made of PVC. The wheel is safe, durable, and anti-slip. The yoga wheel has nice padding that controls motion and prevents injury while working out.
Key Features
Sweat-resistant prop that prevents injuries and slipping while working out
Improves back muscles and releases muscle tension
Comes with thick padding and can withstand weight up to 550 lbs
15. ASUTRA Natural & Organic Yoga Mat Cleaner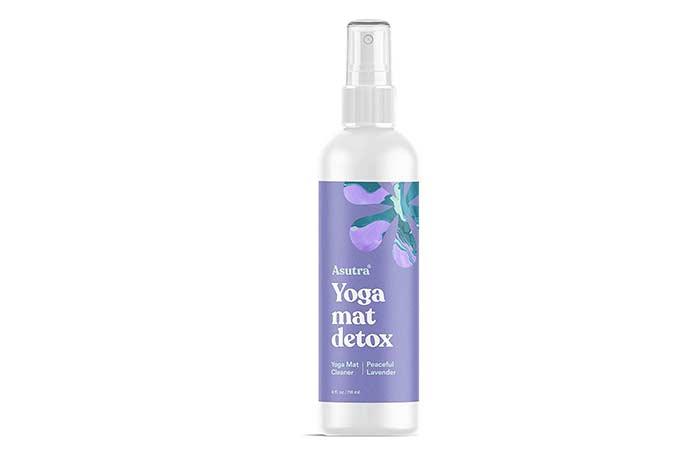 This natural and organic yoga mat cleaner is filled with the heavenly aroma of lavender oil. This refreshing mat cleaner will not only keep your mat clean but also make it smell awesome. While working out, the mat might get dusty and smelly, and this cleaner will disinfect your mat while leaving a fresh aroma behind. It is handcrafted and will calm your mind, body, and soul with its pleasing scent.
Key Features
Made with all-natural and organic ingredients
Leaves the mat with a pleasing lavender smell
Cleans dust, smell, germs, and sweat in a single wipe
Calming product that offers peace of mind
16. Tucketts Toeless Yoga Socks For Women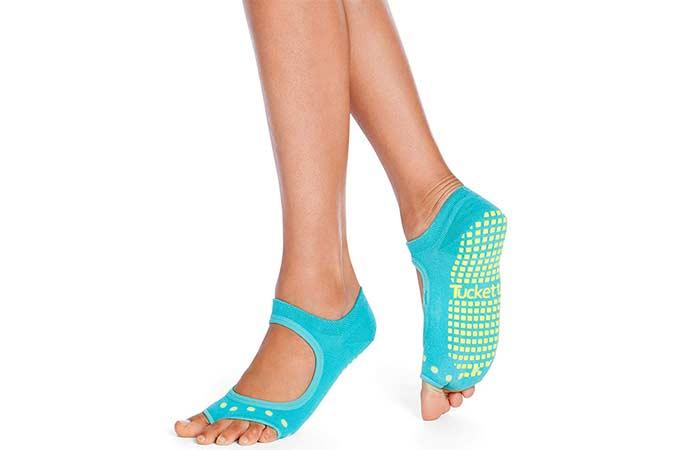 This amazing pair of socks is great for Pilates, barre, ballet, and yoga poses. The socks are made with 70% recycled cotton, 29% nylon, and 1% spandex, which makes them anti-slip and long-lasting. The toe-free design allows you to move your legs flexibly while working out. These socks will retain the barefoot sensation and offer extreme grip. The soft strap and stitched heels can keep you secure and offer comfort.
Key Features
Anti-slip yoga socks for Pilates, yoga, barre and other workouts
Sweat-resistant
Made using anti-sweat and moisture-wicking fabric
17. YMing Scented Candles Gift Set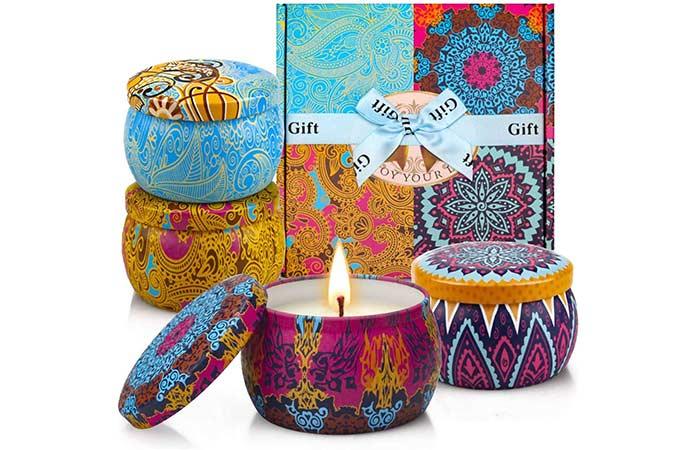 This scented candles gift set is an ideal gift option for people who like to rejuvenate through aromatherapy after workouts. The set consists of 4 fragrances: lavender, lemon, Mediterranean fig, and rose. The candles are made using healthy and natural soy wax, so burning them doesnt produce any black smoke or pungent smell. Aromatherapy using these candles enhances the mood, brightens the atmosphere, and relaxes the body. The candles come in decorative and reusable pretty containers.
Key Features
Relaxing and amazingly scented candles for aromatherapy
Comes with 4 different scents Mediterranean fig, rose, lavender, and lemon
Do not produce black smoke
Great gift for thanksgiving, Christmas, birthday, etc.
18. Comfify Ceramic Travel Coffee Mug With Lid Namastay In Bed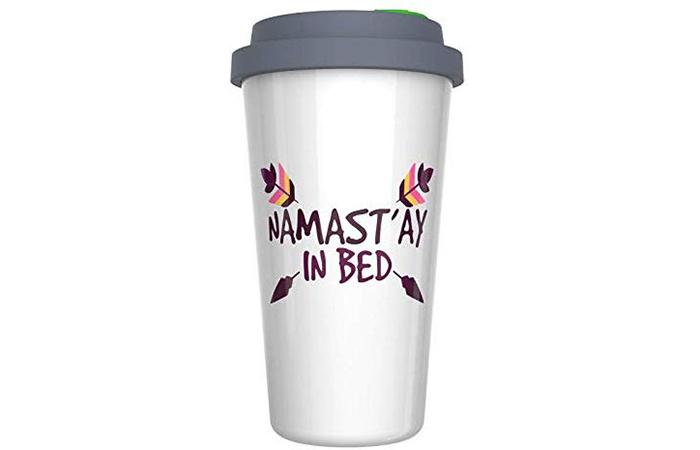 Surprise your loved one with this amazing coffee mug that keeps coffee, tea, and other hot beverages fresh and warm. The tight lid comes with a nice fitting to prevent leakage and spills. The mug comes with double-walled insulation and is a great gift for a yoga lover who likes to drink fresh green tea or any healthy beverages.
Key Features
Double-walled construction
Comes with a tight lid to prevent spills and leakage
Keeps the beverages warm
19. Chronicle Books Yoga Dice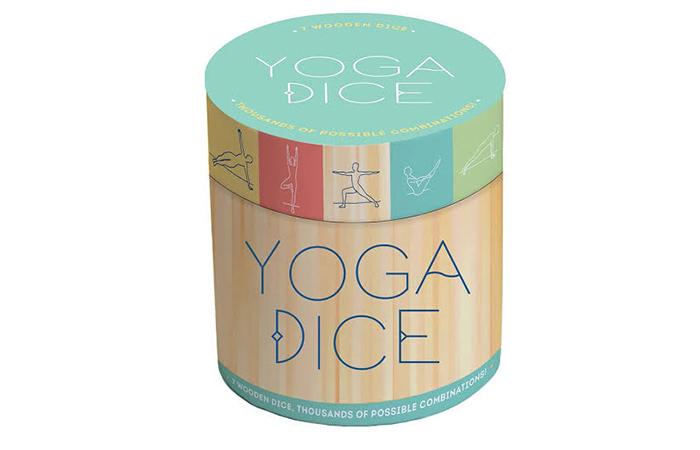 If your friend has recently started practicing yoga and needs some inspiration to keep up with the workout routine, this is the best gift you can give them. The Chronicle Books Yoga Dice comes with 7 yoga dices with thousands of possible combinations of yoga poses. The dices consist of different yoga poses that can be performed in sitting, standing, and sleeping positions. You can roll the dice and start performing the poses. The dices come in a nice round container. The yoga poses are for people of all ages.
Key Features
Perfect yoga-inspired gift for beginners
Inspires the practitioners to try new and different yoga poses
7 dices with amazing combinations
20. KiaoTime White Set of 4 Home Decorative Porcelain Ceramic Yoga Pose Yoga Figurines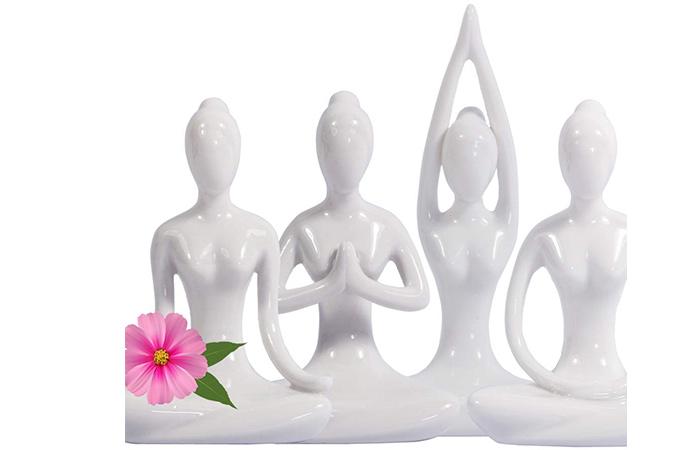 Inspiration is key to success, and if you have any friend who loves practicing yoga, this set is an amazing gift option to consider. This white set of four home decorative toga pose statues is a very nice home decoration that will keep them motivated and inspired to keep practicing yoga. The statues are made from porcelain and remind people to breathe and remain calm.
Key Features
Pretty 4 yoga-inspired statues
Made using high-quality porcelain
White color and calming poses impart a calming and relaxing sensation
Great gift for yoga instructors and practitioners
21. ELENTURE Full-Zip Exercise Yoga Mat Carry Bag With Multi-Functional Storage Pockets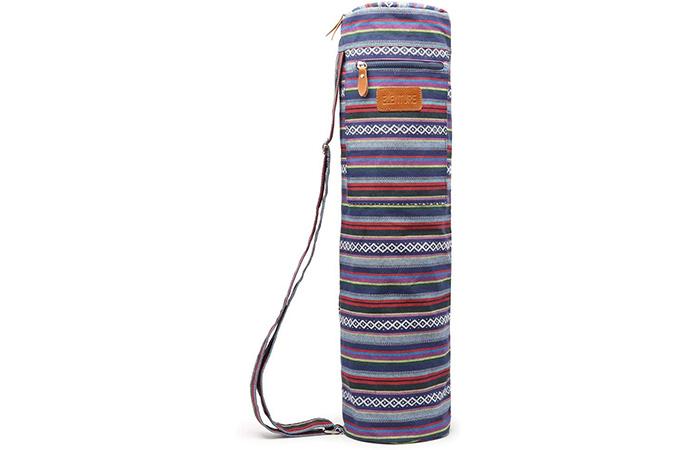 While stepping out for your yoga classes, you might need a nice yoga mat bag to carry the mat as well as some other important workout gear. This colorful bohemian style yoga mat bag is a great zipper bag to carry around. The striped bag has multi-functional storage pockets and is available in different colors. It accommodates standard size mats easily and has a nice strap to make carrying easy. The other pockets are designed to accommodate keys, mobile phones, yoga belts, and other such accessories.
Key Features
Long and colorful bag for a yoga mat
Comes with multiple functional pockets to store other items
Zipper design and adjustable strap to make carrying easy
22. Quan Jewelry Yoga Lotus Flower Necklace With Om Symbol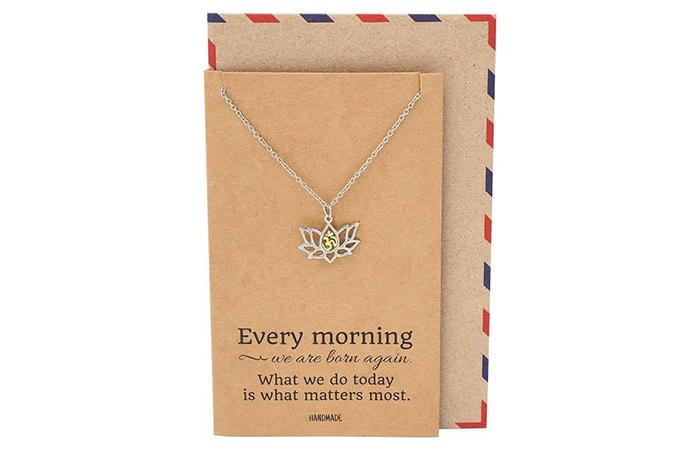 This beautiful yoga lotus flower necklace with the Om symbol is a perfect gift item for women who love practicing yoga. This beautiful piece of jewelry from quan is an ideal birthday or Christmas gift. The fashionable chain is made from stainless steel, and the pendant is made using pewter. The pendant and chain set comes with an inspiring gift card. This yoga-inspired calming neckpiece is a must-have accessory for women who find yoga accessories irresistible.
Key Features
Pretty necklace made using stainless steel and pewter
Showcases calming and relaxing om symbol with a blossoming flower
Statement jewelry item for yoga lovers
23. Happy Wraps Lavender Eye Pillow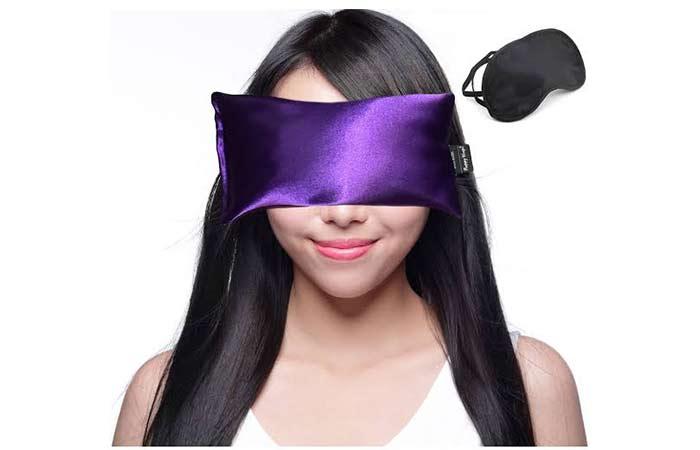 This amazing eye pillow is weighted and offers aromatherapy. It helps in reducing migraine pain and stress. The wrap is filled with flax seeds and relieves migraine pain, sinus pain, headaches, stress, etc. The lavender pillow is filled with whole lavender buds and flax seeds to offer maximum comfort and soothing. You can place the pad in a microwave for heating therapy or in the freezer for cooling therapy. It also reduces swelling and puffiness around the eyes.
Key Features
Offers sound sleep and relieves headaches
Filled with natural flax seeds and whole lavender buds for aromatherapy
Can be used as a heating therapy for sinus, migraine, and headaches
Can be used as a cooling therapy to relax muscles and reduce puffiness under the eyes
24. URBAN K Womens Sleeveless Unitard Bodysuit Jumpsuits
Why wear uncomfortable and tight outfits when you have to stretch, perform different poses, and move during a yoga class? The Urban K Womens Active Plus Regular Size Yoga Wear Bodysuit is a perfect outfit to wear to a yoga class. This amazing bodysuit is made from cotton and spandex and is a great stretchy outfit that will let you stretch and move in different directions without causing any discomfort. The scoop neck, tank top-like design, and spaghetti straps make it look stylish. It is a great outfit for yoga poses, Pilates, and such other workouts.
Key Features
Made using cotton and spandex
Has a unique design with scoop neck spaghetti straps and a tank top style stitch
Helps perform tough yoga poses and stretches
25. YogaAccessories Supportive Round Cotton Yoga Bolster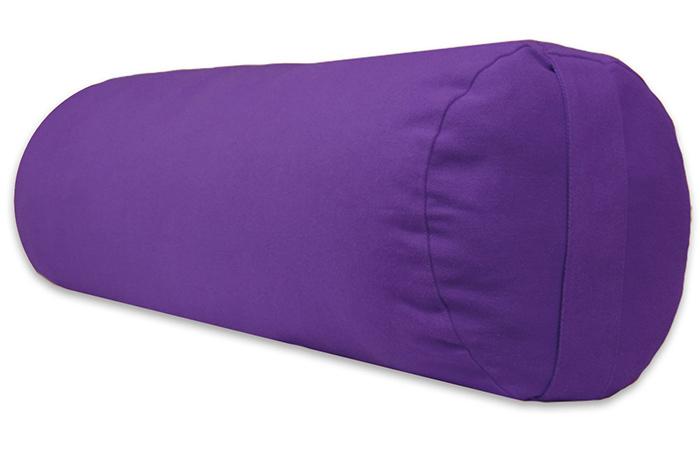 This is a unique and calming pillow used for relaxation during and after practicing yoga poses. The pillow is made using cotton and comes with a nice zipper case. The bolster can be used to open and relax the back muscles, strengthen the core, and rejuvenate after a long workout session. It is a great gift for yoga enthusiasts and beginners who often experience body aches and issues after starting workouts.
Key Features
Made from heavy-duty cotton
Opens up the back muscles
Beneficial for relaxing the back and other muscles after workouts
26. AKAMC Womens Removable Padded Sports Bra
It is very important to wear theright bra while working out to prevent back and chest pain. You can wear this bra for your yoga, Pilates, or heavy workout sessions. The sports bra is made of nylon and elastane to offer the best support and flexibility. It is sweat-resistant and has a strappy back, soft padding, and a premium fit. This makes it suitable to wear while performing any kind of workout. It is also a great bra for cycling, yoga, biking, boxing, etc.
Key Features
Offers great support and flexibility
Prevents chest or back pain while working out
Pack comes with 3 unique and pretty bras
Ideal for yoga, biking, cycling, etc.
27. Calbeing Workout Headband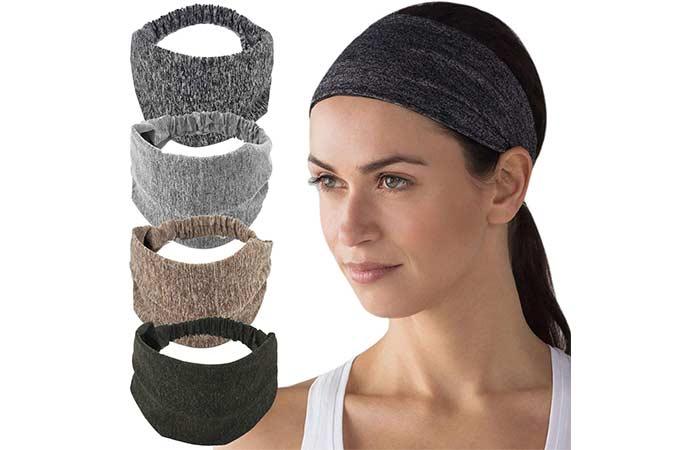 While working out, you often get sweaty, and your hair also gets messed up. This amazing workout headband doesnt slip and is soft enough to hold your hair back easily. It doesnt feel too stretchy and hard on the head and gives extra coverage to prevent your hair from falling on your face. The headband draws back your hair and lets your forehead stay dry. The band is ideal for yoga, running, working out, or Pilates.
Key Features
One-size-fits-all headband
Prevents sweat from spreading on the face
Keeps hair away from falling on your face
Ideal for working out, yoga, Pilates, or any intensive activity
28. Embrava Sports Water Bottle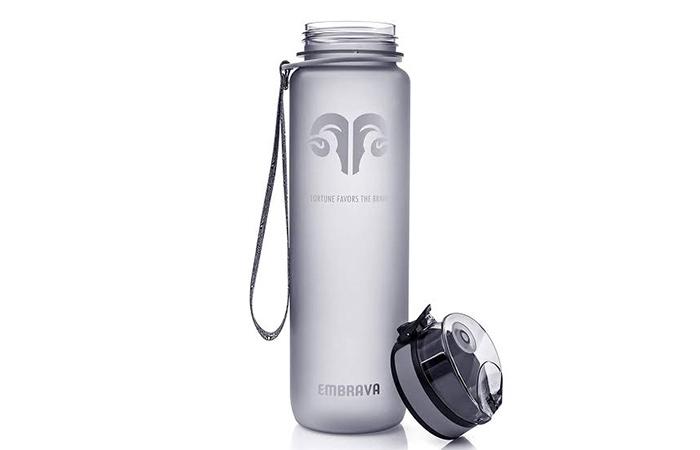 After performing intensive yoga poses, you definitely need to hydrate your body and drink a lot of water. This sports water bottle is made from non-toxic BPA-free material. The bottle is leakproof and dustproof and comes with a carry strap for carrying it to the gym or yoga classes. The bottle is also shatter-resistant and is perfect for a workout session or a trip.
Key Features
BPA-free and non-toxic
Dust-free and leakproof
Prevents spills
Comes with a nice strap for carrying
29. Celokiy Adjustable Lava Rock Stone Essential Oil Anxiety Diffuser Bracelet
If you are looking for a serene gift for your yogi friend, try this adjustable lava rock stone diffuser bracelet. It is infused with essential oil and is designed to provide healing, aromatherapy, and relaxation. This is a meditation bracelet with lava beads that are absorbed with amazing essential oils. The bracelet will diffuse the oil scent throughout the day and will make you feel calm and relaxed. It is a unique and relaxing gift for someone who performs heavy workouts and loves relaxing with aromatherapy.
Key Features
Original lava beads with essential oils
The bracelet diffuses essential oil fragrances throughout the day.
Great for aromatherapy, healing, and relaxation after working out
30. Just Artifacts Mercury Glass Votive Candle Holder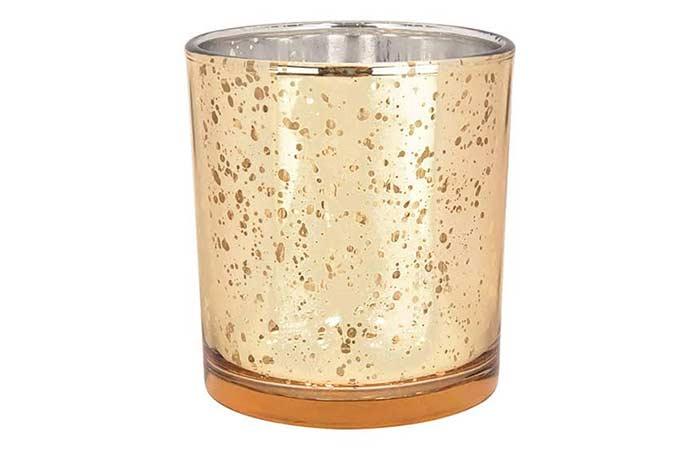 These candleholders are classy and are perfect for parties, weddings, and home dcor. The speckled mercury touch candle holders can enhance your living rooms decor. The glasses are embellished with an antique metallic finish and look luxurious. Your friend would love to enjoy a soothing spa session while lighting some scented candles and placing them in these amazing holders.
Key Features
Embellished golden minimalistic candle holders
Perfect gift for yoga lovers
Awesome for weddings, Christmas, dinner, spa session, or casual home dcor
That was our round-up of the 30 best gifts for yoga lovers. These gifts are sure to be a hit whether the recipient is an ardent yogi or someone who has just started out. Give them something that they are bound to use all the time, and watch their serene face light up in delight.
The post 30 Best Gifts For Yoga Lovers appeared first on STYLECRAZE.