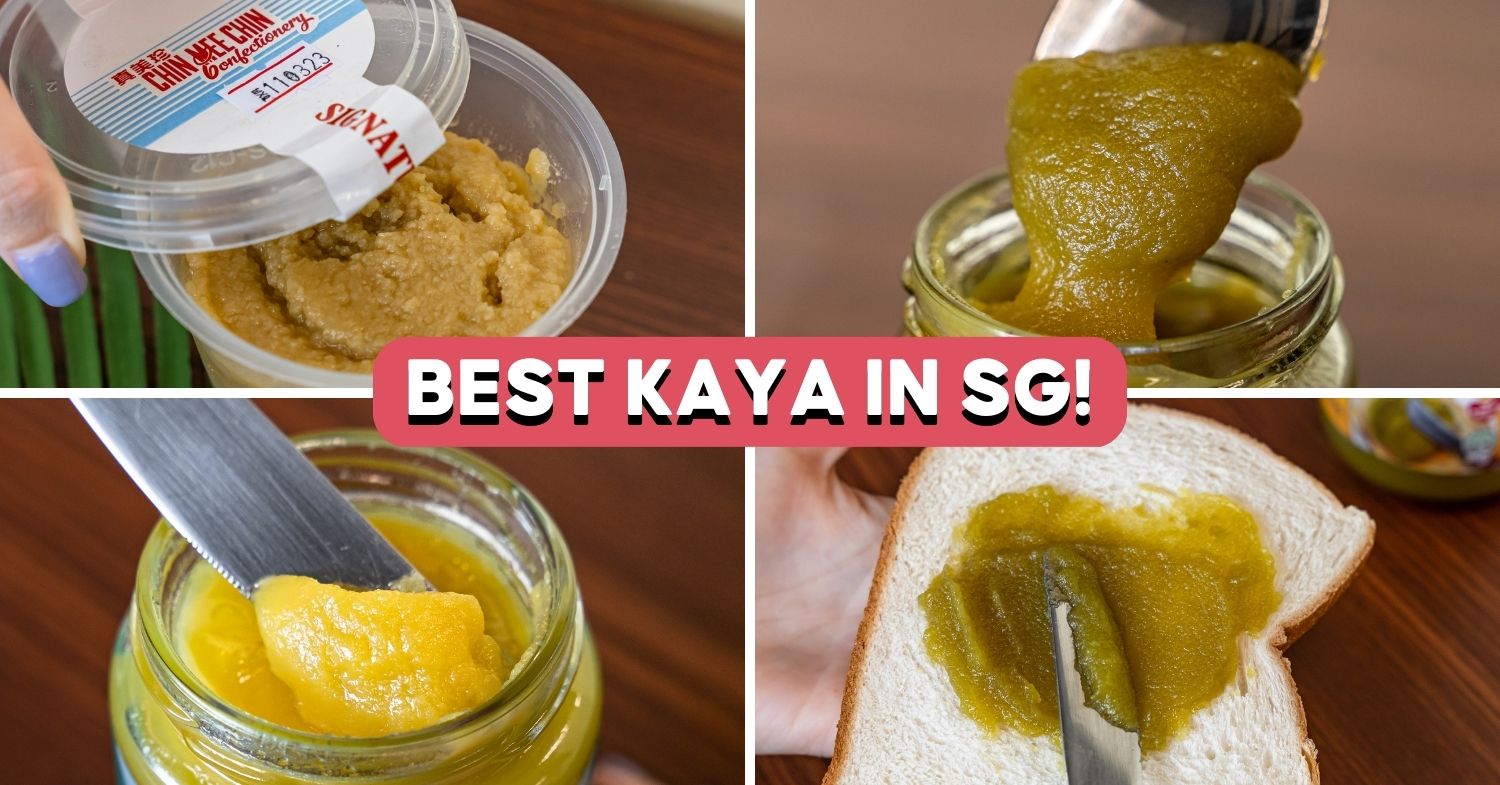 ---
Best kaya in Singapore
---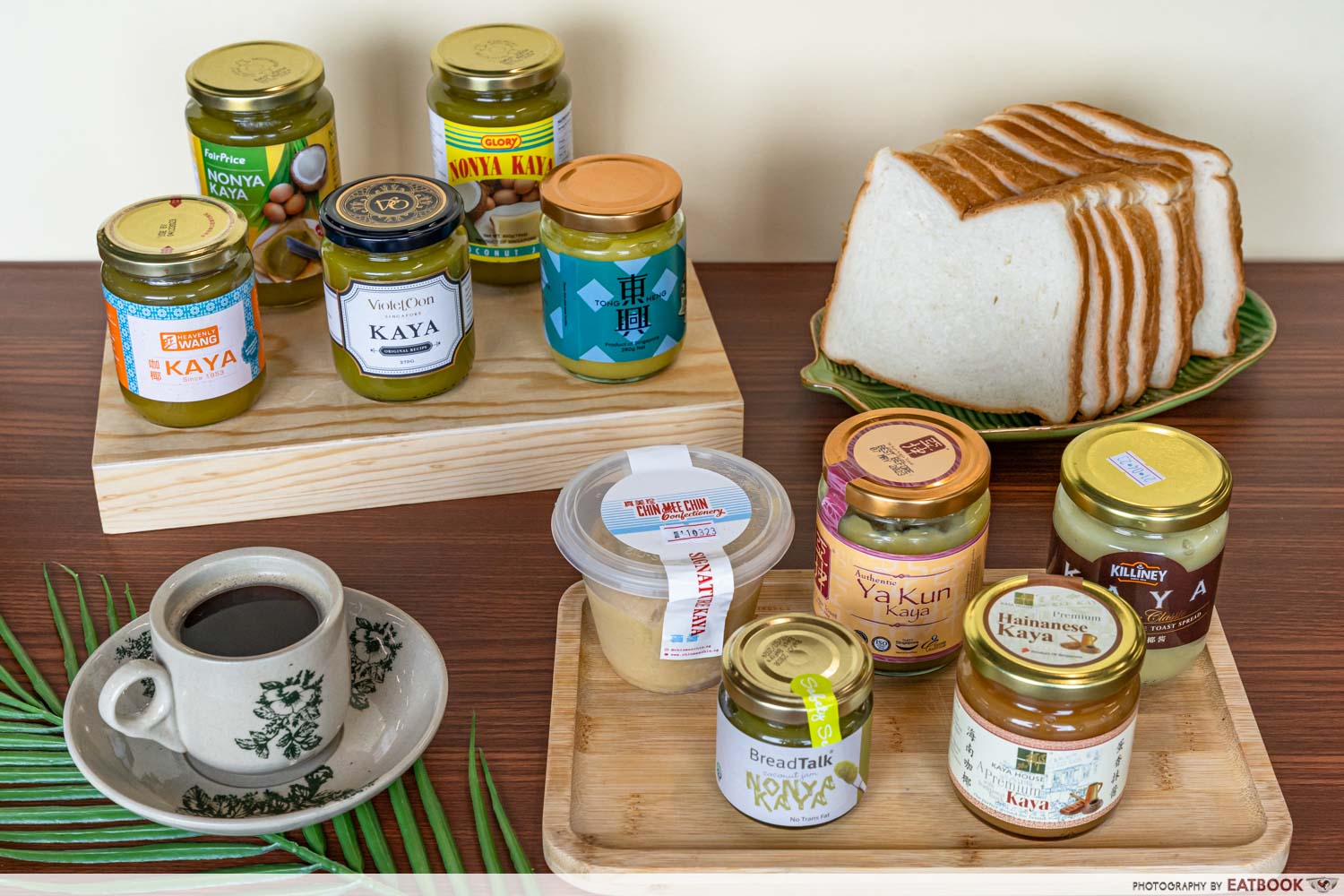 I love kaya. I have it almost every day. Besides it being one of my favourite local foods, kaya toast has seen me through many childhood breakfasts and post-mugging suppers. There's just something about having freshly toasted bread with a thick slab of jam flavoured with pandan and coconut milk that makes it so addictive.
There are two main types of kaya: Hainanese kaya and Nyonya kaya. Hainanese kaya is made using caramelised sugar and is typically brown in colour because of that. As for Nyonya kaya AKA pandan kaya, it's most recognisable for its green shade that comes from the pandan leaves it's made from.
Being one of the few people in Eatbook who can spend a whole day trying 10 different kinds of kaya without getting sick of it, I've painstakingly curated this list of best kaya brands in Singapore. This list features kaya from traditional coffeeshops, artisanal brands, and supermarket brands.
---
The criteria
---
Before deciding on the best kaya brand in Singapore, I came up with four different categories to help make this challenging decision a little less difficult.
Sweetness: Is the sweetness level of the kaya just nice? Is it too sweet, or does it need more sugar?
Texture: The kaya should be smooth and creamy, yet thin enough to spread.
Fragrance: Hainanese kaya should have well-balanced flavours of coconut and caramelised sugar, while Nyonya kaya should have the distinct aroma of pandan. When prepared with the right balance of ingredients, both types of kaya should not taste too eggy.
Value: How affordable is one jar of kaya? How does the price per gram of each kaya jar compare to the other brands?
All picks on this list are evaluated based on these categories.
---
10. Chin Mee Chin
---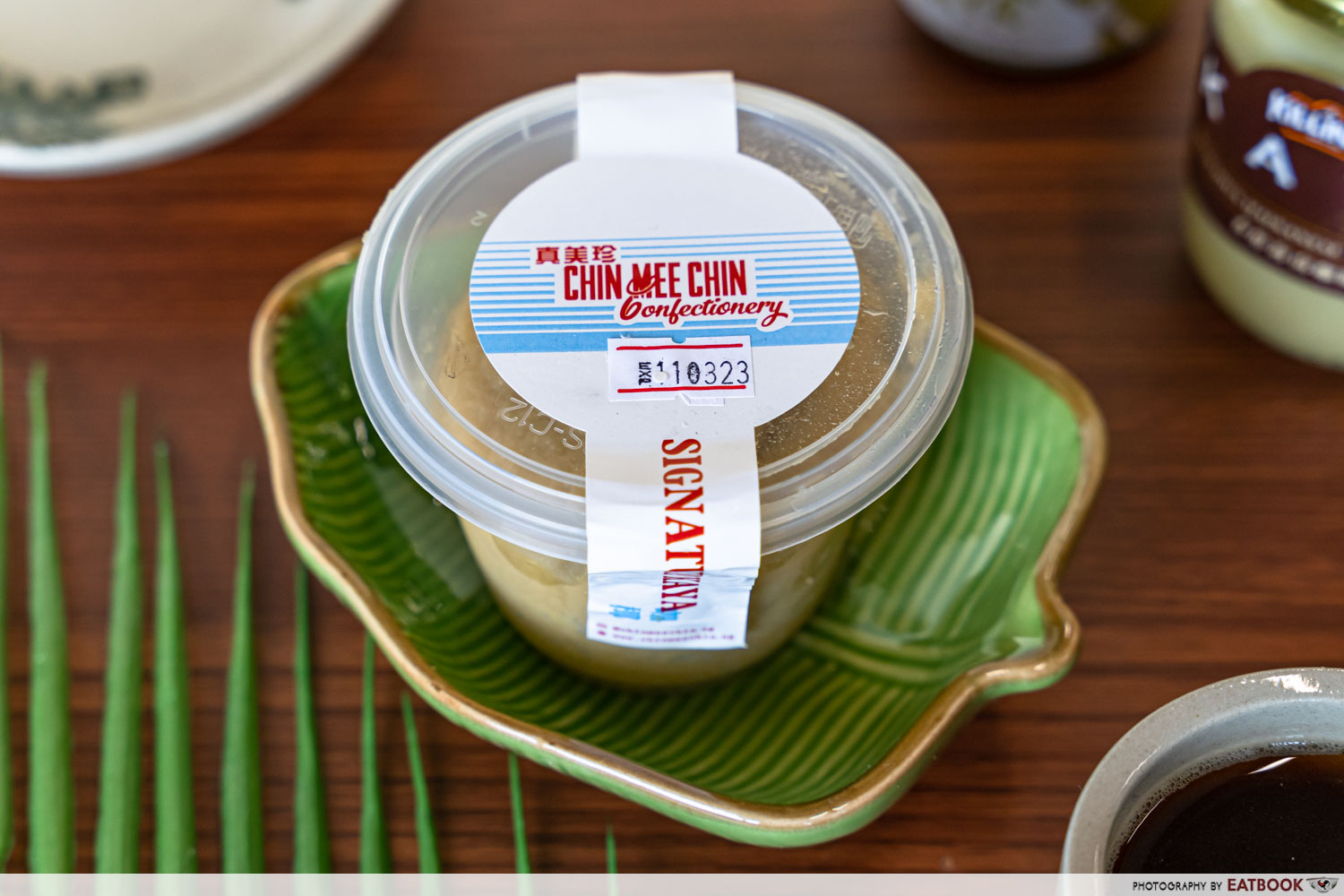 Hainanese coffeeshop Chin Mee Chin was founded in 1925 and is most known for their kaya toast and kopi. They also make their own Hainanese kaya, priced at $10 for a jar of 200g. I headed to their stall at East Coast Road and queued for around 10 minutes for their kaya, which came in a simple plastic container. This is also the only kaya we bought that was already refrigerated before opening.
Even without opening the container, I could immediately tell that the kaya's consistency was lumpy. This could be because the kaya was overcooked, or because the mixture wasn't blitzed enough to achieve a smoother texture. However, I chose to reserve judgement in case its taste could make up for how it looked.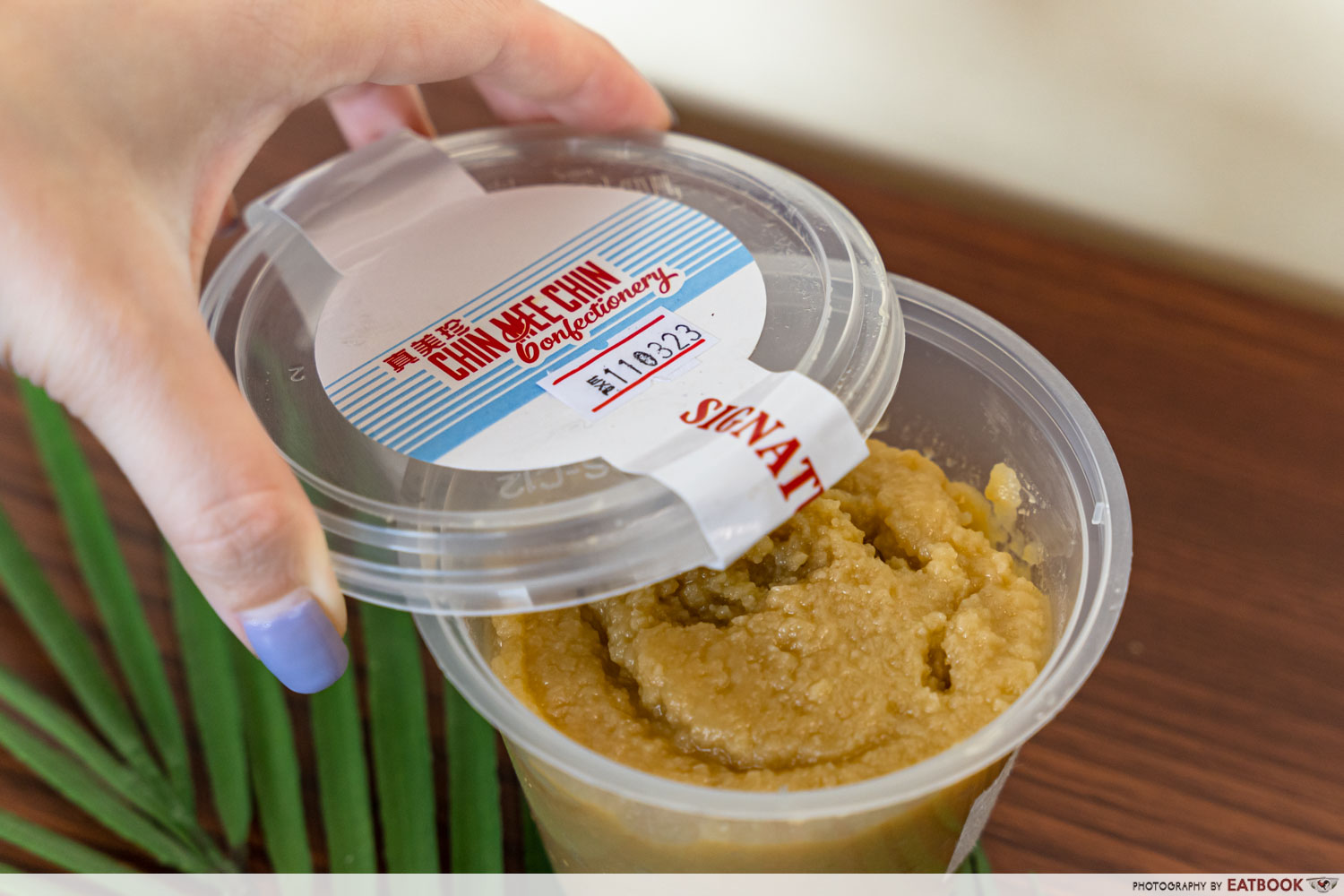 Chin Mee Chin's kaya tasted decent. It wasn't too sweet and had a subtle caramel flavour. Unfortunately, the texture was just too unpleasant for me to overlook. I felt as though I was tasting a soggy cake that was left overnight, mashed up, and then put in the fridge. The kaya also lacked the distinct coconut scent that is a trademark of Hainanese kaya.
My colleague suggested toasting some bread and spreading the kaya on it, in hopes that the heat from the bread would "melt" the kaya and make it smoother. While this method made the kaya easier to spread, there were still some lumpy bits that we couldn't get rid of.
As much as I love supporting old-school brands, this kaya was just too lumpy for my liking.
Sweetness: 3.5/5
Texture: 1/5
Fragrance: 2/5
Cost: 1/5
Total: 37.5%
Address: 204 East Coast Road, Singapore 428903
Opening hours: Tue-Sun 8am to 4pm
Chin Mee Chin's kaya is not halal-certified but uses no pork or lard.
---
9. Tong Heng Traditional Cantonese Pastries
---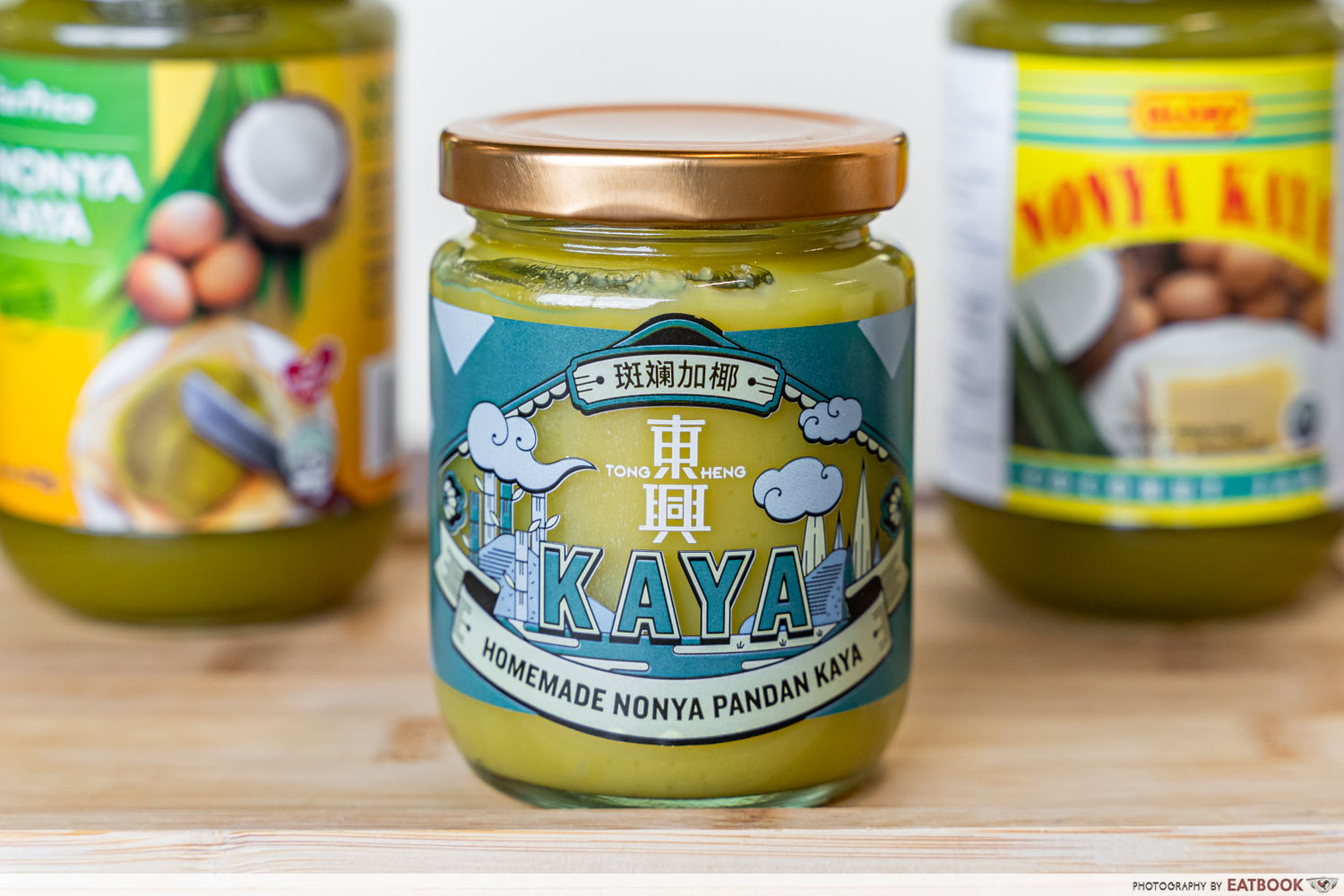 This famous traditional bakery, which has been around since 1953, is probably remembered by your ah gong and ah ma for their signature diamond-shaped egg tarts. Tong Heng Traditional Cantonese Pastries also makes their own Nyonya kaya ($7.20 for 280g), which can be found at their Chinatown outlet.
I would say that Tong Heng's kaya is the best-dressed on this list, as it's packaged in a gorgeous turquoise jar with illustrations depicting the brand's Chinese roots.
Unfortunately, my amusement immediately dissipated upon popping open the lid, as I was overwhelmed by a pungent smell. Worried that the kaya might have turned bad, I did a quick search online and found out that the weird smell is commonly associated with new jars.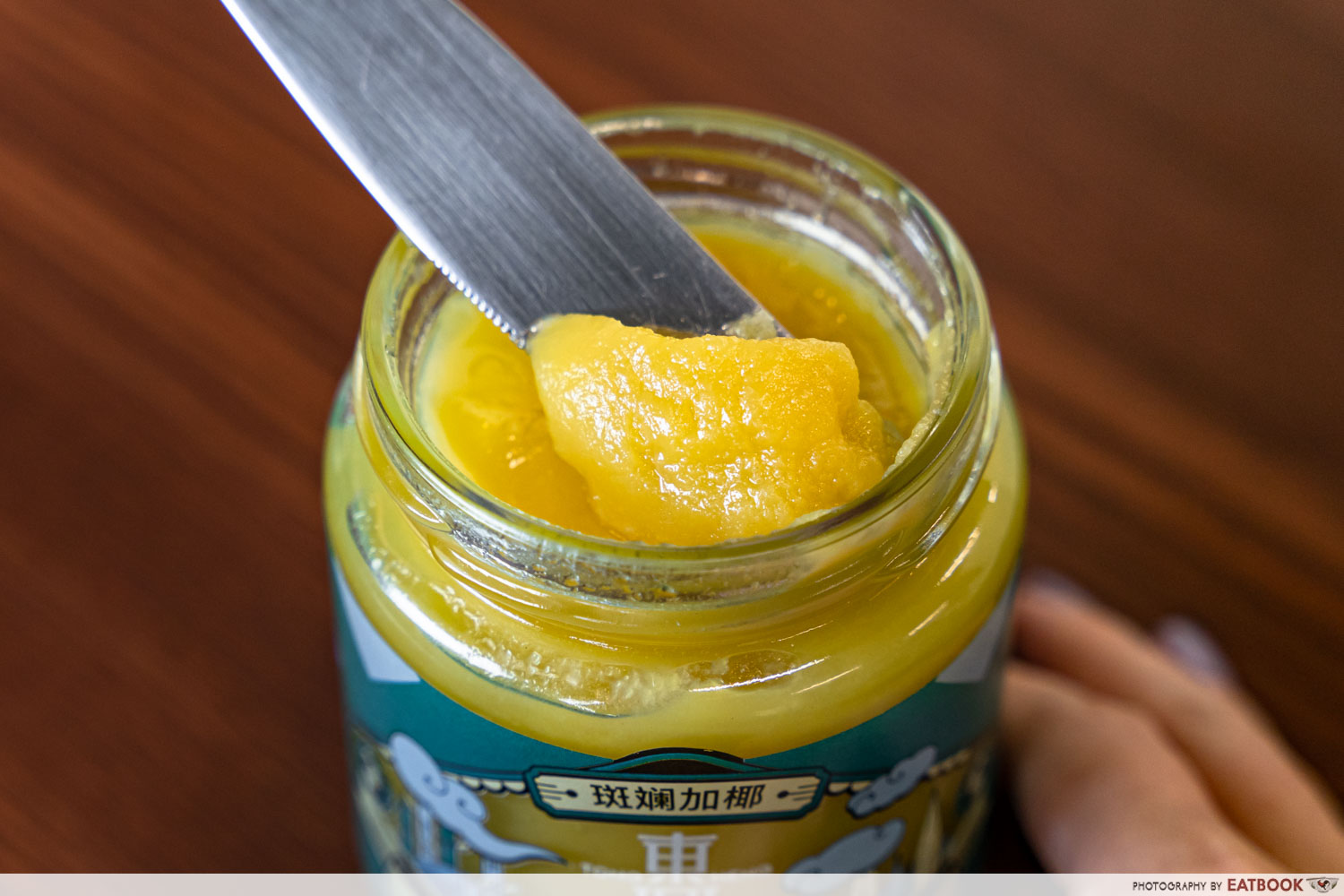 I held my breath and dug into the kaya with a knife. The kaya had a thick consistency and a creamy texture that made it easy to spread. While it was decently fragrant, it was unfortunately too sweet. It also had an unpleasant aftertaste, which was possibly due to the coconut milk being stale.
This could have been a promising jar of kaya, but sadly its high price and off-putting aftertaste just did not do it for me.
Sweetness: 1/5
Texture: 3/5
Fragrance: 2/5
Cost: 3/5
Total: 45%
Address: 285 South Bridge Road, Singapore 058833
Opening hours: Daily 9am to 7pm
Tong Heng Traditional Cantonese Pastries' kaya is not halal-certified but uses no pork or lard.
---
8. Violet Oon
---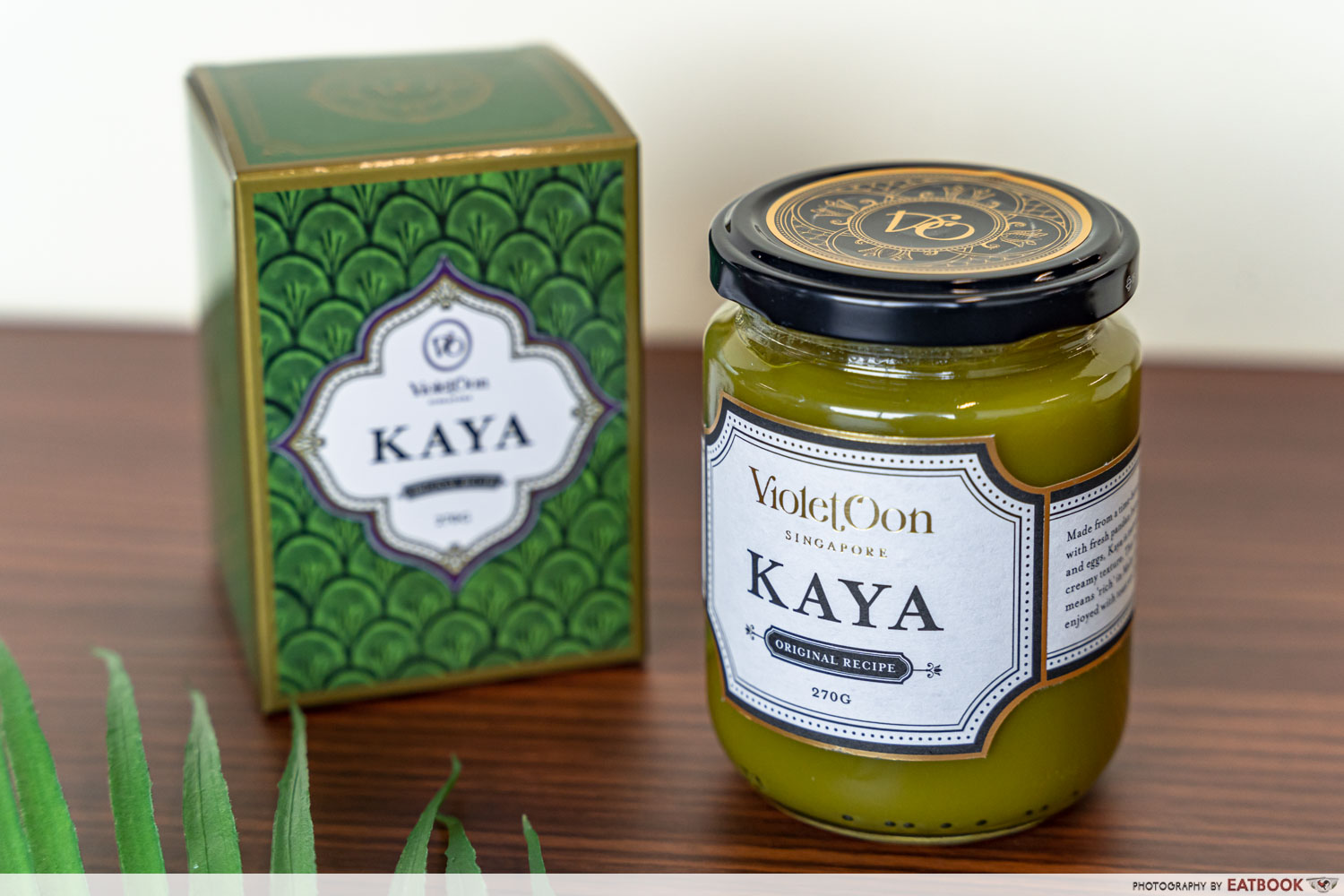 Singaporean celebrity chef Violet Oon is heralded as the queen of Peranakan cuisine, which is why we had to include her brand's Nyonya kaya. Violet Oon's artisanal kaya is notably the priciest on this list, going at $13 for 270g. As it's often sold out online, we made a trip down to their ION Orchard flagship store just to buy a jar.
First impressions-wise, the kaya jar looked expensive and was packed in a gorgeous Peranakan-inspired box. The kaya itself sported a deep green hue, which could have easily passed off as a jar of pesto. Similar to Tong Heng, Violet Oon's kaya jar also had a weird, musky smell.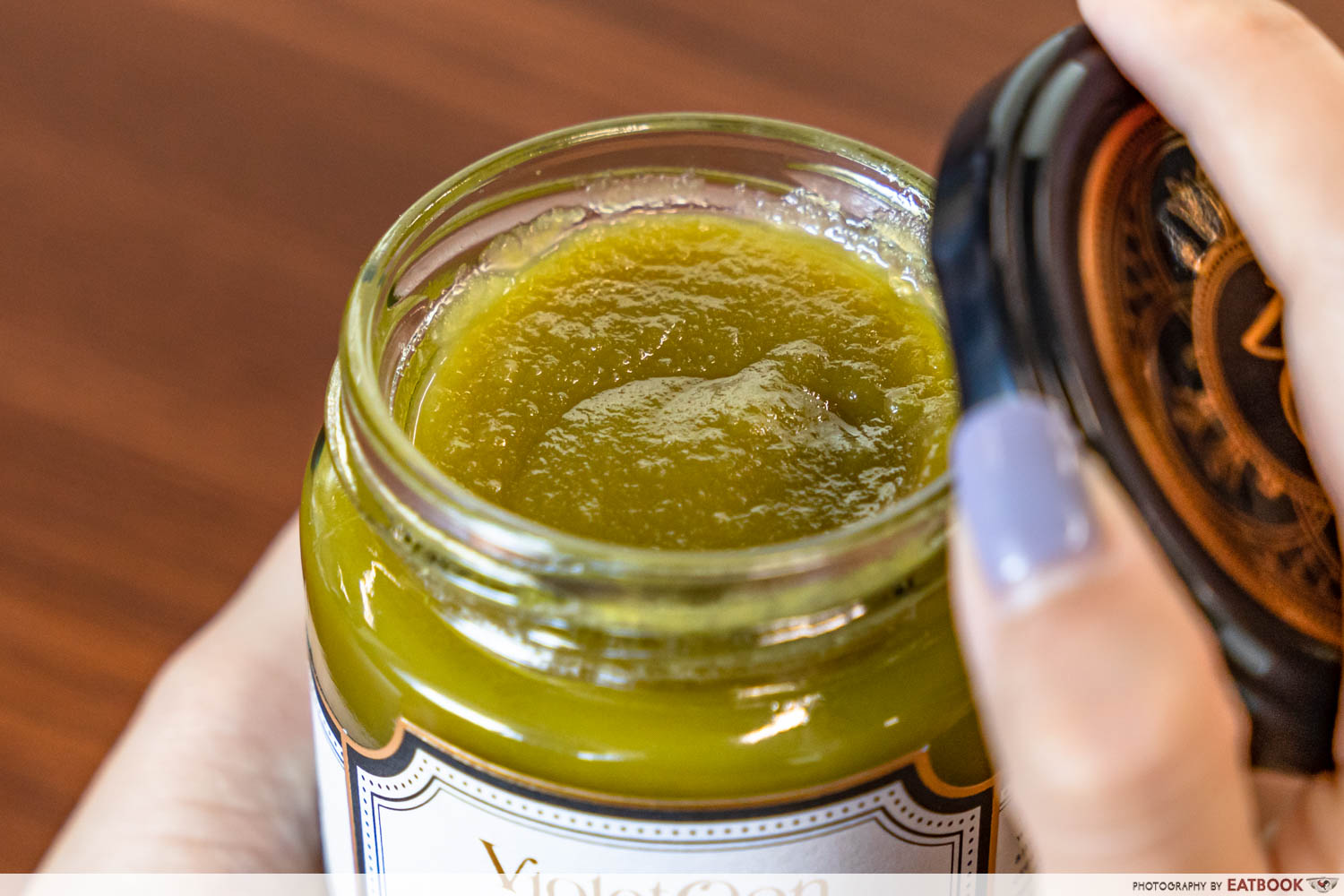 On its own, the kaya had a pleasant fragrance. I could easily discern the pandan aroma, which was light and not too overpowering. The kaya itself was also luscious and creamy, and had a paste-like consistency. No complaints here.
However, its pandan fragrance did not translate to its taste. In the words of my colleague: "This would be a good introductory kaya for foreigners who aren't used to pandan." While I was a fan of the kaya's eggy aftertaste, I would have preferred it to be sweeter with a stronger pandan flavour.
This was a decent jar of kaya, but its taste did not justify the $13 price tag.
Sweetness: 3/5
Texture: 4/5
Fragrance: 2/5
Cost: 2/5
Total: 55%
Address: 2 Orchard Turn, #03-22, ION Orchard, Singapore 238801
Opening hours: Daily 12pm to 10pm
Violet Oon's kaya is not halal-certified but uses no pork or lard.
---
7. BreadTalk
---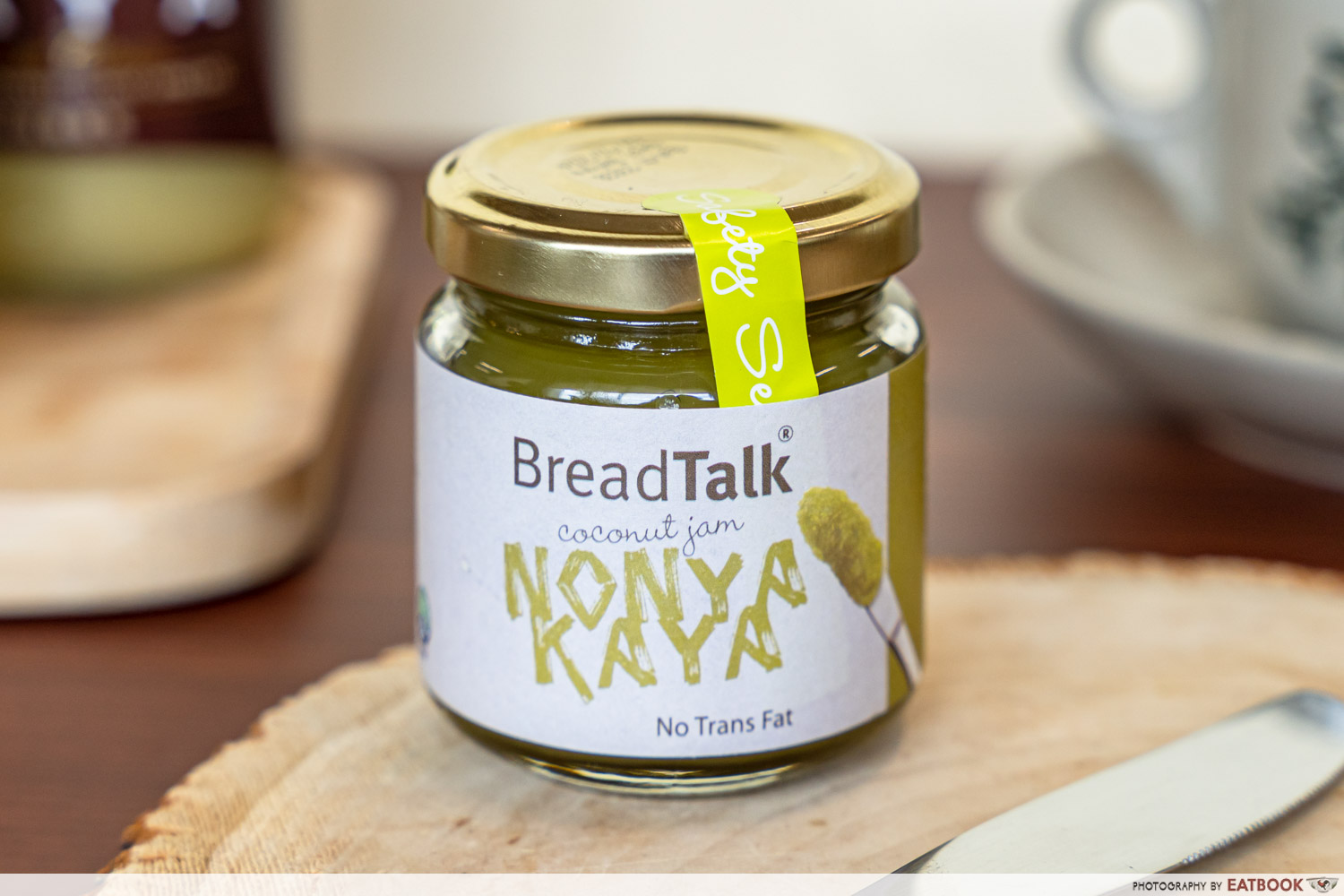 I was initially planning to buy the Nyonya kaya from Bengawan Solo at Bugis Junction but was informed that they no longer sell them. While looking for an alternative, I came across BreadTalk and saw that they offered both Hainanese and Nyonya kaya. The kaya was sold in small quantities of 100g, priced at $3.60 each. I opted for Breadtalk's Nyonya kaya to replace Bengawan Solo's on this list.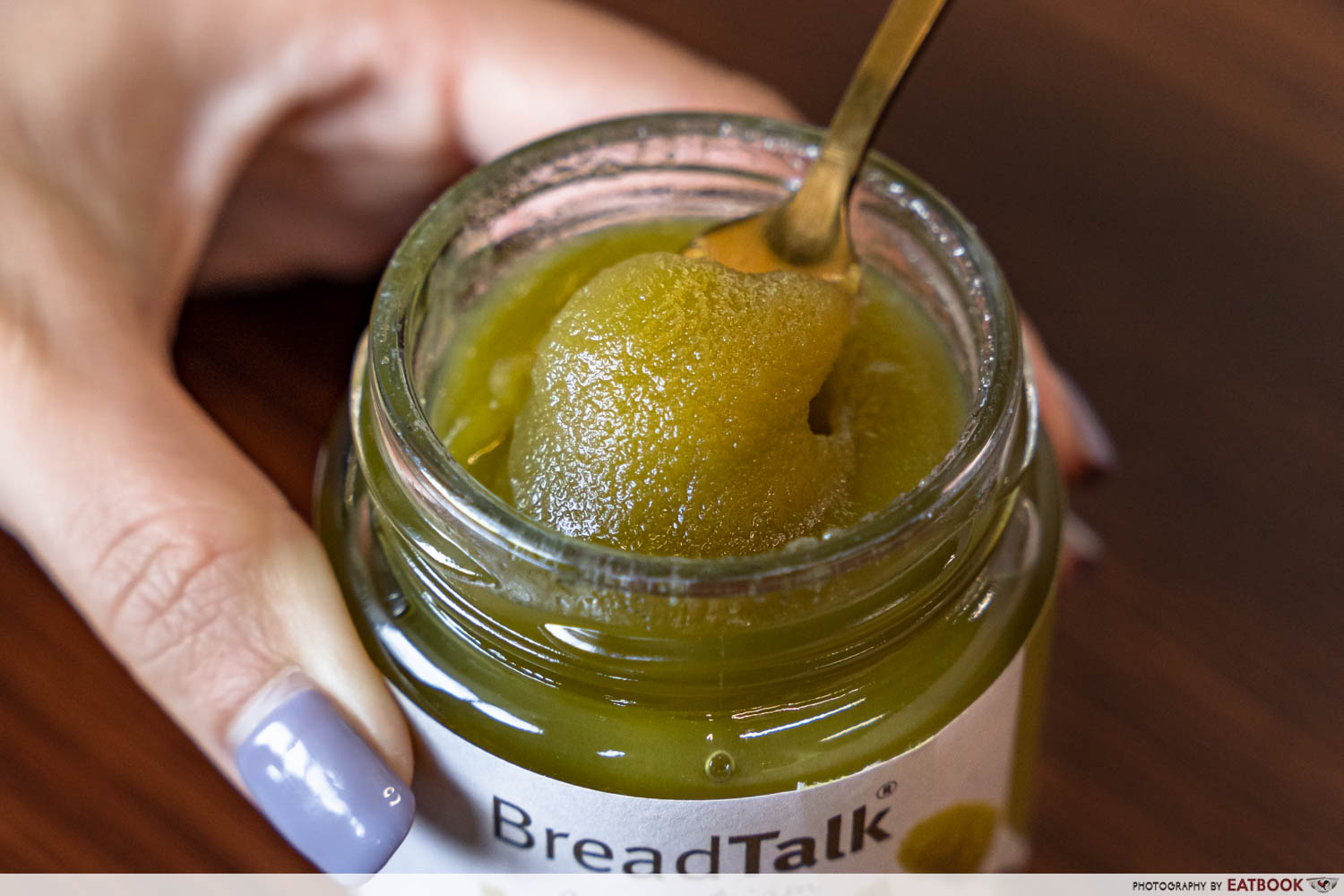 Despite being Nyonya kaya, BreadTalk's rendition had a prominent coconut flavour. This would have been fine, if only it wasn't so sweet. In fact, this was the sweetest kaya of the lot. Thankfully, the sweetness was much more manageable once I paired the kaya with some salted butter.
BreadTalk's kaya also had the least custard-like taste, which in my opinion, made it less tasty.
This kaya's saving grace was its consistent and smooth texture. Although a little chunky when you first take a scoop, it spreads well once slathered onto bread.
Sweetness: 2.5/5
Texture: 3.5/5
Fragrance: 3/5
Cost: 3/5
Total: 60%
BreadTalk website | Full list of outlets
BreadTalk's kaya is not halal-certified but uses no pork or lard.
---
6. Kaya House
---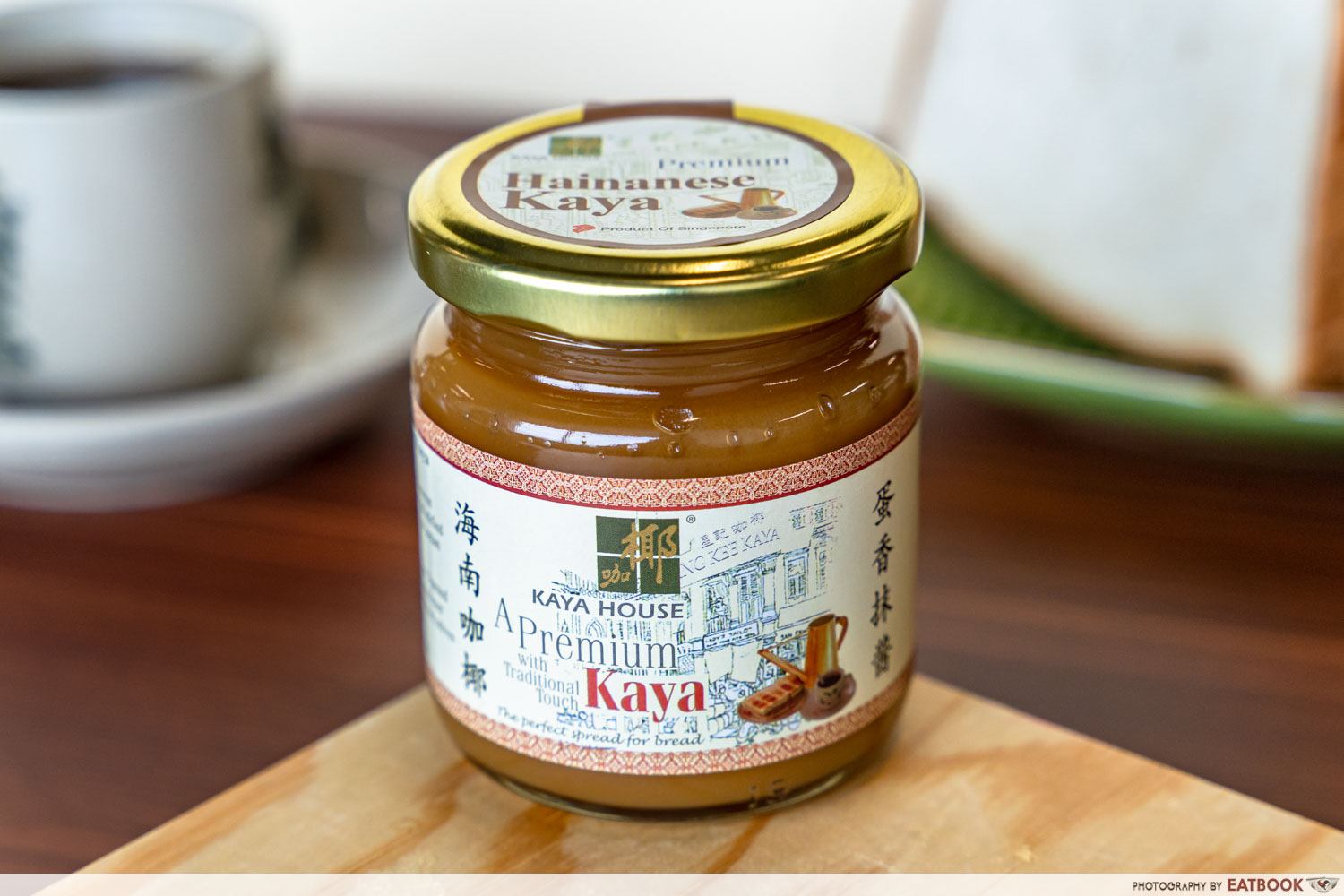 Kaya House has a long history in the production of kaya, and while they started out producing only Hainanese kaya, they've since expanded their line to include the Nyonya version as well. I decided to give their signature Hainanese kaya a try, which can be found at Cold Storage or NTUC Fairprice at $4.35 a jar (240g).
As I opened the jar, I could immediately smell the eggs and caramel. I admit being biased towards eggy kaya, as I personally believe it makes the kaya richer and more custard-like in terms of flavour and texture.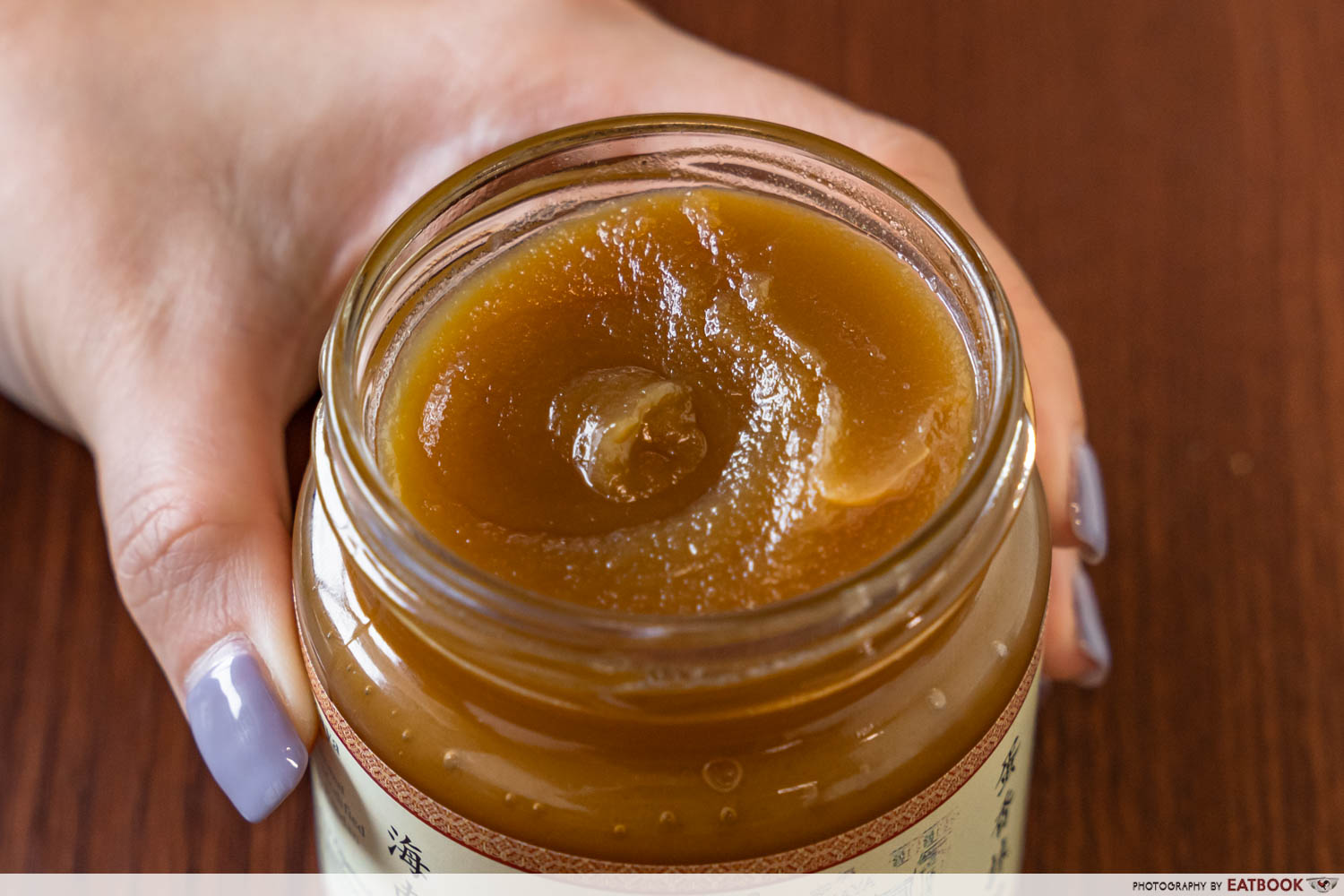 Interestingly, the reviews for this kaya were mixed. Some of my colleagues found the sweetness of the caramel to be just right, while others thought it tasted artificial. Personally, I found the kaya to be on the sweet side, though just a tad cloying. The rich egginess of the kaya also overpowered any coconut or pandan flavours that were present.
I did enjoy the kaya's texture, which was thick and creamy, though a little clumpy. It was also stickier than I would have liked but was easy to apply onto bread.
Not too bad for a jar of budget kaya.
Sweetness: 3/5
Texture: 3/5
Fragrance: 3/5
Cost: 5/5
Total: 70%
NTUC Fairprice website | Full list of outlets
Cold Storage website | Full list of outlets
Kaya House's kaya is halal-certified.
---
5. Killiney Kopitiam
---
Killiney Kopitiam ranks pretty high on my list of best kaya toast stalls in Singapore. The kaya here is said to have a rich flavour and creamy body thanks to the eggs. A jar of their Hainanese kaya will set you back $6.20 (280g).
Do note that not all Killiney outlets sell their kaya. After being turned away at numerous stalls, I finally got a jar at their Fortune Centre outlet.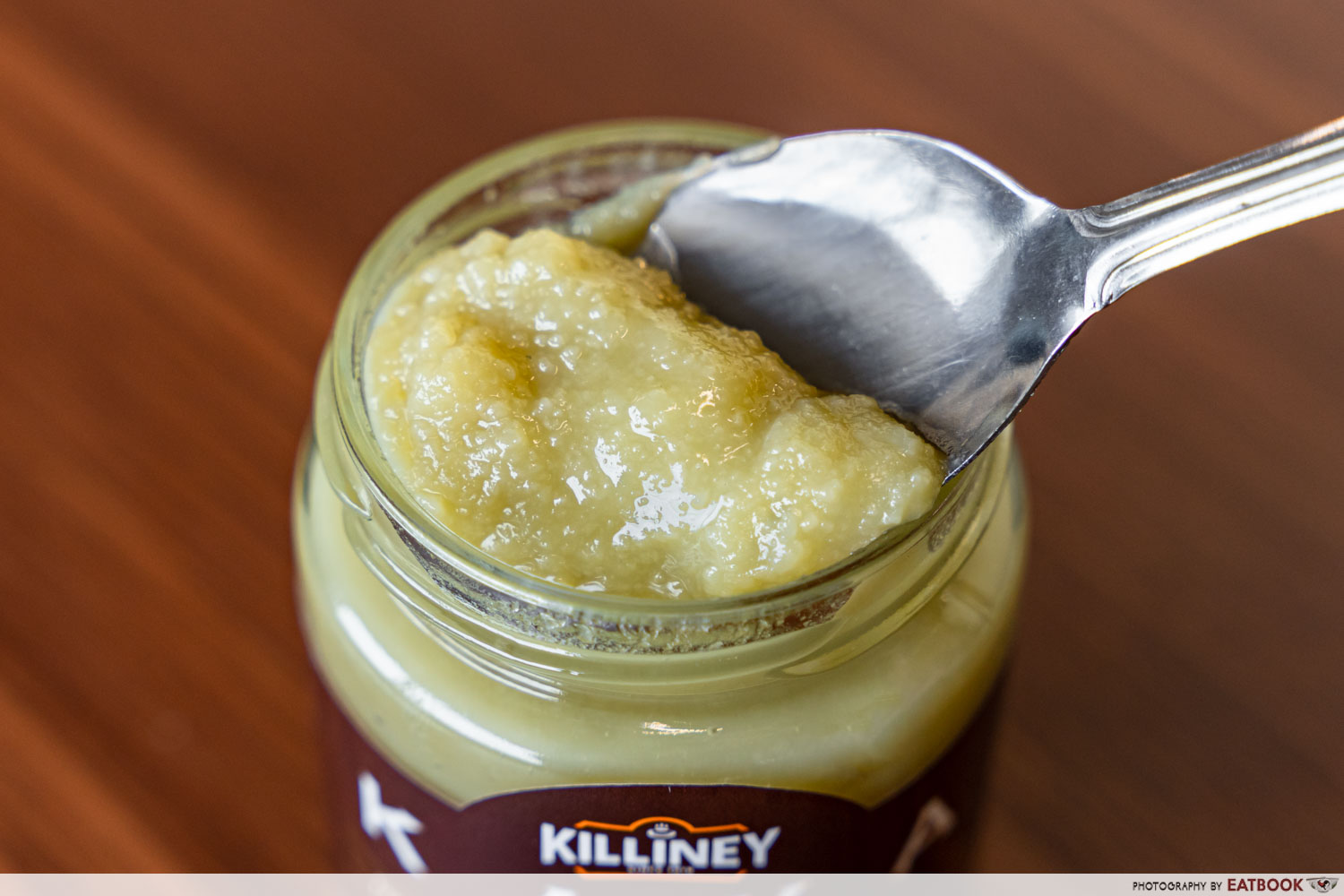 While Killiney managed to get their kaya's sweetness just right, there was an obvious imbalance between the egg and coconut flavours. The egginess was just too overpowering, and while I personally thought this made the kaya tastier, my colleagues thought that it might be more suitable for French toast rather than your traditional white bread.
My main gripe with this kaya was its texture, as it had a watery consistency. To achieve the same level of thickness as BreadTalk, Tong Heng, or Violet Oon's kaya, I had to spread up to three layers. But if you don't like kaya that's too thick, this wouldn't be an issue for you.
Despite the overwhelming eggy flavours, this was one of my—and my colleagues'—favourite kaya. Tasty, sweet, and value-for-money, Killiney's kaya rightfully deserves this fifth-place spot.
Sweetness: 4.5/5
Texture: 3/5
Fragrance: 3.5/5
Cost: 3.5/5
Total: 72.5%
Killiney Kopitiam's website | Full list of outlets
Killiney Kopitiam's kaya is not halal-certified but uses no pork or lard.
---
4. Ya Kun Kaya Toast
---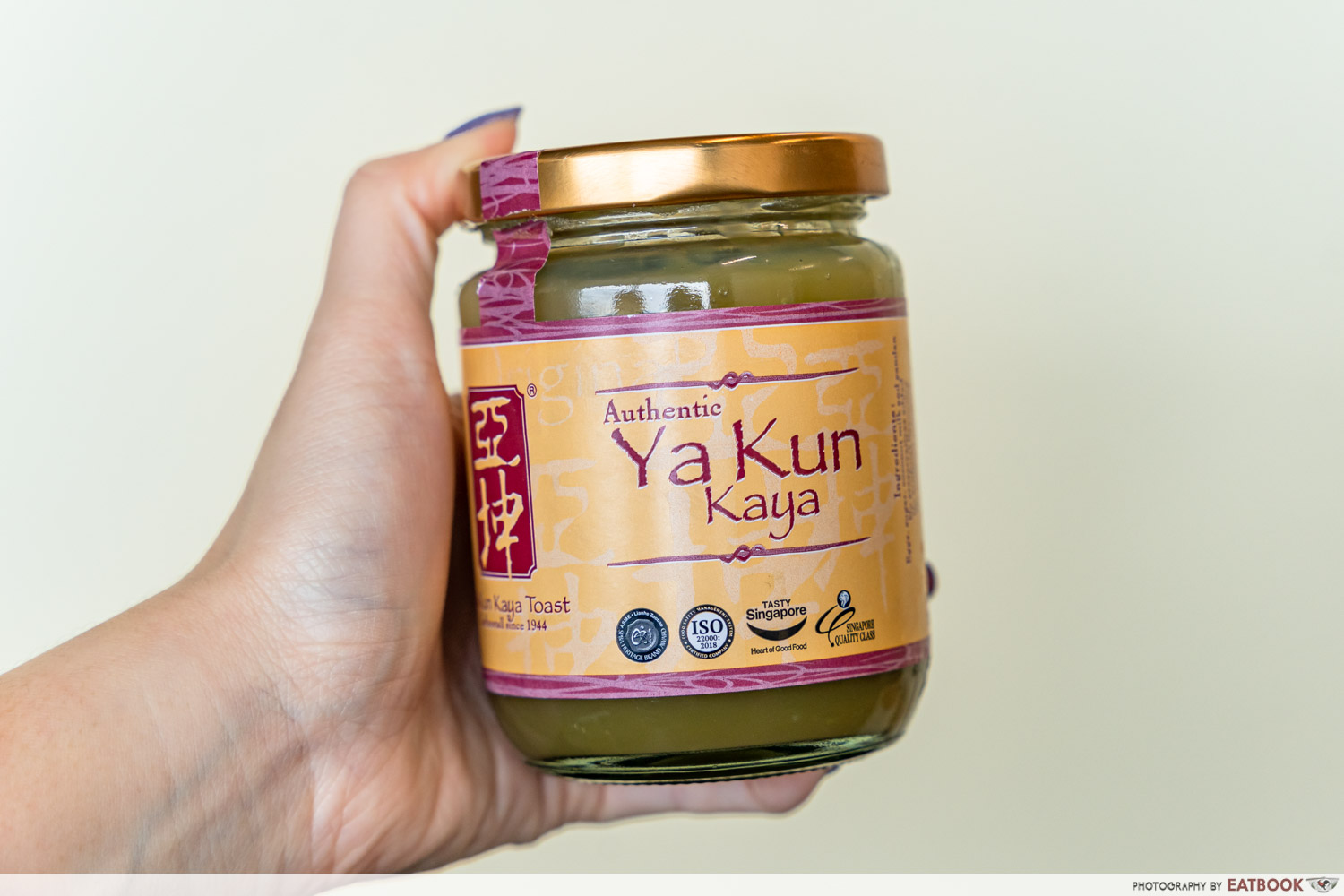 How can we have a best kaya listicle without mentioning Ya Kun Kaya Toast? The kaya toast stalwart uses a family recipe with a history dating back to 1944. It's also touted as Singapore's most popular kaya brand. But, is it the best in Singapore?
Ya Kun is known for their Hainanese kaya. You can get a jar in-stores for $6.30 (290g). Although I've had Ya Kun's kaya toast many times before, this was my first time trying their kaya on its own. As I opened the jar, I took a whiff of the kaya's familiar scent, which was recognisable from the subtle sweetness of the caramelised sugar.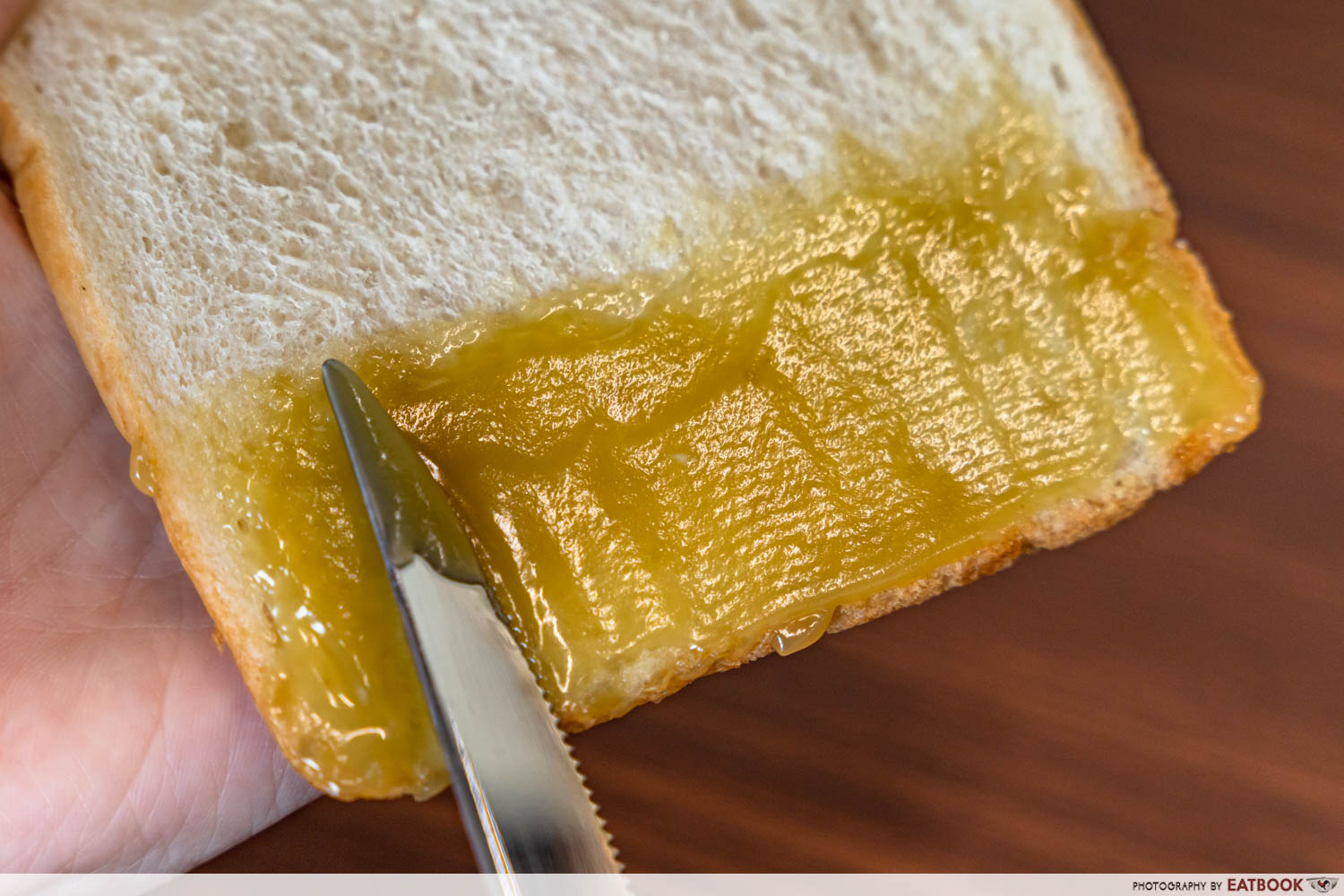 As I usually have Ya Kun's kaya with butter on toast, I've never noticed how watery their kaya was. Texture-wise, Ya Kun has the smoothest kaya of the pack. The consistency was very sheer when I applied it to the bread. It was also runny and looked more like a thick syrup than a spread.
In terms of sweetness, Ya Kun's kaya was as sweet as Glory's, although the former had subtler flavours of pandan and egg, which allowed the coconut fragrance to shine.
While the ingredients came together nicely in this jar of kaya, I would have liked the texture to be creamier and the pandan flavour to be stronger. Unfortunately, due to these factors, Ya Kun's kaya came short of making it into the top three.
Sweetness: 4/5
Texture: 3.5/5
Fragrance: 3.5/5
Cost: 4/5
Total: 75%
Ya Kun Kaya Toast website | Full list of outlets
Ya Kun Kaya Toast's kaya is halal-certified.
---
3. Glory
---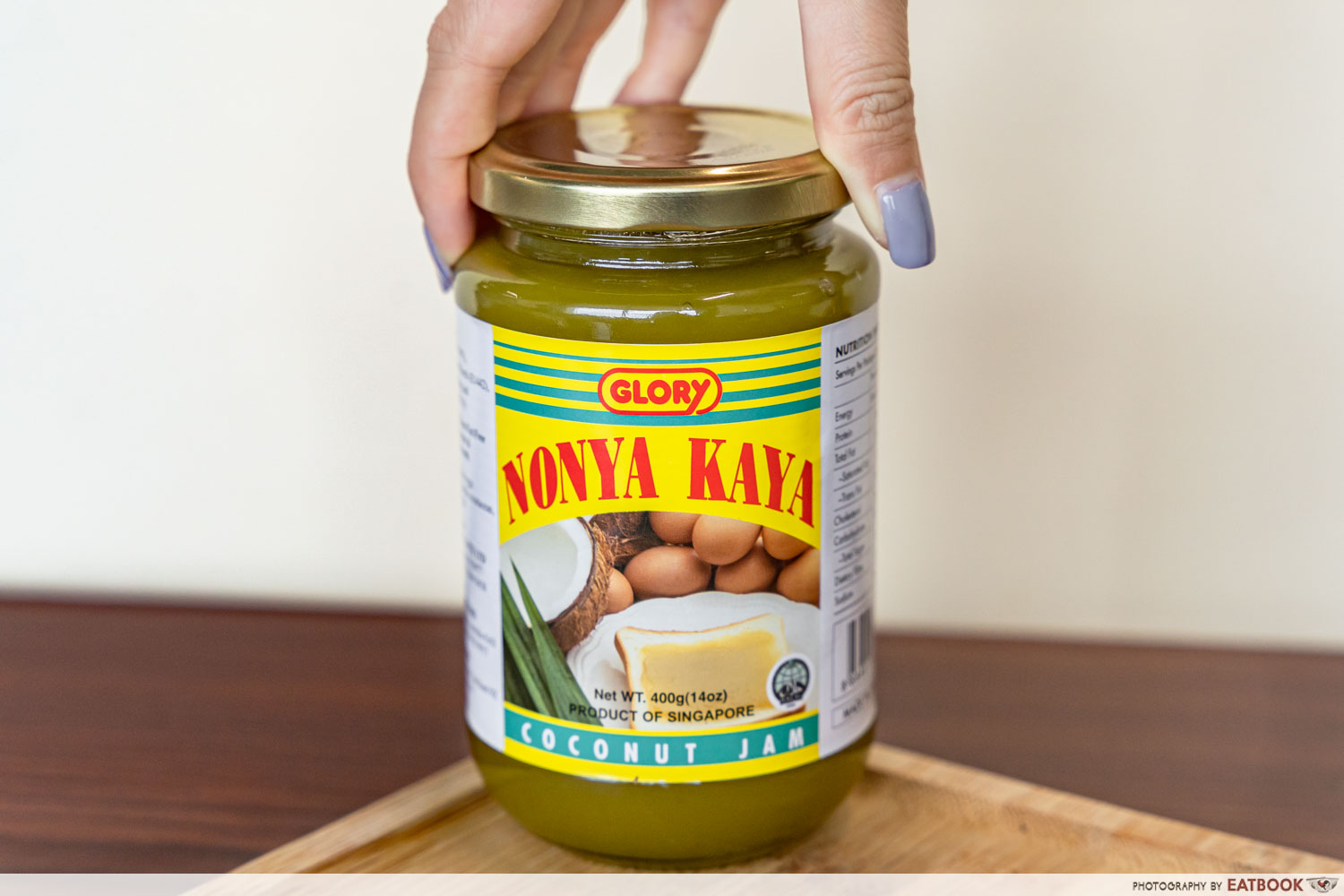 Glory may sound familiar to those of us who grew up with always having a jar of kaya at home. Besides being widely available in supermarkets across Singapore, this "supermarket kaya" is also one of the most affordable on this list, priced at just $3.70 for a jar of 400g. Interestingly, Glory's Nyonya kaya has quite the fan base online, as it's popular not just with locals but also among foreigners. You can also easily buy this household brand online.
Compared to the other kaya brands on this list, Glory's version had a mellower smell, with an ever so slight hint of coconut milk. It also had one of the most balanced flavours of coconut extract, egg, sugar, and pandan.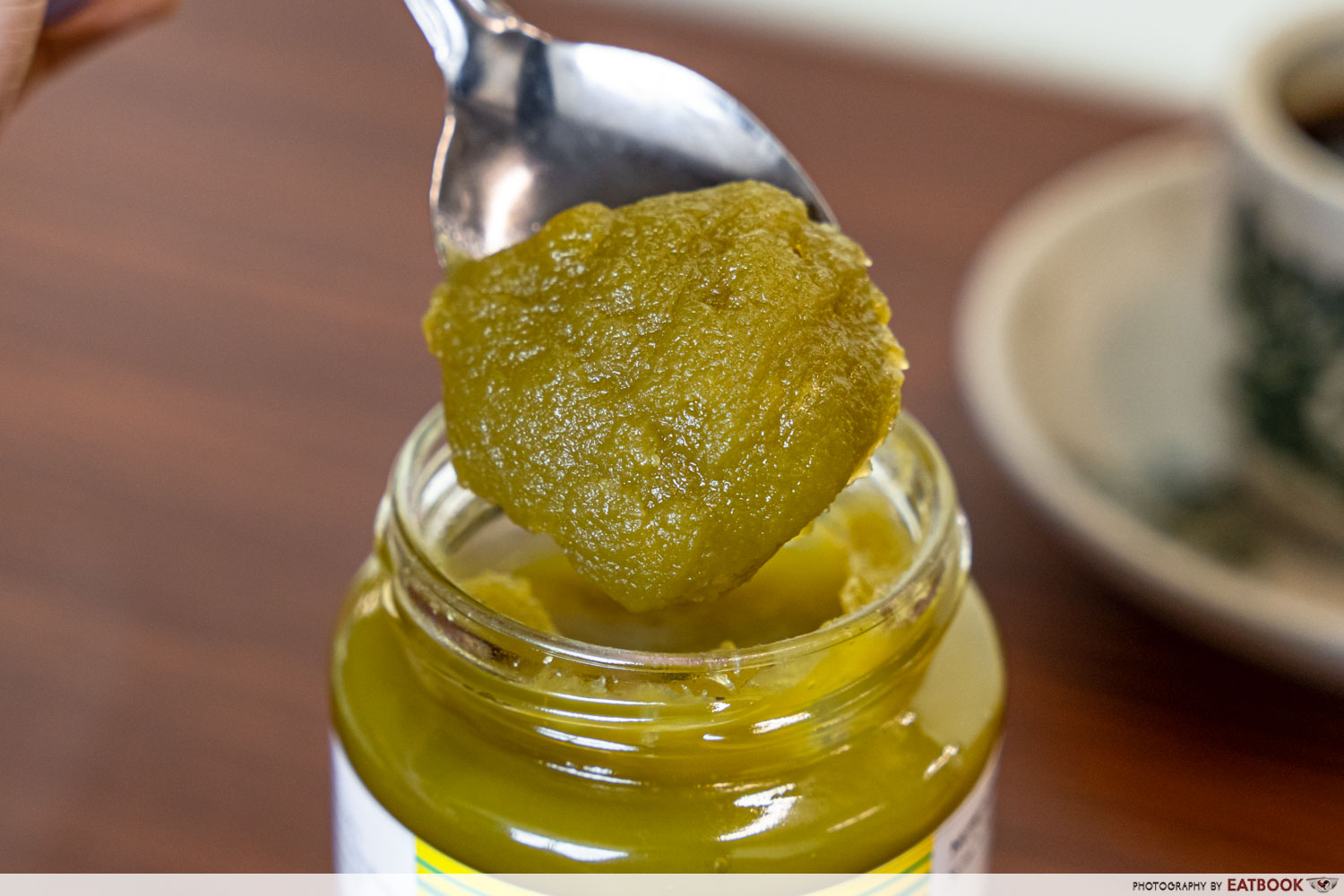 This kaya had a rich and thick texture that melted effortlessly in the mouth when consumed. Since the kaya was thick, one scoop of it was enough to cover an entire surface of sliced bread.
My only complaint is that the kaya was a tad too sweet. Coupled with its richness, this could be quite a jelak kaya, especially if you add too much of it to your bread. But sweetness aside, Glory got everything else down to a T. With these considerations in mind, I've ranked this as the third-best kaya brand in Singapore.
Sweetness: 3.5/5
Texture: 4/5
Fragrance: 4/5
Cost: 5/5
Total: 82.5%
NTUC Fairprice website | Full list of outlets
Cold Storage website | Full list of outlets
Glory's kaya is halal-certified.
---
2. Fairprice
---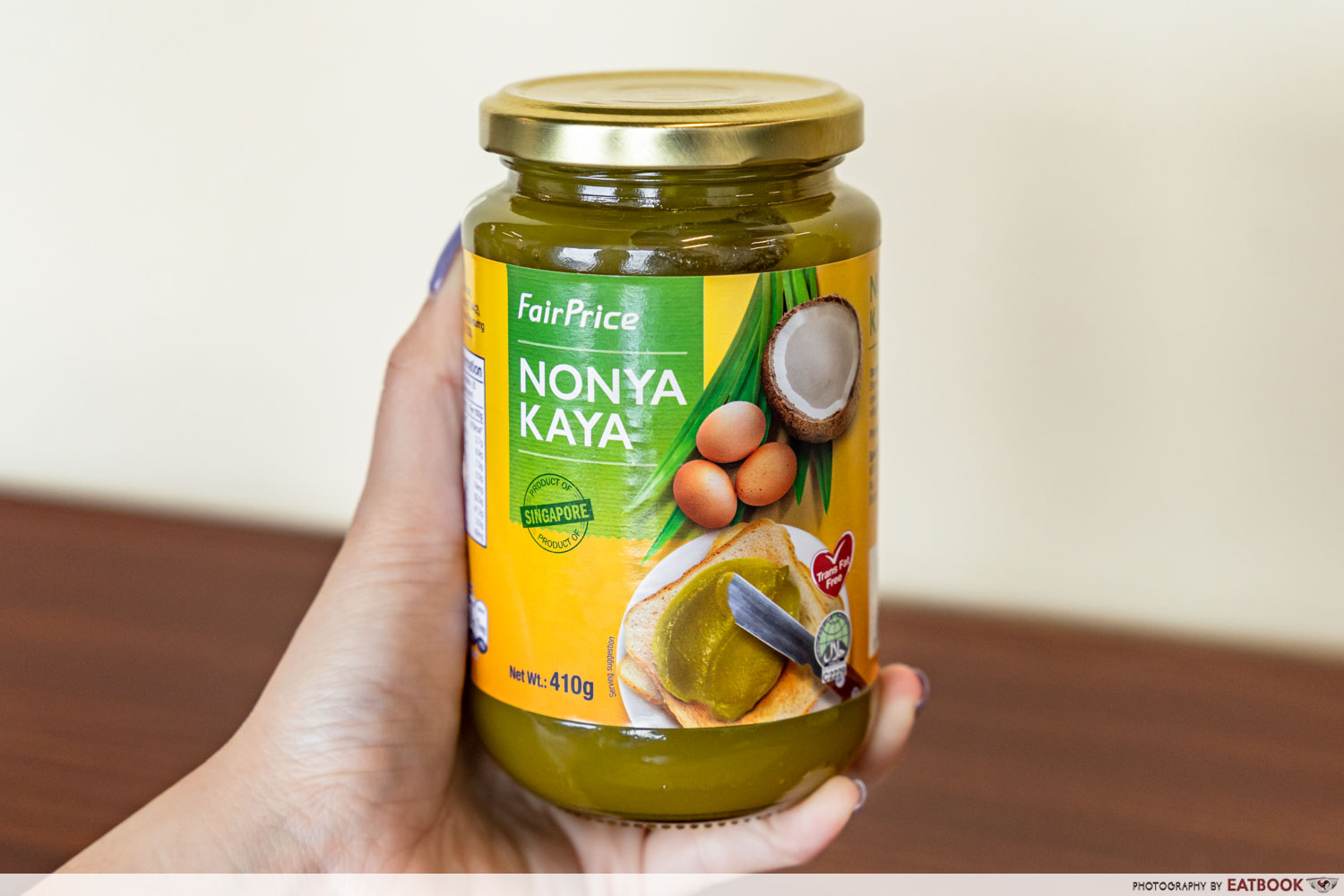 Before you cry foul, allow me to explain why Fairprice's Nyonya kaya deserves this runner-up spot. When we did the blind taste test with our colleagues, many named this as their favourite kaya of the lot.
Visuals-wise, there's nothing too special about the kaya. It's simplistically packaged without any fancy designs or illustrations. The wow factor is present in the kaya's fragrance. This kaya was well-balanced, with discerning notes of coconut milk, pandan, eggs, and sugar coming together in a harmonious blend.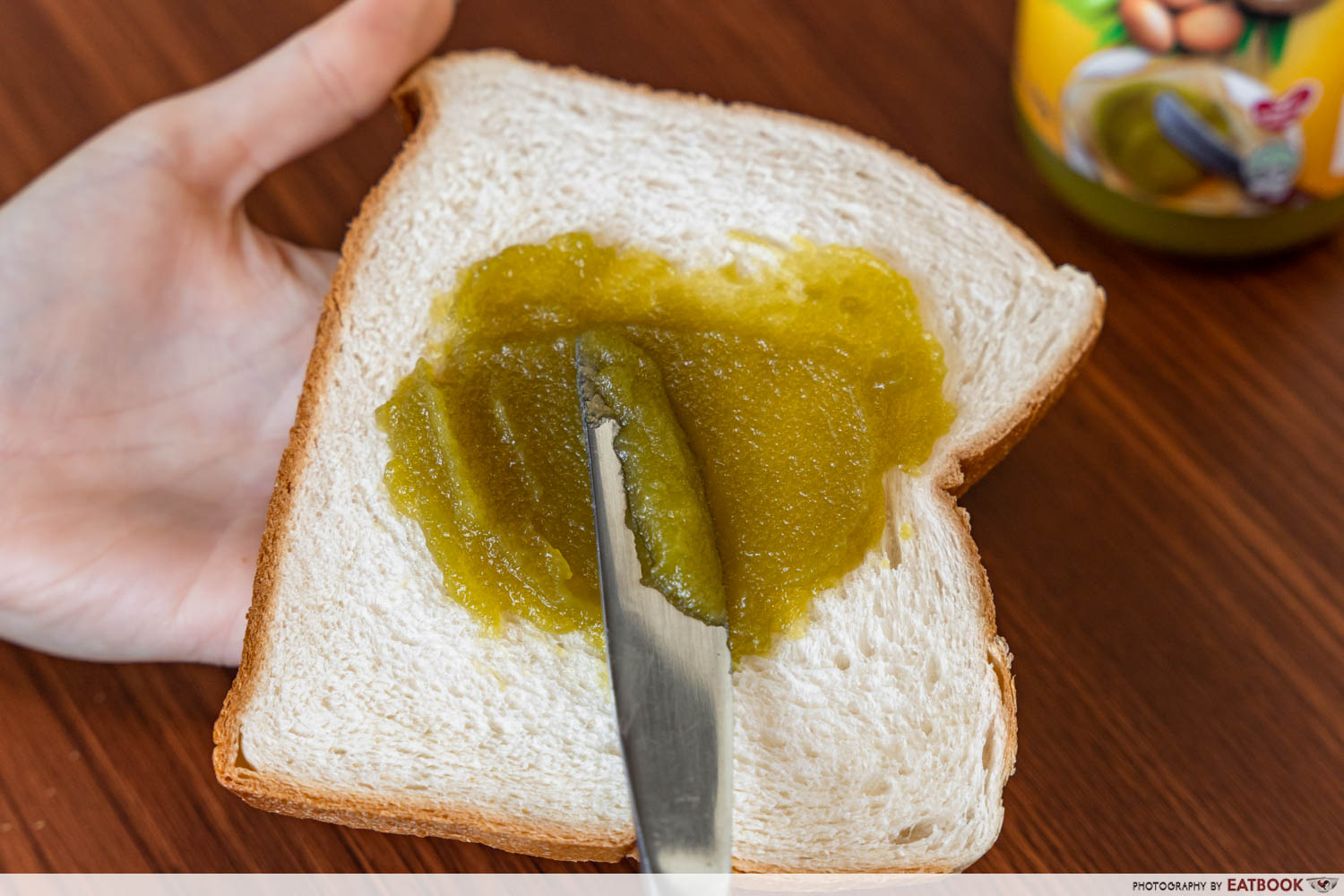 Fairprice's kaya also tasted like a less-eggy, more pandan-y version of Killiney's kaya. It wasn't too sweet, and I could enjoy it on its own without any bread. The kaya was smooth and spread as easily as butter.
And then there's the price factor. Fairprice's kaya only costs $3.30 for a jar of 410g, which makes this the cheapest kaya on this list.
I'm always for affordable products that taste good, which is why Fairprice's kaya is the second-best kaya brand in Singapore.
Sweetness: 4/5
Texture: 3.5/5
Fragrance: 4.5/5
Cost: 5/5
Total: 85%
NTUC Fairprice website | Full list of outlets
Fairprice's kaya is halal-certified.
---
1. Heavenly Wang
---
And finally, the winner of all kaya: Heavenly Wang! It was a close fight between Heavenly Wang's Hainanese kaya and Fairprice's kaya, but after numerous blind taste tests, I found myself steering towards #TeamHeavenlyWang.
First, this kaya is super affordable and costs only $3.93 for a jar of 270g. Second, the texture was just heavenly—it was super rich, dense, and also creamier than Fairprice's kaya. Third, Heavenly Wang absolutely nailed their kaya's sweetness, as the rich, caramelly notes were prominent without being overpowering, and blended seamlessly with the other ingredients.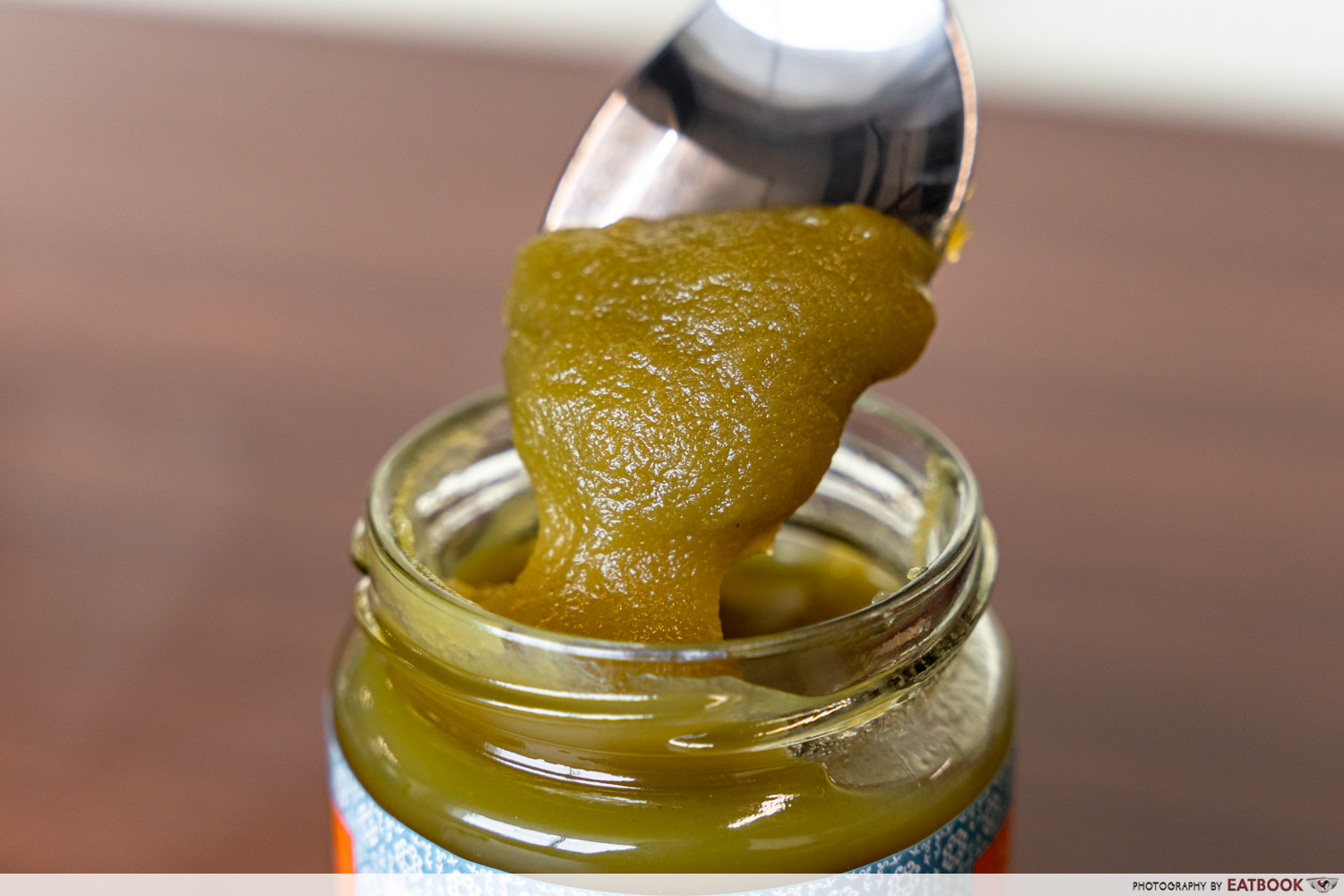 Most importantly, the kaya tasted fresh and had a pleasant vanilla-like aroma. After crowning them as the best kaya brand in Singapore, all that was left to do was to toast some bread, slather on a thick slab of kaya, and enjoy all of its goodness.
Sweetness: 4.5/5
Texture: 4/5
Fragrance: 4.5/5
Cost: 5/5
Total: 90%
Heavenly Wang website | Full list of outlets
Heavenly Wang's kaya is halal-certified.
---
Ranking the best kaya in Singapore
---
Everyone has different preferences when it comes to their favourite kaya. While this list may reflect some personal biases, I've tried my best to consider the different criteria when deciding on the final ratings for each brand. If you're a kaya enthusiast or someone who wants to introduce the fragrant spread to your non-Singaporean friends, this list of best kaya in Singapore will hopefully help you make the tastiest decision.
For our list of the best kaya toast places in Singapore, read our kaya toast stalls food guide. Else, read our review of Tong Ah Eating House, an 80-year-old coffeeshop with kaya french toast at Keong Saik.
12 Kaya Toast Stalls In Singapore To Get Your Traditional Breakfast Fix
Photos taken by Hui Hui Lau.
This was an independent listicle by Eatbook.sg.
The post 10 Best Kaya In Singapore Ranked, Including A 98-Year-Old Bakery Brand appeared first on EatBook.sg - Local Singapore Food Guide And Review Site.