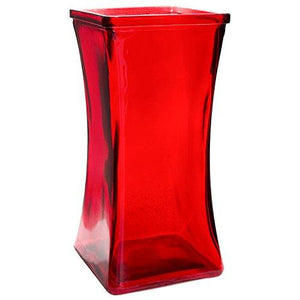 Modern Heavy Art Glass Red Flower Long Stem Rose Vase Decorative Home Decor Accent
Regular price $18.99 $12.99 Sale
Brand: Royal Imports
Color: Red
Features:
QUALITY: This red rose centerpiece vase is crafted to perfection of heavy colored glass to enhance your special arrangement. Each rose vase features thick glass walls and weighted base to ensure durability. This vase is made using only high quality material and will never topple. Imported.
BEST SELLER: Colored vases , used as rose vases are the most popular of vases in the floral supply, home décor, and wedding planning industry. From home decorators, to event planners, everyone appreciates an inexpensive yet high quality, sturdy glass vase that has unlimited use possibilities. It will enhance any romantic event when filled with roses, or even just branches.
USES: Glass vases are very popular with fresh flower arrangements as well as silk or dried floral designs. It is also commonly used as candle holders, storage containers (in modern offices), aquariums or fish tanks, potpourri containers, and centerpieces filled with gems or lights
TRENDS: Can be filled with Roses, Tulips, Candles, Orchids, Branches, vase fillers, pearls, gems, pebbles, fruits, macaroons etc.
PACKAGING: All glassware is carefully wrapped in multiple layers of bubble wrap to avoid breakage in transit.
Details:
Decorate your home, office or special event with this attractive blue glass 8.75 inch tall square Rose / Flower bunching vase by Royal Imports. The beautifully sized vase has a 4.5 inch opening so it fits a generous amount of flowers or even a dozen roses. Fill it with your favorite assortment of tulips, carnations, baby breaths or orchids to create an impressive floral arrangement. This sleek modern looking vase is designed to complement and enhance even the simplest bouquet.
Royal Imports
brings the highest quality glassware to the floral and craft industry. Each vase is crafted to perfection thus creating a sleek, flawless centerpiece.
Uses:
• floral arrangements
• candles
•planters
• candy jar
• silk arrangements
Popular with:
• event planners
• florists
• interior designers
• restaurants
• home decorators
Overall Dimensions
• External Width of Mouth:4.25"• Inside Width of Mouth:3.75"• External Height:8.75" Inside Height:8.25"
UPC: 712233239996
EAN: 0712233239996
Liquid error (sections/product-template line 203): Could not find asset snippets/spreadr-reviews.liquid