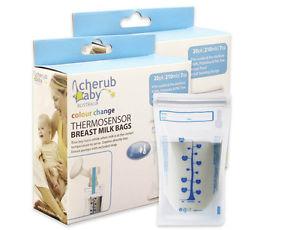 Cherub Baby ThermoSensor Breast Milk Bags 20 pack
Regular price $27.00 Sale
PREFERRED CHOICE AWARD 2015 (Baby Maternity Magazine).
These are not just another breast milk bag, they are an innovative and clever buy.
Cherub Baby Thermo Sensor breast milk storage bags not only allow you to store your milk in a 100% BPA free breast milk bag, but the colour change key on the milk bag tells you when your breast milk is at the correct temperature to serve.
Each breast milk container is pre-sterilised and has heat treated seams, ensuring maximum hygiene. The leak proof zip lock ensures that every breast milk storage container is fully reusable and resealable. Each breast milk storage bag also includes an easy-to-read measuring scale and labelling area to make your life just that bit easier.
Your breast milk is precious, so buy the milk container you know you can trust!
Pack contains 20 x 210ml  re-usable and pre-sterilised Breast milk bags.  BPA, Phthalate and PVC Free, Leak proof and self standing design.
Liquid error (sections/product-template line 203): Could not find asset snippets/spreadr-reviews.liquid