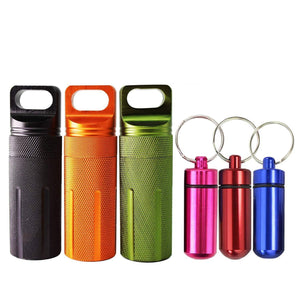 6pcs Waterproof Aluminum Pill Box Case Bottle Cache Drug Holder Keychain Container - Colorful Outdoor Camping Travel Traveling Portable Pill Capsule/Match Case (3Mini Size+3Large Size, Random Colors)
Regular price $21.14 $14.99 Sale
Brand: Hatisan
Features:
Package Included: Total 6pc, (3 mini size waterproof pill container with keychain + 3 large size waterproof pill container), random colors.
Made out of 6061 Special aluminum, ultra-light weight and Indestructible. You can take it anywhere.
Mini size portable key chains design clipped easily to handbags, golf bags, belt loops or used as a zipper pull for your coat or jacket. Thoughtful and practical design.
The pill cases have a small rubber seal ring, precision sealed water resistant, rust-proof and air tight, so that it can protect you pills, or alcohol swab, matches, cash notes.
Easy to carry, suitable for outdoor activities camping, adventure, hunting, fishing, wild life-saving and parks, trips, bike riding, etc.
Publisher: Hatisan
Details: Product Details:
○ Color: Random colors ship
○ Material: 6061 special aluminum
○ Mini size length: 2inch/5cm
○ Mini size diameter: 0.7inch/1.7cm
○ Large size length: 4inch/10cm
○ Large size diameter: 1.2inch/3.1cm
You can take this little pill holder wherever you go and whatever you do.
High precision waterproof, can store pills / capsule oral liquid / alcohol cotton / match /cigarettes /banknotes/ small items such as outdoor emergency.


Function:
● Portable small first aid container design, hang up to the key ring without burden!
● High-quality oxidation treatment, wear-resistant and rust-free, environmental health, storage pills, capsules.
● High-precision waterproof design, quality assurance! Is your daily, outdoor, travel necessary equipment!
● The surface is polished, the threaded joint is equipped with the O type seal ring to ensure waterproofing and keep the internal parts dry.
● Select high-quality aluminum alloy production, high-strength barrel body, waterproof, while more difficult to break, product quality assurance!


Package includes:
Total 6pc, (3 Mini Size Storage Container with Keychain + 3 Large Size Storage Container) random colors.


Our Promise to You
We are totally obsessive about quality and customer service - if you have any questions please get in touch and we will do everything we can to solve them.
EAN: 4865130692947
Package Dimensions: 5.0 x 4.0 x 1.3 inches
Liquid error (sections/product-template line 203): Could not find asset snippets/spreadr-reviews.liquid