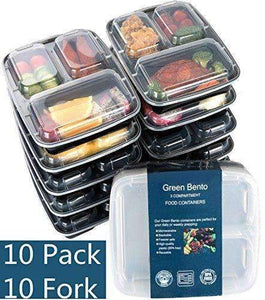 3 Compartment Meal Prep Food Storage Containers with Lids, 10 Pack
Regular price $37.99 $15.99 Sale
BPA Free Bento Lunch Boxe
Divided Portion Control Container
Microwave, Dishwasher Safe
Cutlery included
Brand: Green vege Bento
Features:
ECO-FRIENDLY FOOD GRADE MATERIAL-This meal prep food containers includes 3 compartments and 1 secure lid. Made from plastic food grade pp material; The bpa free bento box is free of chemical and safe for your health. We know mistakes happen. Any issue about our microwave cover for food, contact us directly.
MICROWAVE & DISHWASHER SAFE-The divided lunch container can withstand freezer, microwave & dishwasher. The divided plate sets are easy to use and clean, dishwasher safe. But it's suggested that a gentle wash would maximize the longevity of the bento lunch pack box.
STACKABLE, EASY TO CARRY OUTDOORS-10 pack of portable microwave restaurant food containers with 3 compartment; Stackable-easy storage in lunch bags. With the lunch plates, packing food is quick and easy.
MULTIPURPOSE USE-Our food storage containers with lids have a large capacity for your meal, with free cutlery inside. The microwave safe plates is deal for sandwich, bread, salads. Our eco-friendly bento lunch box set are perfect to be taken to school, office, camping, picnic, hiking for adults/kids.
EASY OPEN & PORTION CONTROL-Food stays divided but NOT LEAK-PROOF in the 3 compartment food containers. Easy open lids are perfect for kids/adults. You can grab your lunch pack box set and go. Convenient to carry snacks and leftovers. The portion control container is perfect for men/women who are dieting. The divided plates set look a little thin, but hard enough for your food.
 
-Design
The clear microwave cover for food display your delicious food inside of your portion plate set; All food trays with snap-lock lids help keeping food fresh. Good insulation properties heating food up or cool them down. The bento lunch boxes are reusable, stackable, microwave safe. The long term food storage containers are created to withstand the microwave and dish washing machine. The divided containers are not as strong as Tupperware or hard plastic. But the food containers are reusable, under a recommended gentle hand wash.
If you are dieting and want to control portion. Or you want to ensure a healthy eating habit of your kids while at school. The food storage containers with lids are ideal for daily meal prep. Each one can grab their bento lunch containers set and go. Convenient to carry snacks and leftovers such as Chinese, Indian, or Sushi. The 3 compartments food containers allow you to pack foods in healthy portion and cut down on lunch expenses.

-For Adults/Kids
Designed with eco-friendly, easy-open lids, NOT LEAK PROOF; the easy to carry bento containers allows you to bring food to work or school and eat healthy meals. Or carry to the outside, such as picnic or travel. Your bento lunch pack box is easy to load up on the veggies and keep the tasty indulgences to a proper amount. Dividing your lunch in 3 compartments helps you achieve your diet and weight management goals. The convenient food saver box can help you lead a healthy life by enjoying your DIY food.

-Suggestions & Package
Before microwaving, open a lid corner to allow steam to vent. The portion control food plate containers are wrapped in a paper sleeve detailing the multi virtues of these divided lunch food containers. The healthy bento boxes are: BPA free, dishwasher safe, freezer safe, Non-toxic.
Liquid error (sections/product-template line 203): Could not find asset snippets/spreadr-reviews.liquid