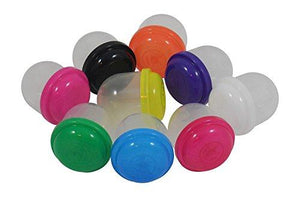 1 Inch Empty Acorn Vending Capsules - Assorted Colors - 250 Count
Regular price $36.49 $23.55 Sale
AN ASSORTED MIX of colored lids in every package!

SOFT PLASTIC clear frosted capsules provide greater safety than clear brittle polystyrene capsules. Tight fitting colored lids provide secure vending and storage.

EXCITE YOUR KIDS in school or on Easter, Valentines Day, Halloween and birthday parties with miniature toys and candy prizes. Great for rewards, party favors, treasure hunts, VBS, contests, pinatas, sandbox and beach explorations!

FIND IT FAST with these color-coded storage containers! Perfect as storage containers for tiny parts and screws! Use to store beauty products and arts and crafts items. 100's of uses!

Color : 9+ Colors possible.
Industry-standard 1.1 inch Vending Machine Capsules are designed to hold rings, stickers, charms, bracelets, balloons, dice and any other small item. Each capsule is approx. 1.1 inches in diameter and stands approx 1.25 inches tall with the lid on. Each capsule is made up of a soft clear frosted bottom and a colored top.

Lids will come in a varied assortment of colors. The colored lids are premixed and packaged at random. These fun capsules come empty and unassembled; ready to be filled with your favorite prizes. Mid Cities Sales is the sole provider of Avend vending capsule products. We cannot be responsible for products sold by other vendors on this listing. Search Amazon for other Avend vending products.
Liquid error (sections/product-template line 203): Could not find asset snippets/spreadr-reviews.liquid